Ashley Cole's cad credentials were taken up a gear when he retweeted a fan meme of him photobombing his ex-wife Cheryl and her new husband Jean-Bernard Fernandez-Versini.
The footballer can be seen unsettlingly lingering in the background of the shot through the window, as the newly-wed couple toast their happiness in the X Factor judge's plush Hertfordshire mansion.
Ashley and Cheryl divorced in 2010 after the sports star admitted to a string of infidelities. That's four years ago, for those that need some mathematical assistance to put this into context.
Since then, she's re-married a French events promoter after dating him for just three months. He's been kicking a spherical object around a field.
And since Christmas, Ashley has tweeted about his former spouse more than once. The most memorable being this quip about the former Mrs C being giftwrapped and stuck under his tree at Christmas:

So far, so stalkerish.
But there is a lighter side to this tale that makes it all slightly less creepy.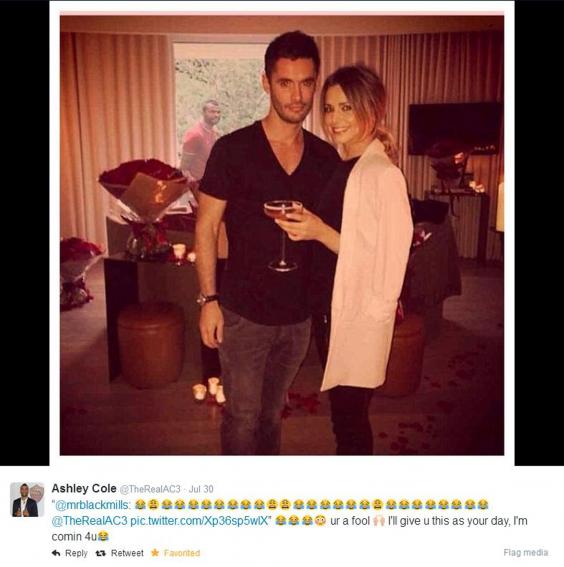 The meme actually evolved from a snap posted by Ashley's new football club, AS Roma. In it, he can be seen awkwardly lingering to the left of the photograph, as his teammates huddle in formation. It led some followers on Twitter to question whether the former Chelsea star had actually managed to make any friends at his new Italian home.
The image quickly went viral, and fans took to editing him awkwardly lingering in a variety of scenarios – the most popular of which was the above shot.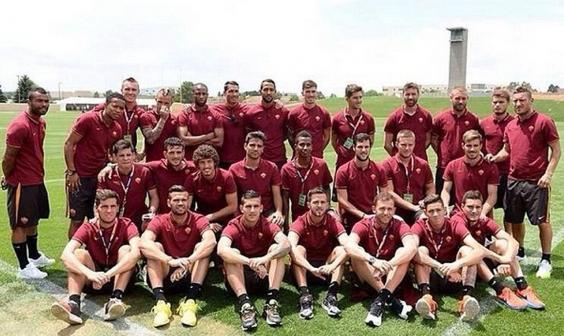 Showing he does have a sense of humour nestled somewhere underneath those prominent brows, he laughed off the spoof shot, retweeted it and tweeted back at one user, "ur a fool I'll give u this as your day, I'm comin 4u[sic]", followed by lots of 'crying with laughter' emoticons and a single blushing embarrassed one.
Cheryl Fernandez-Versini best quotes
Cheryl Fernandez-Versini best quotes
1/15 On relating to Prince Harry:

"I love Prince Harry. Good looking and a bit of a rebel. Me and his dad are as thick as thieves and I knew Harry before I knew his dad so we've met a few times. I think he's amazing. And I think you can relate to him because he's made mistakes. He's cool."

2/15 On her allegedly unattractive feet:

"Don't show my feet, Don't put the camera on my feet. A lot of people have foot fetishes, but they wouldn't have them over mine. They're dainty, they're a size 3, but there's nothing pretty about them."

PA

3/15 On gender:

"I am a woman and I like sex."

Sport Relief/Gary Moyes

4/15 On Simon Cowell:

"Simon is the most charismatic man I've ever met -- it's like he's trancing you or something. It's actually quite scary."

5/15 On being 'urban':

"I still am very street - I just have nicer clothes. I'm not ashamed of that."

Reuters

6/15 On her foes:

"If I could be good at any sport, it'd be javelin. I know a few people I would love to throw a spear at."

Getty Images

7/15 On her famous up-dos:

"I love that style. I felt really glamorous with it. The bigger the better I always say, the higher the hair, the closer to heaven."

Getty Images

8/15 On fighting:

"If someone attacked a Tweedy, we were taught to defend ourselves."

PA

9/15 On her infamous bottom tattoo:

"It was in the thousands, probably the cost of a small car. He's an exceptional artist and he was worth it."

PA

10/15 On what men want (apparently):

"As long as your hair's looking good and you've got a nice amount of make-up on. [In the bedroom] you've just got to throw your man on the bed and hop on! I think most men prefer to hear little breaths rather than big screams."

Getty Images

11/15 On breast enhancement speculation:

"It's not my fault they're pert."

REX

12/15 On her X Factor sacking:

"Now I can say that Simon was right to get rid of me. "I wasn't well in the head when that was going on, so it wasn't going to work. But he wasn't right not to tell me to my face."

PA

13/15 On former husband Ashley Cole's culinary skills:

"He couldn't even cook toast."

AP

14/15 On her style:

'I don't think I'm a style icon, not at all. Sometimes I just want to rock out in me scruffs and me Uggs. You know, a really comfy old tracksuit with maybe a dollop of ketchup down the front.'

GETTY IMAGES

15/15 On, um, water:

"You can't hold on to water. It fills you up but never stays. It's only good to wash away, today."

Rex Features
Other Ashley memes included him sneaking into Ellen DeGeneres' famous Oscars selfie, tentatively swimming with dolphins and sort of hanging around a golf course with Tiger Woods.