A married SNP MP whose email address has been published among millions of customers of the adultery website Ashley Madison has claimed that she was the victim of a smear campaign.
Michelle Thomson, MP for Edinburgh West said she was one of many people whose identity had been "harvested" by hackers calling itself the Impact Team. The group revealed the personal and financial details as well as the sexual fantasies of 37 million users – including 1.2 million in the UK.
Avid Life Media (ALM), the Canadian-based owner of AshleyMadison.com, condemned the "act of criminality" and the FBI began an investigation into the 9.7 gigabytes data dump. It was posted on the "dark web" and accessible only through Tor, a free browser that enables anonymous communication.
Mother-of-two Mrs Thomson said: "Along with potentially millions of others, an out-of-use email address seems to have been harvested by hackers. I am not aware of or in contact with either Avid Life or Ashley Madison and look forward to finding out more about what has actually happened."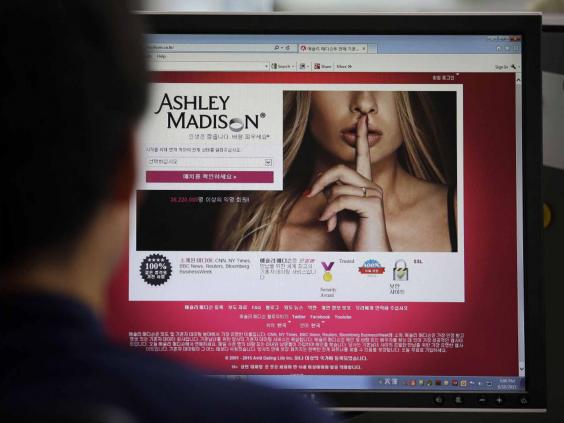 It is unclear how much of the published information is accurate. Ashley Madison's sign-up process does not require verification of an email address to set up an account so legitimate addresses might have been hijacked and used by some members of the website that promotes itself as the premier website for married people. Around 95 per cent if its users are men.
British civil servants, international bankers, United Nations staff and people with emails linked to the Vatican were among those named.
Around 2,000 public sector emails were published including 1,716 people from universities, Further Education colleges or research establishments (.ac.uk), 124 from the Government (.gov), 92 from the Ministry of Defence (.mod.uk), 56 from the NHS (.nhs.uk) and less than 50 from police forces (police.uk), according to the Political Scrapbook blog.
IT security expert Brian Krebs wrote on his blog: "I'm sure there are millions of Ashley Madison users who wish it weren't so, but there is every indication this dump is the real deal."
Last month the hackers had demanded that ALM take down Ashley Madison and its companion site Established Men, which promises to connect beautiful young women with rich sugar daddies "to fulfil their lifestyle needs", or else it would publish users' personal information.
The best, worst, and most unusual dating sites
The best, worst, and most unusual dating sites
1/18 Clown Dating

"It's no fun looking for love when you're a clown, behind all the make-up and the red nose is a lonely heart. Clowns are unique entertainers loved by some yet feared and hated by others. Luckily Clown Dating is here to help."

2/18 Dead Meet

"A dating networking site for death industry professionals"

3/18 Tinder

"Tinder is the fun way to connect with new and interesting people around you. Swipe right to like or left to pass. If someone likes you back, it's a match!"

4/18 Plenty of Fish

The largest dating site has over 90 million users

5/18 Ashley Madison

Ashley Madison "offers services to married folks looking for something on the side". It already has over a million members, as chief executive Noel Biderman said that British adults were most likely to have an affair than in other comparable countries

6/18 Sea Captain Date

Sea Captain Date website claims to be the only place for Sea Captains to connect with men and women who share a love of the ocean

7/18 E-harmony

Those on a more serious quest for love tend to choose the UK's largest dating site for professionals such as E-Harmony, which has a huge list of compatibility criteria on which it pairs its users

8/18 Feet Dating

The cybersphere also boasts a plethora of dating sites for those who want to tailor their sexual fetishes like Feet Dating ("to please everyone who has a foot fetish")

9/18 Guardian Soulmates

"Soulmates community features thousands of smart, modern, independent people who are worth getting to know"

10/18 Singles with Food Allergies

The founder claims that dating can be a nightmare for those who suffer severe reactions, since popular venue choices so often include food and drink

11/18 Herpes Dating Service

"Living with HSV is something that initially may take some psychological adjustment for some patients. It does not mean the end of your sex life or that you will need to remain unmarried for the rest of your life."

12/18 Match

Probably one of the most popular choices for tech-dating newbies

13/18 Miss Travel

Miss Travel website asks users to select from two options "attractive" and "generous", and pairs wealthy globe-trotters with hot companions

14/18 Pensioner Dating

Pensioner Dating offers a forum for "older people who want to meet new friends and companions"

15/18 Singleparents.ie

Singleparents.ie is "Ireland's number one dating site for single moms and dads"

16/18 S&M Dating

S&M Dating describes itself as a site for "beginners to the S&M and BDSM devotee"

17/18 Sugar Daddie

On the site, it says: "Sugardaddie.com is a high quality dating site for successful men who have financial security and confidence and attractive single women."

18/18 Uniform Dating

With more than 135,000 active users, Uniform Dating says each of their users receives an average of 22 winks and flirts each month
The hackers had not only targeted the company over its questionable morals but also what it considered fraudulent business practice – ALM had promised to delete all customer data for a fee but the Impact Team said the data was actually retained by the firm.
Introducing the data dump under the headline "Time's Up!", hackers posted a message yesterday (Wed) that said: "Avid Life Media has failed to take down Ashley Madison and Established Men. We have explained the fraud, deceit and stupidity of ALM and their members. Now everyone gets to see their data."
Discretion is a key selling point for ALM and, in a television interview last year, Chief Executive Noel Biderman described the company's servers as "kind of untouchable" and whose members are promised anonymity.
The hackers' message continued: "Find yourself in here? It was ALM that failed you and lied to you. Prosecute them and claim damages. Then move on with your life. Learn your lesson and make amends. Embarrassing now, but you'll get over it."
ALM condemned the release of the data. It said in a statement: "This event is not an act of hacktivism, it is an act of criminality. It is an illegal action against the individual members of AshleyMadison.com, as well as any freethinking people who choose to engage in fully lawful online activities. The criminal, or criminals, involved in this act have appointed themselves as the moral judge, juror, and executioner, seeing fit to impose a personal notion of virtue on all of society. We will not sit idly by and allow these thieves to force their personal ideology on citizens around the world."
Reuse content