A petition calling for American presidential hopeful Donald Trump to be refused entry to the UK has passed 200,000 signatures in less than 24 hours, meaning the issue will be considered for debate in parliament.
The controversial Republican had provoked near global condemnation after claiming as president he would order a "complete shutdown" of Muslim immigration to the United States.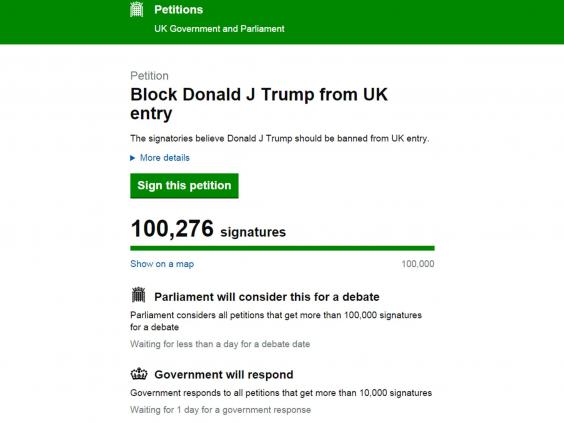 Defending his remakrs, the billionaire candidate also went on to claim his policy was based in part on the aftermath of the Paris attacks.
"They have sections in Paris that are radicalised, where the police refuse to go there. They're petrified. The police refuse to go in there.
"We have places in London and other places that are so radicalised that the police are afraid for their own lives. We have to be very smart and very vigilant," he told MSNBC.
Donald Trump's most controversial quotes
Donald Trump's most controversial quotes
1/14 On Isis:

"Some of the candidates, they went in and didn't know the air conditioner didn't work and sweated like dogs, and they didn't know the room was too big because they didn't have anybody there. How are they going to beat ISIS?"

Getty

2/14 On immigration:

"I will build a great wall — and nobody builds walls better than me, believe me —and I'll build them very inexpensively. I will build a great, great wall on our southern border, and I will make Mexico pay for that wall. Mark my words."

Reuters

3/14 On Free Trade:

"Free trade is terrible. Free trade can be wonderful if you have smart people. But we have stupid people."

PAUL J. RICHARDS | AFP | Getty Images

4/14 On Mexicans:

"When Mexico sends its people, they're not sending their best. They're sending people that have lots of problems. They're bringing drugs. They're bringing crime. They're rapists."

Getty

5/14 On China:

"I just sold an apartment for $15 million to somebody from China. Am I supposed to dislike them?... I love China. The biggest bank in the world is from China. You know where their United States headquarters is located? In this building, in Trump Tower."

Getty Images

6/14 On work:

"If you're interested in 'balancing' work and pleasure, stop trying to balance them. Instead make your work more pleasurable."

AP

7/14 On success:

"What separates the winners from the losers is how a person reacts to each new twist of fate."

8/14 On life:

"Everything in life is luck."

AFP

9/14 On ambition:

"You have to think anyway, so why not think big?"

Getty Images

10/14 On his opponents:

"Bush is totally in favour of Common Core. I don't see how he can possibly get the nomination. He's weak on immigration. He's in favour of Common Core. How the hell can you vote for this guy? You just can't do it."

Reuters

11/14 On Obamacare:

"You have to be hit by a tractor, literally, a tractor, to use it, because the deductibles are so high. It's virtually useless. And remember the $5 billion web site?... I have so many web sites, I have them all over the place. I hire people, they do a web site. It costs me $3."

Getty Images

12/14 On Barack Obama:

"Obama is going to be out playing golf. He might be on one of my courses. I would invite him. I have the best courses in the world. I have one right next to the White House."

PA

13/14 On himself:

"Love him or hate him, Trump is a man who is certain about what he wants and sets out to get it, no holds barred. Women find his power almost as much of a turn-on as his money."

Getty Images

14/14 On America:

"The American Dream is dead. But if I get elected president I will bring it back bigger and better and stronger than ever before and we will make America great again."

GETTY
British politicans have condemned his remarks. David Cameron called them "divisive, unhelpful and quite simply wrong."
In classic fashion, Boris Johnson responded to Trump's latest remarks by claiming: "The only reason I wouldn't go to some parts of New York is the real risk of meeting Donald Trump."
Meanwhile, London mayoral candidate Zac Goldsmith labelled Trump an "appalling creature" and likened some of the rhetoric of his policies to that of the Nazis.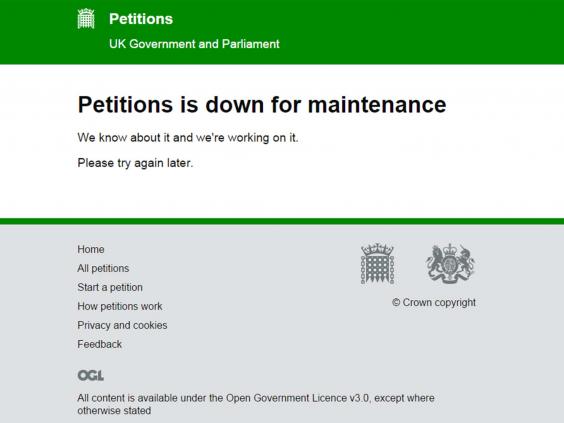 Shortly after the petition surpassed the required 100,000 votes, it appeared the government page crashed.
Reuse content