President Barack Obama spent several hours at a mosque just outside Baltimore on Wednesday - a move meant to signal his impatience with recent messages of bias against Muslims in America, widely seen has having been compounded by Republican rhetoric on the campaign trail.
Mr Obama had waited until his final months in office to pay a first official visit as president to any Islamic place of worship in the US itself, even though he did make a landmark speech at Cairo University shortly after taking office in 2009 promising that America would never be at war with Islam.
He told his audience at the Islamic Society of Baltimore that bias and prejudice against Muslims in the country was fed by ignorance among Americans about their community and the Islamic faith.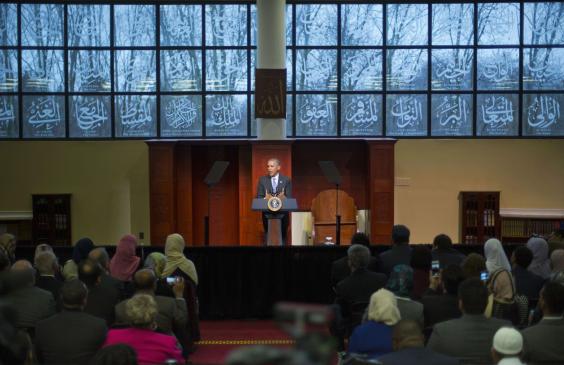 "Many only hear about Muslims or Islam from the news after an act of terrorism, or in distorted media portrayals on the television or on film which gives this hugely distorted impression." he offered.
Many Muslim-Ameicans have complained of a fresh swell of antipathy and suspicon against them in the US, in particular since the mass shootings in Paris and a shooting rampage in San Bernardino, California, by a married couple who, authorities said, had been inspired by Isis and anti-American Jihad.
"I don't think there's ever been this level of fear and apprehension in the Muslim-American community," said Ibrahim Hooper, a spokesman for the Council on American-Islamic Relations. He welcomed the President's gesture. "For some time, we've been asking for pushback. Perhaps this will start a trend."
Donald Trump in December called for a stop to Muslim immigration and Dr Ben Carson stated that no Muslim would be fit to be president.  
In recent weeks a severed pig's head was left outside a mosque in Philadephia and another mosque in California suffered an arson attack