BB King's daughters have come face-to-face with the woman they accused only days before of poisoning their father.
Karen Williams and Patty King alleged in documents LaVerne Toney, who managed the legendary musician for 39 years, along with assistant Myra Johnson, had poisoned their father. All allegations of abuse have been denied by LaVerne Toney and her assistant. 
The two sisters reportedly came face-to-face with Toney yesterday during a memorial concert for King in Memphis, Tennessee.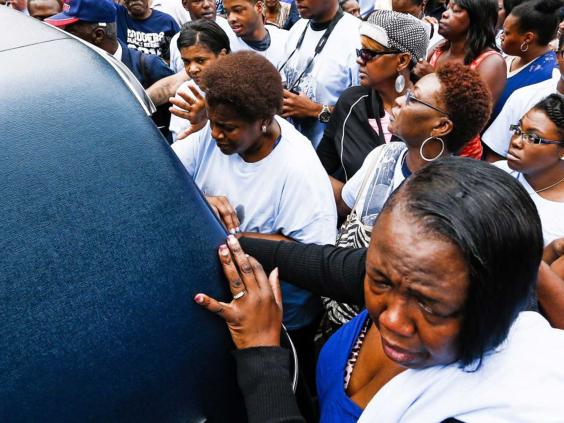 Before the concert, which saw performances by musicians including Keb Mo, Ruby Wilson, and Will Tucker, the sisters were seen walking alongside King's hearse sobbing.
BB King: Career in pictures
BB King: Career in pictures
1/15 BB King

BB King gestures during his first performance at the Marciac Jazz festival, southwestern France, 1997

2/15 BB King

B.B. King performs for hundreds at The Moore Theatre in Seattle, 2014

3/15 BB King

BB King arrives on stage to perform US President Barack Obama lit the National Christmas Tree on the Ellipse in Washington, 2010

4/15 BB King

(L-R) Musicians The Edge, B.B. King, and Bono perform onstage during the Thelonious Monk Institute of Jazz honoring B.B. King event held at the Kodak Theatre in Los Angeles, 2008

5/15 BB King

B.B. King performs at the Wicomico Youth and Civic Center, in Salisbury, 2007

6/15 BB King

B.B. King signs copies of his new book 'The B.B. King Treasures' at Barnes & Noble in New York City, 2005

7/15 BB King

(L-R) B.B. King, Sam Haskell and Mary Haskell blow out candles on King's 80th birthday cake at the home of Sam and Mary Haskell in Encino, California, 2005 Funds raised from the event went towards the forthcoming B.B. King Museum in Indianola, Mississippi

8/15 BB King

B.B. King (C), Steve Tyler (L) and Joe Perry (R) laugh as they present the Grammy for Best Rap Album during the 46th Annual Grammy Awards at the Staples Center in Los Angeles, 2004

9/15 BB King

BB King and Samuel L. Jackson at the 'Carousel of Hope Ball 2002' to benefit childhood diabetes, hosted by Barbara and Marvin Davis, at the Beverly Hilton Hotel, 2002

10/15 BB King

B.B. King poses with his Grammy Awards at the 43rd Grammy Awards in Los Angeles, 2001. King won for Best Traditional Blues Album, 'Riding with the King', and Best Pop Collaboration with Vocals for the album entitled 'Is You Is, Or Is You Ain't'

11/15 BB King

US President George Bush (R) and First Lady Barbara Bush (C) present the National Medal of Arts to blues musician B.B. King at the white House, 1990

12/15 BB King

B.B. King performs at the Nice Jazz Festiva, 1985

13/15 BB King

B.B. King and an accompanist perform during the opening of the 1980 New Orleans Jazz and Heritage Festival

14/15 BB King

B B King pewrforms on stage at an outdoor concert, 1979

15/15 BB King

Portrait of the legendary blues singer, songwriter and guitarist B B King, second cousin of Bukka White, 1969
Toney spent most of her time at the concert with King's drummer Tony Coleman. Coleman was performing – along with the rest of King's band – in memory of the late performer.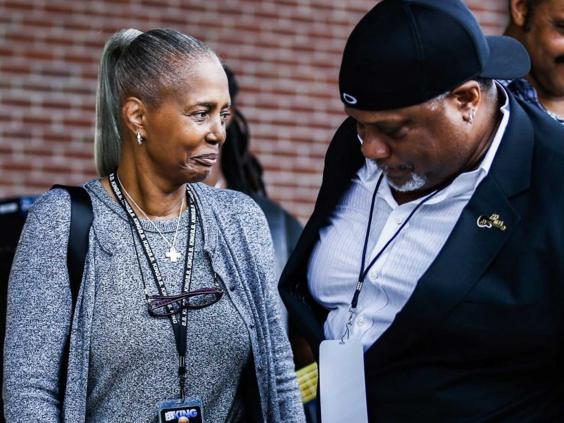 King was reported dead on 14 May at his Las Vegas home aged 89. His death was listed as multi-infarct dementia, a series of small strokes caused by the singer's well-documented battle with diabetes.
After the sister's allegations an autopsy will be performed with the result expected in eight weeks time.
Reuse content