One of the most scrutinised couples in Hollywood has announced they are to divorce after ten years of marriage.
Christened a "power couple" by the tabloids, Jennifer Garner and Ben Affleck's every moved was watched, photographed and documented. Despite their public outings being largely confined to family days out, mundane trips to coffee shops, supermarkets and press appearances, the pair were constantly subjected to comments and claims about the health of their marriage.
6 signs the Ben-Jen divorce was nigh http://t.co/bplqkSp43f pic.twitter.com/UwMQ9YhFsN

; USA TODAY (@USATODAY) June 30, 2015
Time journalist Dan D'Addario summarised their parting as the end of an era for celebrity news, writing: "The Garner-Affleck storyline, in the celebrity press, was one that proved no matter how hard celebrities try to be boring - no matter how close to 100 per cent of their time they spent on couples' trips to Starbucks - celebrities will always exist as templates onto which we can project our darker impulses."
Garner and Affleck met on the set of Pearl Harbour in 2001, began dating in 2004, married in 2005, and had three children together. Their intent to divorce was announced just a day after their anniversary, when the couple said they would go forward "with love and friendship for one another and a commitment to co-parenting our children".
Their decade together was punctuated by a number of candid comments from the Argo director and the Dallas Buyers Club about their marriage, comments that led many outlets to mourn the end of one of the film industry's more 'human' relationships. 
Ben Affleck and Jennifer Garner have split and now everyone thinks love is dead: http://t.co/sKPQ79kykm pic.twitter.com/rmti7nfGAr

; E! Online (@eonline) July 1, 2015
We are so sad to hear that Ben Affleck and Jennifer Garner are getting a divorce: http://t.co/2QHIgXL0WH pic.twitter.com/9FoJ2vQTqx

; JustJared.com (@JustJared) June 30, 2015
Affleck's closing remarks during his Oscar acceptance speech in 2013, typically saved for exaggerated, clichéd declarations of never ending love for spouses, particularly increased speculation over their relationship when he thanked Garner for "working on [their] marriage for 10 Christmases," and described their union as "work, but the best work there is".
He also joked about the hierarchy in his female-dominated household during an appearance on The Ellen DeGeneres Show, telling DeGeneres in 2010: "When one of the vassals comes and points at something... I take orders from people that cannot speak. And yet still they are higher up on the food chain than I am. I have three women in the house… I get to be wrong three times a day."
Garner was equally realistic about the limits of their relationship in her own interviews. She told InStyle in 2014: "When we had our first, we had only been together a year. We were babies. It happened so fast, I hardly even remember what we were like before the kids got here. Now we're just starting to go away for a night here and there.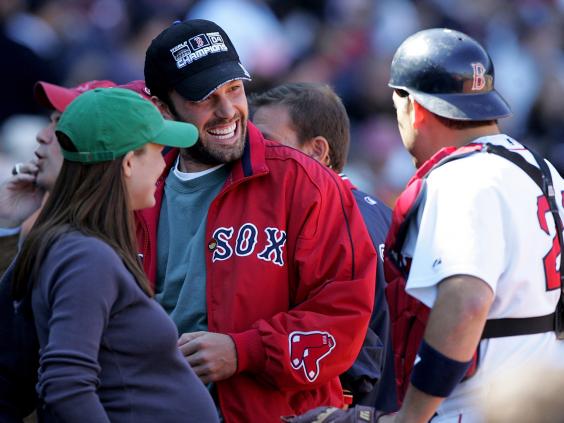 "You go through phases. You can't expect to be courted all the time, and I don't want to court him right now—I don't have the energy!"
She summarised her husband as "pretty nice" in a 2007 interview with Marie Claire. "What I mean is, if he's ever angry with me, he doesn't act out on it in a weird way or yell at me," she said. "We handle conflict in a very loving and adult way."
Their remarks about the 'normal' aspects of family life were often more memorable, with Garner explaining to InStyle in 2009: "Ben will do the school run. He dresses her and does her hair. It's pretty funny. You can always tell when he has been at it, just two random barrettes hanging in there."
Affleck, meanwhile, revealed that he and his wife often communicated via text message, telling Extra:"I correspond with my wife that way… She's like, 'Get over here. Pick this s**t up! It's time for you to go get our daughter!'"
Reuse content