They have not always been so willing to play happy families, but today Bill and Hillary Clinton have shared a photograph of their first grandchild.
Bill Clinton tweeted the photograph after their daughter Chelsea gave birth to her first child Charlotte Clinton Mezvinsky on Friday night
Chelsea Clinton and her husband, hedge fund manager Marc Mezvinsky, announced the news on Saturday morning.
Charlotte Clinton Mezvinsky begins the third generation of the Clinton family political dynasty.
Hillary Clinton is thought to be the firm favourite to run for office in the 2016 presidential election following her tenure as Secretary of State.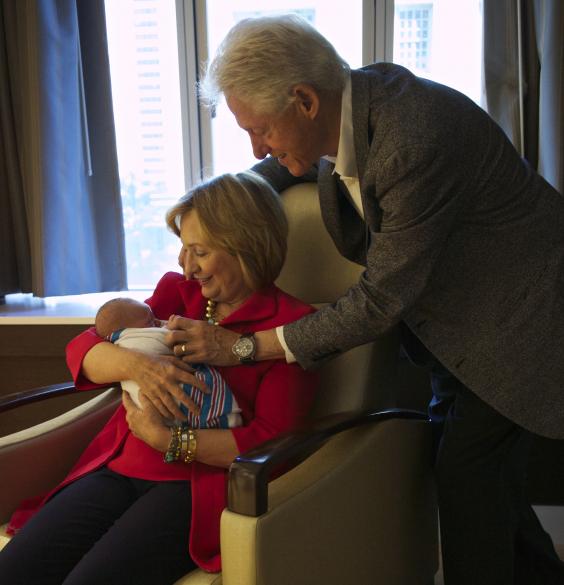 Chelsea Clinton has also hinted she would be interested in a career in politics, saying earlier this year she could no longer rule out the possibility of taking up a post in public office.
Since growing up under intense media scrutiny as a teenager in the White House, she has pursued a career in finance in New York on later in public health, becoming vice chairman of her family's foundation.
Charlotte, your grandmother @HillaryClinton and I couldn't be happier! pic.twitter.com/omu6ncg54e

— Bill Clinton (@billclinton) September 27, 2014
But new-born Charlotte also has political ties on her father's side.
Marc Mezvinsky is the son of former democrat House of Representative members Marjorie Margolies and Edward Mezvinsky.
Like her mother, Charlotte Clinton Mezvinsky is likely to be plagued with questions about whether she will go into politics all her life – until she does.
Reuse content