Bill Clinton was busy in Arkansas this weekend campaigning for Democratic Senator Mark Pryor when he spied the most spectacular photo opportunity.
Like his photobombing forefathers and mothers, Benedict Cumberbatch, The Queen and Jennifer Lawrence, the former US President saw fit to pounce in on the photo of an unsuspecting victim – in this case, the most melancholic-looking he could find.
Clinton smiles gleefully in the background, while the child looks mournfully down at the ground, clutching her kindle like it's a gateway to a world free from political rallies. Little is known about the featured man wearing the biblical T-shirt, bearing a verse from Isaiah 53:5, or the intense-looking person with dark glasses in the far background.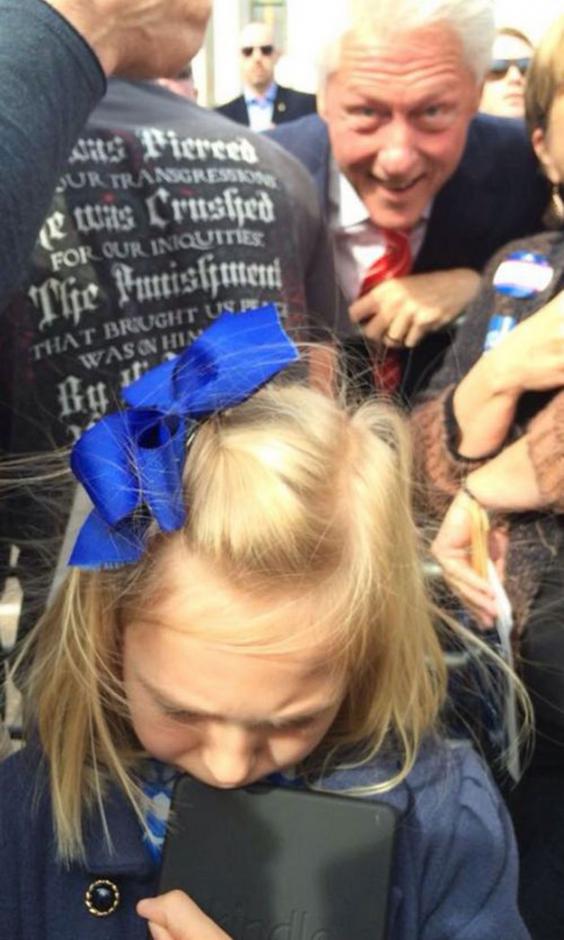 However, all we know about this sad little girl, who was conveniently wearing Democrat blue, is this:
"She didn't want to be there," said Reddit user Fieldblazer, who shared the picture, which was taken by a friend.
"It was really cold outside for what we're used to and this was after the event."
Memorable photobombs
Memorable photobombs
1/8 Aaron Paul breaks bad on Bryan Cranston

At the Primetime Emmy Awards in September 2013, Aaron Paul photobombed his Breaking Bad co-star Bryan Cranston - the juxtaposition between Cranston's suave and Paul's joker is wonderful. Top points for photobombing skills!

2/8 Jennifer Lawrence the Golden Globes monster

She may have won the Best Supporting Actress award at the Golden Globes in January 2014 but American Hustle star Jennifer Lawrence hit more headlines for this classic red carpet photobomb. As singer Taylor Swift was being interviewed, Lawrence snuck up behind her, joking that she was coming to 'push (Swift) down the stairs'.

Ryan Seacrest

3/8 Emma Thompson does a Jennifer Lawrence

Taking a leaf out of Jennifer Lawrence's photobombing guide, British actress Emma Thompson pulled a funny behind 12 Years a Slave star Lupita Nyong'o at the Screen Guild Awards in January 2014. Nyong'o laughed when she realised the prank and the stars hugged.

Reuters

4/8 Frog ambushes NASA mission

One giant leap for frogkind! This little froggy ended up being blasted into space when a rocket took off from Virginia in September 2013. It is unknown whether the frog survived his ordeal, but it sure made for a good photobomb.

NASA/Wallops/Mid-Atlantic Regional Spaceport

5/8 Will Self takes the Booker spotlight

'Umbrella' author Will Self held up his book in an umbrella motion after losing out on the Booker Prize to Hilary Mantel in October 2013. Safe to say he somewhat dominated the photo and rather overshadowed Mantel - funny though.

PA

6/8 George Clooney lowers the tone an oh-so-serious event

Not content with his film star looks being pushed to the background of any photo, George Clooney photobombed Steven Spielberg, Jessica Seinfeld and Jerry Seinfeld at the USC Shoah Foundation Institute 2013 Ambassadors for Humanity gala in October 2013.

7/8 Zach Braff the wedding crasher

The former Scrubs actor was spotted grinning cheekily behind a bride and groom in front of Times Square in November 2013. Wedding photographer Sascha Reinking noticed and tweeted Braff: 'Sir, I think you photobombed my newlywed couple the other day in New York :). Well played...'

Sascha Reinking

8/8 Great white shark creeps into holiday snap

This ominous image was posted to Facebook in December 2013 by the mother of one of the two boys seen here surfing in California. June Emerson only noticed the suspected great white shark when going through her holiday photos at home. She didn't want the boys to be put off swimming in the sea, so told them it was a dolphin when they saw the picture.

Facebook/June Emerson
The image has unsurprisingly gone viral. Clinton knows a good photo opp when he sees one, having previously photobombed Kelly Clarkson.