He was greyer, paler, and his voice sounded rather hoarse.
But there was no mistaking the man who introduced Hillary Clinton to a roaring crowd on Friday night, and who said he had detected something special in her when they first met 45 years ago.
"She is the best change-maker I have ever known," Bill Clinton told up to 1,000 people in a ballroom in the eastern Iowa city of Davenport, shortly before his wife bounded onto the stage.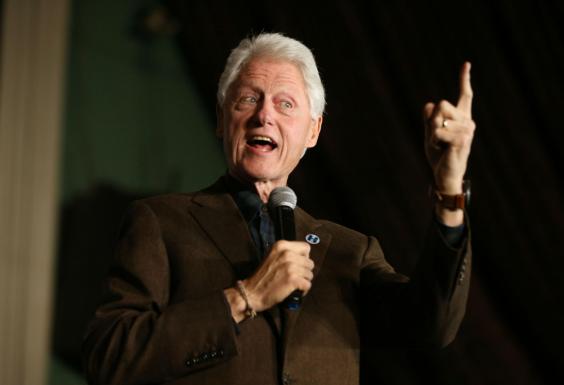 "We need a president who will keep us safe and strong."
With just a couple of days before the Iowa caucus - the first actual vote in the 2016 presidential campaign - Ms Clinton has been reminding potential voters of her considerable experience - as a senator, secretary of state, and as a first lady.
With most polls putting her neck and neck with her Democratic rival Bernie Sanders, Ms Clinton and her team have been pushing her record as somebody who could get things done. 
"There will be good days, there are bad days. She will be there every single day," said Mr Clinton.
In a speech now well rehearsed but still riven with energy, Ms Clinton talked for a little under 40 minutes, underscoring her work in the White House of President Barack Obama, and of her efforts in the White House when her husband was president.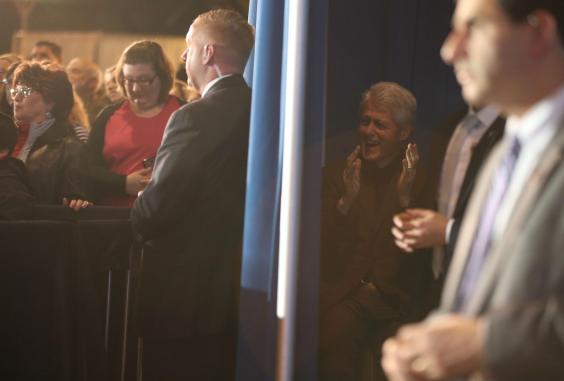 And she stressed that she would protect many of the key policies of Mr Obama, rather than stripping them away as she said the Republicans would do.
"Before it was called Obamacare it was called Hillarycare," she said, referring to her failed efforts to reform health care while first lady.
"Democrats have been trying to do it since Harry Truman. I want to make it better, I want to bring the costs down."
Mrs Clinton's speech took in gun control, a women's right to choose, the Republicans' attacks on Muslims and her plans for creating more jobs, with the help of government. She said investment in green energy and upgrading the nation's infrastructure - jobs that "can't be exported overseas".
For all his skill as a campaigner, Mr Clinton's presence has not always been a help to his wife. In 2008, he sparked controversy with intemperate words about Barack Obama that some considered racist. His very been there, also provides his Ms Clinton's enemies to drudge up old stories of his infidelities.
But in a race where she appears to be counting on her record to seal the deal with voters, being able to remind an audience of her husband's achievements, particularity in overseeing a successful economy, may be a powerful ploy.
Outside, many of those who showed up to see her appeared pleased with what they had seen. "She just has the experience. Bernie Sanders is a good person too, but she is so qualified," said Jewel Sallows, who had come from her home across the Mississippi River in Illinois. "She has the knowledge and the experience."
Reuse content