To many people during the 1980s and 1990s, Bill Cosby was "America's Dad": the smiling, sweater-clad patriarch of The Cosby Show, one of the most successful and influential sitcoms of all time. But several women have now alleged that he was something far more sinister: a star who took advantage of his celebrity to drug and sexually assault them, and to get away with it.
Mr Cosby has strongly denied previous accusations against him, which his lawyer described as "preposterous" and "bizarre". But last weekend, the 77-year-old comedian faced fresh allegations from a woman who says he raped her in 1969, when she was 19 years old. Joan Tarshis, then an aspiring comedy writer, claims she recalled Mr Cosby mixing her a drink at his studio bungalow.
"The next thing I remember was coming to on his couch while being undressed," she wrote on the website Hollywood Elsewhere. "Through the haze I thought I was being clever when I told him I had an infection, and he would catch it, and his wife would know he had sex with someone. But he just found another orifice to use."
At the time Ms Tarshis told no one what had happened, and claims she later felt obliged to accept Mr Cosby's invitation to his stand-up show, where she said he again mixed her a drink, and she grew woozy. "The next thing I remember was waking up in his bed back at the [hotel], naked. I remember thinking 'You old s***, I guess you got me this time, but it's the last time you'll ever see me.'"
Ms Tarshis is one of a number of women to come forward with accusations of assault stretching back decades. Her account came on the heels of a piece published in the Washington Post last week by former model Barbara Bowman, who claimed, "Cosby won my trust as a 17-year-old aspiring actress in 1985, brainwashed me into viewing him as a father figure, and then assaulted me multiple times... I'm certain that he drugged and raped me."
When Andrea Constand, another alleged victim, filed a lawsuit in 2005 claiming the comedian had drugged and molested her at his home in Philadelphia that year, 13 others reportedly offered to testify in the case, including Ms Bowman. The suit was settled out of court, and the terms of the settlement were not disclosed.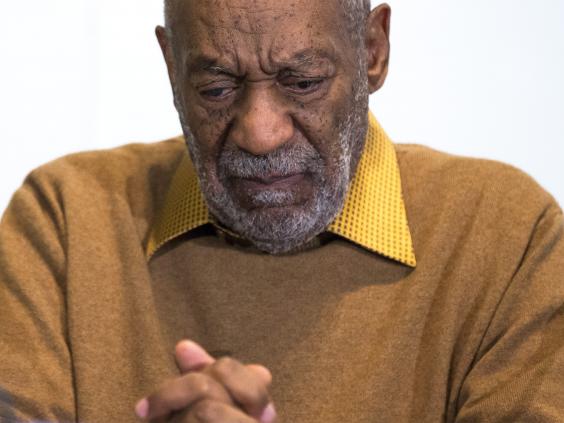 Ms Bowman expressed frustration that her story was not taken seriously until another male comic included the allegations against Mr Cosby in his own act. Onstage in Philadelphia last month, black comedian Hannibal Buress criticised what he perceived as Mr Cosby's holier-than-thou attitude towards others in the African-American community, and described the 77-year-old as a "rapist".
Mr Buress's routine was widely shared online at around the same time as the publication of a new biography of Mr Cosby. In Cosby: His Life and Times, journalist Mark Whitaker detailed the comedian's Philadelphia childhood, his ground-breaking early stand-up and his part in the 1960s TV series I Spy, which made him the first major black star on US television. Mr Whitaker covered Mr Cosby's relationship with his wife Camille, to whom he has been married for 50 years, and his defining role as the benevolent obstetrician Cliff Huxtable in The Cosby Show.
Yet the book instantly became controversial not for what was included, but for what was not. Mr Whitaker deliberately omitted the sexual assault allegations because, he later told HuffPost Live, "There were no definitive court findings, there were no independent witnesses, and I just felt, at the end of the day, all I would be doing would be, 'These people say this, Cosby denies this'... If people asked me, 'What is the truth? What do you think?' I would be in the position of saying, 'I don't know,' and I just felt uncomfortable."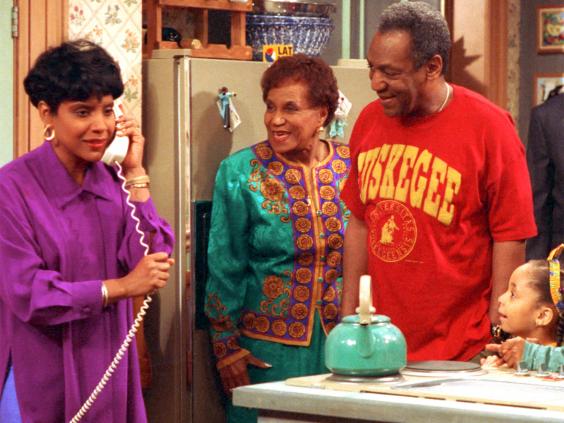 Mr Cosby and his representatives have consistently denied the allegations. Invited to comment on the issue during a radio interview broadcast on Saturday, the comedian simply shook his head. He has cancelled appearances on talk-shows hosted by David Letterman and Queen Latifah. His spokesman did not respond to a request for comment from The Independent, and last weekend his lawyer, John Schmitt, released a brief statement describing the women's allegations as "discredited", adding: "The fact that they are being repeated does not make them true. Mr Cosby does not intend to dignify these allegations with any comment."
Actress Whoopi Goldberg, a panellist on The View, came to Mr Cosby's defence, telling her co-hosts that she would "reserve... judgement" on the accusations. Ms Goldberg questioned why Ms Bowman had not gone to the police or a hospital at the time of the alleged attacks, and pointed out that the settlement between Mr Cosby and Ms Constand was not an admission of guilt. "You... settle because you just don't want to have to put your family through it again, and you don't want to have to keep going through it again," she said.
Bill Cosby: Career in pictures
Bill Cosby: Career in pictures
1/20 Bill Cosby

Winner of his first Emmy for 'I Spy' is Bill Cosby being congratulated by his wife Camille held at Americana Hotel, 1966

2/20 Bill Cosby

Bill Cosby in 'I Spy', 1960s

3/20 Bill Cosby

Bill Cosby in July 1973 in Perth

4/20 Bill Cosby

Bill Cosby and Richard Pryor in 'California Suite', 1978

5/20 Bill Cosby

Bill Cosby and Elmo in Sesame Street, 1989

6/20 Bill Cosby

Bill Cosby poses for a picture with Florence Griffith-Joyner in June 1989

7/20 Bill Cosby

Comedian Bill Cosby back in 1992

Rex Features

8/20 Bill Cosby

A scene from a 1992 episode of 'The Cosby Show'

AP

9/20 Bill Cosby

US Monica Seles breaks into laughter as she jokes with comedian Bill Cosby during a celebrity match in the stadium at the US Open for the Arthur Ashe AIDS Challenge on 27 August 1995

10/20 Bill Cosby

Bill Cosby meets Toronto Blue Jays' All-Star Joe Carter after the Stars played the Stripes in the Celebrity All-Star game which preceded workouts for the 67th All-Star Game at Veterans Stadium on 8 July 1996 in Philadephia

11/20 Bill Cosby

Co-hosts Oprah Winfrey and Bill Cosby joke with each other during the opening of the 2000 Essence Awards 14 April 2000 at Radio City Music Hall in New York City

12/20 Bill Cosby

Bill Cosby jokes with baseball great Hank Aaron after they both received the Presidential Medal of Freedom Award from U.S. President George W. Bush during a ceremony on 9 July 2002 at the White House in Washington

13/20 Bill Cosby

Bill Cosby poses backstage after winning the 'Bob Hope Humanitarian Award' during the 55th Annual Primetime Emmy Awards at the Shrine Auditorium on 21 September 2003 in Los Angeles

14/20 Bill Cosby

'Tonight Show' host Jay Leno and comedian Bill Cosby laugh during a surprise visit by Cosby to sign a Harley-Davidson motorcycle that Leno is using to raise money for the victims of Hurricane Katrina at NBC studios on 9 September 2005 in Burbank, California

15/20 Bill Cosby

Bill Cosby speaks during a taping of 'Meet the Press' at the NBC studios on 14 October 2007 in Washington

16/20 Bill Cosby

Bill Cosby at the 12th annual Mark Twain Prize for American Humor at the John F. Kennedy Center on 26 October 2009 in Washington

17/20 Bill Cosby

Bill Cosby speaks at the National Action Network's 20th annual Keepers of the Dream Awards gala in New York on 6 April 2011

Reuters

18/20 Bill Cosby

Bill Cosby during the 100th anniversary celebration of the Beverly Hills Hotel & Bungalows supporting the Motion Picture & Television Fund and the American Comedy Fund, 2012

Getty Images

19/20 Bill Cosby

Bill Cosby speaks onstage at the Thurgood Marshall College Fund 25th Awards Gala on 11 November 2013 in Washington

20/20 Bill Cosby

Bill Cosby performs at the Treasure Island Hotel & Casino on 26 September 2014 in Las Vegas
Mr Cosby has directly addressed the allegations in public just once, in a 2005 interview with US tabloid The National Enquirer. Of his alleged assault on Andrea Constand, he said, "I am not going to give in to people who try to exploit me because of my celebrity status." He went on, "looking back on it, I realise that words and actions can be misinterpreted by another person... I'm not saying that what I did was wrong, but I apologise to my loving wife, who has stood by my side for all these years, for any pain I have caused her. These allegations have caused my family great emotional stress."
Though he currently faces no legal action over the allegations, he is nonetheless on trial in the court of public opinion. The streaming service Netflix is due to premiere his latest stand-up comedy special, Bill Cosby 77, on 28 November. Meanwhile NBC – the network that originally broadcast The Cosby Show – is developing a new family sitcom for 2015, with Mr Cosby in the starring role. Whether America will ever view its onscreen "Dad" in quite the same way remains to be seen.
Reuse content