Sir Bob Geldof - the inspiration of Band Aid and self-described "pleb" - has offered a stout defence of his friend and ex-minister Andrew Mitchell for his High Court libel battle.
Sir Bob described him as one of the more effective ministers he has worked with in 30 years and said they became unlikely friends over their shared work on international aid projects.
In a witness statement for Mr Mitchell, Sir Bob said he had not a "single shred of doubt" that the politician's account of the 'plebgate' row with police in Downing Street was the truth.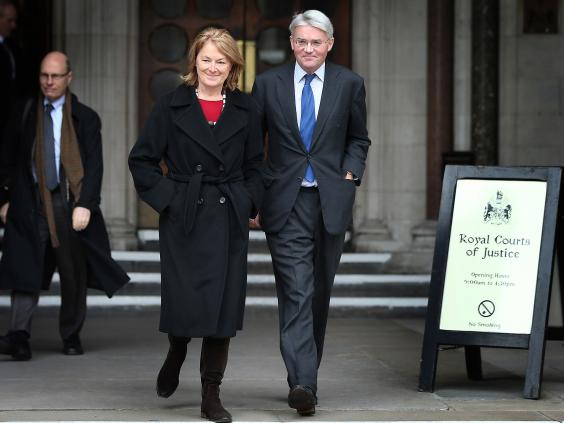 Mr Mitchell is suing News Group Newspapers, the publishers of The Sun, after it published an account of the September 2012 dispute which alleged that Mr Mitchell called police officers "fucking plebs" who should know their place. He denies using the toxic phrases.
He is being sued by the officer PC Toby Rowland who says the MP accused him of lying about their exchange when the former chief whip was stopped from cycling out of the main Downing Street gates.
In his statement, Sir Bob said that the pair first met when Mr Mitchell sought a meeting when the Conservatives were in opposition and he had the international development brief.
In pictures: Band Aid 30 artists arrive to record
In pictures: Band Aid 30 artists arrive to record
1/16 Ed Sheeran

Ed Sheeran

Rex Features

2/16 Chris Martin

Chris Martin

PA

3/16 Midge Ure and Bob Geldof

Band Aid organisers Midge Ure and Bob Geldof

PA

4/16 One Direction's Harry Styles

Harry Styles

Rex Feature

5/16 One Direction's Louis Tomlinson

Louis Tomlinson

6/16 One Direction's Liam Payne

Liam Payne

PA

7/16 Bono

Bono

8/16 Rita Ora

Rita Ora

9/16 Ellie Goulding

Ellie Goulding

Getty Images

10/16 Paloma Faith

Paloma Faith

PA

11/16 Guy Garvey

Elbow's Guy Garvey

PA

12/16 Bastille's Dan Smith

Bastille's Dan Smith

Getty Images

13/16 Olly Murs

Olly Murs

PA

14/16 Jessie Ware

Jessie Ware

PA

15/16 Seal

Seal

Getty Images

16/16 Emeli Sande

Emeli Sande

Getty Images
"He struck me as being a man eager to learn, to listen, to absorb and process information rapidly and as someone without side or guile in any respect," said Sir Bob.
"I am used to being patronised by 'my betters' there was no such nonsense from Mr Mitchell."
He said that they became unlikely friends. "I came from a poor Irish, not particularly well educated background and he does not. I am in fact 'a pleb' and he is not."
He said that he had never known the politician to patronise or talk down to him.
"Nor did I ever find in him the preposterous pantomime patrician and frankly Woodhouseian (sic) superior manner attributed to him in the Sun and others."
Sir Bob said that he had been called by Mr Mitchell in the minutes after the Downing Street confrontation about an unrelated matter. Sir Bob said that he told him there had been a 'row' with a guard about his bike but did not mention using the word pleb.
Lawyers for PC Rowland say that Mr Mitchell had a pattern of behaviour of confrontation with police at Downing Street and elsewhere, and maintain the politician used the derogatory terms during the brief spat at the gates.
The case continues.
Reuse content