Bono has urged US president-elect Donald Trump to make gender equality "a priority" as the U2 singer was honoured at Glamour's Women of the Year awards.
The Irish musician received the magazine's first Man of the Year award at the star-studded ceremony in Los Angeles.
On stage, Bono said: "I know how ridiculous it is for me to be on this stage accepting this award. But if I didn't know how ridiculous it was, I did have the blessed internet to remind me.
"As my daughter Jordan says, there is nowhere on earth where women have the same opportunities as men.
"Unless we address this problem, both men and women together, the world will continue down this misogynistic, violent and impoverished path.
"I say to the president-elect: look across to women, make equality a priority, it is the only way forward.
"The train is leaving the station, be on it or be under it."
Bono joined International Monetary Fund (IMF) chief Christine Lagarde, singer Gwen Stefani and Olympic gymnast Simone Biles on the list of winners.
He was recognised after his One campaign launched a "Poverty is Sexist" movement last year.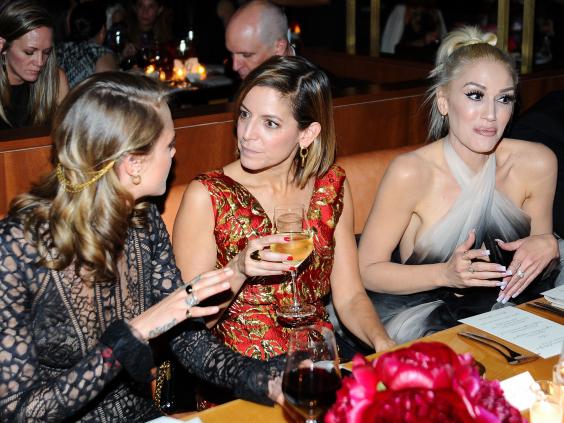 In a letter to world leaders, Bono and a host of celebrities including Sir Elton John, Robert Redford and Oprah Winfrey called it an outrage that girls account for 74% of all new HIV infections among adolescents in Africa.
At the awards ceremony, actress Amber Heard read the victim impact statement of the survivor of the Stanford sexual assault case, known only as Emily Doe.
People news in pictures
People news in pictures
1/18 7 October 2015

Russian President Vladimir Putin takes part in an ice hockey match between former NHL stars and officials at the Shayba Arena in the Black Sea resort of Sochi. Vladimir Putin spent his 63rd birthday on the ice, playing hockey with NHL stars against Russian officials and tycoons

EPA

2/18 6 October 2015

German designer Karl Lagerfeld (R) and model Cara Delevingne (C) appear at the end of his Spring/Summer 2016 women's ready-to-wear collection for fashion house Chanel at the Grand Palais which is transformed into a Chanel airport during the Fashion Week in Paris, France

Reuters

3/18 5 October 2015

Chancellor of the Exchequer George Osborne addresses the Conservative party conference in Manchester. The Chancellor argued that reducing the payments to people in low paid jobs would give them "economic security" by reducing the Government's spending deficit

Getty Images

4/18 4 October 2015

Cowboys captain Johnathan Thurston takes a moment in the centre of the field with his daughter Frankie Thurston, holding dark-skinned doll, after winning the 2015 NRL Grand Final match between the Brisbane Broncos and the North Queensland Cowboys at ANZ Stadium in Sydney. The image quickly became the talking point of Australia's National Rugby League Final and provoked a strong reaction on social media, with many praising Thurston for giving his child a toy that promotes inclusiveness and diversity

Getty Images

5/18 3 October 2015

Pope Francis gives a thumbs-up as he greets people at the end of an audience to the participants of a meeting organized by the "Food Bank" at the Paul VI audience hall in Vatican

Getty Images

6/18 2 October 2015

Britain's Finance Minister George Osborne (L) throws an American football as he meets with former American football players Dan Marino (2nd R) and Curtis Martin (not pictured) at 11 Downing Street in London, ahead of the New York Jets playing against the Miami Dolphins at London's Wembley Stadium on 4 October

Getty Images

7/18 1 October 2015

An honor guard opens the door as Russian President Vladimir Putin enters a hall to attend a meeting with members of the Presidential Council for Civil Society and Human Rights at the Kremlin in Moscow, Russia

8/18 30 September 2015

Former Mrs America Lisa Christie, who alleges misconduct by Bill Cosby, holds up photos of her younger self during a news conference at the law office of attorney Gloria Allred in Los Angeles

9/18 29 September 2015

Matt Damon has defended himself against claims that he instructed gay actors to remain in the closet. He had said "I think you're a better actor the less people know about you and sexuality is a huge part of that. Whether you're straight or gay, people shouldn't know anything about your sexuality" but an appearance on the Ellen DeGeneres show said, "I was just trying to say actors are more effective when they're a mystery. Right?"

Getty

10/18 29 September 2015

Actor Marion Cotillard has said that there is no place for feminism in Hollywood. Speaking to Porter magazine, she said"Film-making is not about gender/ You cannot ask a president in a festival like Cannes to have, like, five movies directed by women and five by men. For me it doesn't create equality, it creates separation. I mean, I don't qualify myself as a feminist."

Getty

11/18 29 September 2015

Actor Paul Walker's daughter, Meadow, is suing Porsche over her father's death in a lawsuit that claims he was trapped in the burning car because of design flaws and the seat belt. The Fast and Furious star was killed when the Porsche Carrera GT he was a passenger in hit a pole in California in 2013. The driver, his friend Roger Rodas, also died when the vehicle burst into flames.

AP

12/18 28 September 2015

Robert Mugabe waits to address the United Nations General Assembly. The leader of Zimbabwe reportedly exclaimed 'We are not gay!' as he criticised Western nation's "double standards" and attempts to "prescribe 'new rights' that are contrary to our values, norms, traditions and beliefs." In 2013 he described homosexuals as "worse than pigs, goats and birds."

Reuters

13/18 28 September 2015

South African comedian Trevor Noah hosts the first 'Daily Show' since taking over from Jon Stewart as host. Stewart had presented the US satirical news show since 1999 and was described by Noah during the show as a 'Political father'

2015 Getty Images

14/18 25 September 2015

Sir Elton John may have received a phone call from the real Vladimir Putin. Mr Putin's spokesman announced he had made contact weeks after the singer was duped by pranksters pretending to be the Russian President.

Getty

15/18 25 September 2015

Actor Leonardo DiCaprio was mistakenly declared as the artist who produced the Mona Lisa by Fox News anchor Shepard Smith. It was in fact Leonardo da Vinci.

16/18 24 September 2015

A new biography claims Donald Trump expected to be dead by 40 and never marry. The Guardian says the a new book also claims that in 1980, Mr Trump manufactured a fake vice-president of his real estate conglomerate, whom he called John Baron.

17/18 24 September 2015

The Dalai Lama has said that Britain's policy towards China is just about 'Money, money, money.' And asked 'Where is morality?'

18/18 24 September 2015

Puff Daddy secured the number-one spot on the Forbes Hip Hop Cash Kings list, with the publication calculating he made an estimated $60million (£39m) between June 2014 and June 2015.
The poignant letter went viral earlier this year amid criticism of the six-month sentence handed to former Olympic swimming hopeful Brock Turner for sexually assaulting an unconscious woman at the US university campus. He was released in September after serving half of his term.
Heard, whose high-profile divorce battle with Johnny Depp involved allegations of domestic abuse, joined fellow actresses Gabourey Sidibe and Freida Pinto on stage to read the letter.
PA
Reuse content