Philadelphia pupil Michael Fenerty was so desperate to go and meet Bruce Springsteen that he decided to take the day off school.
But he and his father made sure the school authorities were content, by providing them with an absence note signed by the rock star.
The schoolboy attended Springsteen's meet-and-greet at the Central Library of the Free Library of Philadelphia with his father, Mike, a major fan and memorabilia collector.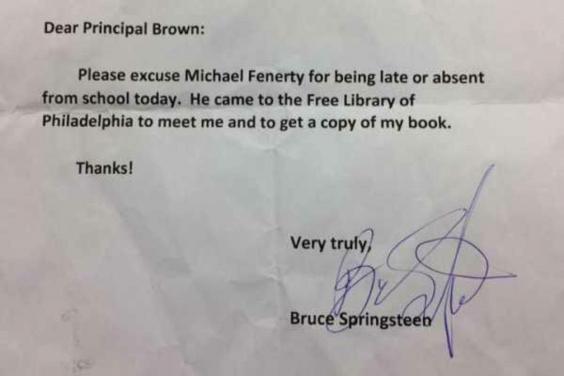 Previously, Michael had expressed an interest in seeing Springsteen live, and his father took him to a September 7 show at Citizens Bank Park, according to the Philadelphia Inquirer.
His father wanted to follow the rules of his son's new school, and asked what the procedure was for missing a day. "He said we should get Bruce to write an absence note" he said. 
So the pair of them typed up a note explaining the youngsters's absence and asked Springsteen to sign it. 
Springsteen, who was in town for a book signing to promote his new autobiography Born to Run, told the boy that he would have to read the note first because that was how he got in trouble with his first contract.
"He said, 'I hope you don't get in trouble'. My son was very starstruck," said Mr Fenerty. "It was a very cool experience."
Reuse content