This year has proved just why not every high-profile name should join Twitter.
Without the careful monitoring of a publicist to help them come up with interesting and funny thoughts, sometimes thing go awry. Ill-advised PR stunts have failed miserably and well-meaning retweets ended badly.
And there are the dangers of cyber hackers, who this year have demonstrated just how much power they wield and how easy it is to gain access to the Twitter accounts of the famous.
Without further ado allow us to present this year's most awkward and/or misguided tweets:
Courtney Love claimed she found the missing Malaysian plane
Technically, Courtney's questionable admission was first made on her Facebook page, although she later expanded her claims on Twitter too. The singer alleged that she had managed to locate the missing Malaysian MH370 plane, which she believed to have crashed, providing an annotated screen grab showing what asserted was evidence of an oil slick and an aircraft. She added helpful red arrows pointing to the areas of ocean showing "oil" and "plane" for clarification.
I'm no expert but up close this does look like a plane and an oil slick. http://t.co/AR005kNTYR prayers go out to the families #MH370

; Courtney Love Cobain (@Courtney) March 17, 2014
really? look closer? check it out @DR24 #MH370 and its like a mile away Pulau Perak, where they "last" tracked it pic.twitter.com/tqavAe4zIL

; Courtney Love Cobain (@Courtney) March 17, 2014
Donald Trump retweets loving tribute to Fred and Rose West
Demonstrating how a well-meaning retweet can end disastrously is Donald Trump, who retweeted a message from a follower asking him to share an image purportedly of his recently deceased parents in loving tribute to their memory. The couple in question were, in fact, convicted serial killers Fred and Rosemary West. He did not react well to the gaffe and threatened to sue.
Hi @realDonaldTrump. My parents who passed away always said you were big inspiration.Can you pls RT for their memory? pic.twitter.com/veBxFNXnOd

; Philip Bradbury (@feckhead) September 29, 2014
Ian Botham's Twitter account hacked with horrifying results
A hacker shared a horribly explicit picture of the male nether regions from Ian Botham's @BeefyBotham account, which we wish wholeheartedly that we could unsee. It was not safe for work or for any situation ever. We can't publish the image such its punishingly graphic nature, but here is one of the entertaining tweets that followed from Twitter users.
To take your minds off that Ian Botham tweet, here is a picture of a cute dog. :-) pic.twitter.com/pQrjCCxHXD

; Junegerbread House (@rejunevated) August 18, 2014
Rachel Johnson's account hacked and David Cameron is called a "c**t"
Poor old Boris Johnson, he's just trying to be the Mayor of London as best he can, with the idea of one day running as Tory MP, when his sister seemingly heads to Twitter to asked the Conservative Prime Minister "why are you an egg shaped c**t". The tweets were swiftly deleted and it became apparent that Johnson's account had been hacked and she apologised.
Rita Ora's mortifying Twitter ambitious publicity stunt
In November, Rita Ora said on Twitter that if 100,000 fans retweeted her, then they would hear a new song from the singer a few days later. However, the tweet was deleted after only 2,000 people replied. Ora later questionably claimed she had been hacked.
Naomi Campbell congratulated Malaria Yousafzai
Oh the perils of AutoCorrect. Supermodel Naomi Campbell made the well-intentioned move to congratulate teenage Pakistani activist Malala Yousafzai on her Nobel Peace Prize win, but embarrassingly praised someone called Malaria instead.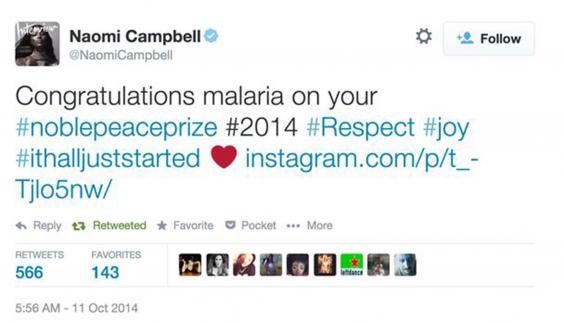 Emily Thornberry resigned over infamous white van tweet
Labour front bench MP Emily Thornberry was forced to resign after she apologised for tweeting a photo of a house in Rochester adorned with three England flags, which saw her accused of holding working class voters in "contempt". She apologised for "any offence caused by the 3 flag picture", but decided to step down anyway.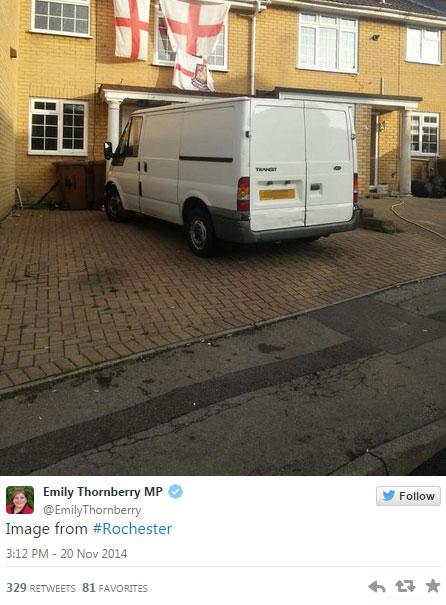 Andy Murray's April Fool's joke that was so humourless no one understood it
He's not known for his beaming smile, but Andy Murray gave humour a go on April Fool's Day. Alas, his 'joke' was so unfunny no one actually noticed it. The jest in question said he was going to announce his new coach tomorrow, when he wasn't. Geddit?
And 2 avoid confusion like last time i will be announcing my new coach tomorrow #pumped

; Andy Murray (@andy_murray) April 1, 2014
Guy Opperman mistakes black activist for footballer Mario Balotelli
Conservative MP Guy Opperman excitedly tweeted that he'd spotted Mario Balotelli sitting in at a House of Commons meeting (obviously, where else would he be?), but after an onslaught of Twitter responses, it was discovered that the man was not the Liverpool footballer but a random black guest. "I get that all the time," the doppleganger said.
Liverpool striker Mario Balotelli has popped in to Commons Gallery to watch the Drug Policy debate -wearing sharp suit, pink shirt &a poppy

; Guy Opperman MP (@GuyOppermanMP) October 30, 2014
Bill Cosby meme challenge failed, amid rape claims
We're not sure whose idea it was to ask the public to share Bill Cosby related memes, following rape allegations made against him, but unsurprisingly the stunt failed spectacularly. Users used the challenge to highlight the claims, which the comedian has denied. Cosby's tweet has been deleted, but here's an example of the calamitous results:
Man. #cosbymeme pic.twitter.com/NOZrK4b5gG

; Adam Hammer (@AdamHammer) November 10, 2014
If you're wondering how @BillCosby's team *thought* #CosbyMeme would go, these are the examples from his website. pic.twitter.com/skq3WC7sBM

; dan barker (@danbarker) November 10, 2014
The time Rio Ferdinand called a woman a 'sket'
Rio Ferdinand was given a three-match ban and a £25,000 fine by the FA, after he called a woman a "sket", a pejorative sexualised description, in response to a taunt on Twitter about Queen's Park Rangers. He was also been ordered to attend an education programme as part of his punishment within four months. The tweet has since been deleted.
Reuse content