The family of Ched Evans has warned they may take legal action against Loose Women over a discussion about the decision by a jury to acquit him of rape. 
The former Chesterfield striker served two-and-a-half years of his prison sentence after being found guilty of raping a woman at a Premier Inn in Rhuddlan, Denbighshire, in 2011.
His conviction was quashed in April and on Friday, after just two hours of deliberation, a jury at Cardiff Crown Court found him not guilty of rape. 
After his acquittal, Hunniford said on the ITV show: "I have to say, and this is my personal opinion of course, it shows the type of man he is though because the facts of the case.
People news in pictures
People news in pictures
1/9

US President-elect Donald Trump and musician Kanye West pose for media at Trump Tower in Manhattan, New York City

Reuters

2/9

Anna Wintour apologises for criticising Donald Trump on a train. Fashionista was reportedly heard saying the President-elect would use the Presidency 'to sell himself and his brand'

Getty

3/9

Ivanka Trump and her husband might be joining the next administration. The couple is plotting a move to the nation's capital

Getty

4/9

Samuel L Jackson calls Muslims 'the new black kids in America' 'People perceive them as a threat before even saying hello,' actor says of Muslims in the US

Getty

5/9

Former JLS star Oritse Williams denies rape allegation The singer has not been charged

Getty

6/9

Bill Gates announces $1bn investment fund for clean energy technology Team-up with Richard Branson, Jeff Bezos and others aims to fight climate change - and reap 'super' rewards

Getty

7/9

Donald Trump's aide worked for anti-immigation extremists Poll was used by President-elect during campaign to justify banning Muslims from the US

Reuters

8/9

Henry Kissinger tells Nobel Peace Prize forum to give Donald Trump a chance More than 7,000 people called for the 'mastermind of war' to be arrested while visiting Norway

EPA

9/9

John Travolta dismisses new Scientology documentary by former member Leah Remini The actor defends the church and says it was a source of support for him when he lost his girlfriend, mother and son

Getty
"The mere fact that his mate goes 'I've got a girl, you know, do you want to come' and he goes there and they have a threesome and two blokes are outside the window filming it.
"And he never says a word to the girl and then he gets down the fire escape and then leaves and this girl apparently, as it turns out, was so drunk. [...]
"Ched Evans would be the last person I'd be sending my grandchildren to for any kind of sex education or drink education."
In a statement online, the family accused Hunniford of "misrepresenting the evidence presented at Cardiff Crown Court in this respect".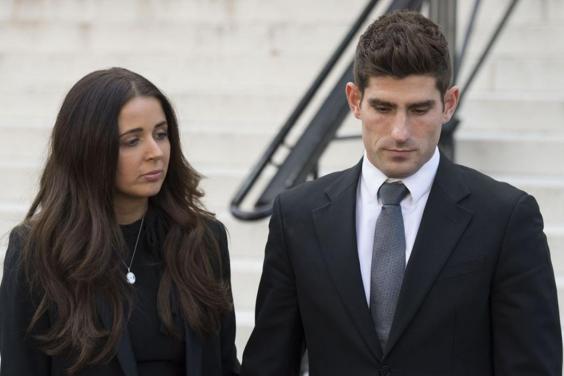 "Ched has always acknowledged his behaviour was morally unacceptable but consensual," it continued. 
Their statement added: "His family are now actively considering their legal options.
"Opinion is acceptable but misinformation broadcast on prime time television is not."
A spokesperson for Loose Women said: "We've received a complaint from the father of Ched Evans' partner, to which we are responding."
The Independent has contacted Hunniford for comment. 
Reuse content