When the weedy kissogram turned up that night of 13 July 1985, the ladies of Orford Memorial Recreation Club, Warrington, perhaps felt twinges of pity amid the raucous laughter. Here, surely, was the scrawny embodiment of loserdom: a speccy 19-year-old council estate kid, born on April Fools' Day, rejected by established kissogram companies because of his skinny frame and glowing ginger hair, parading himself to be laughed at, not lusted over.
But this weedy teenager was going places. People enjoyed laughing at him so much that more bookings flooded in. Soon he had enough money to set himself up on the next rung of the showbiz ladder – as a mobile DJ. Chris Evans, not for the last time, was building an entertainment career by ripping up the rulebook.
Thirty years on, "the skinniest Tarzan in town" is taking one of the biggest prizes in television: becoming Jeremy Clarkson's replacement as lead presenter of the global phenomenon that is Top Gear. Along the way, he has helped redefine popular entertainment, achieving fame that made him more written about than the Prime Minister. And much as it might amaze the Orford club ladies, his conquests have included actresses, models, the singer Kim Wilde and the Spice Girl Geri Halliwell. And if there have been acts of self-destruction – or creative boundary pushing – that would have destroyed ordinary careers, they seem only to have made Evans stronger.
Partly this is due to what one media executive called "a streak of genius: amazing creativity, an understanding of what the public wants. And an ability to deliver audiences so big that people take the risk of hiring him." Another said: "Not many Prince Hals become Henry V. He is simply the best. There's not another producer or broadcaster of his talent. The nearest is Jeremy Clarkson."
These are the qualities that make him so successful – combined with his prodigious appetite for hard work. Some attribute this drive to the death of his father, Martin, a wages clerk. The 13-year-old Evans was cycling home from school when he passed the ambulance taking his dad from the house. He felt "no tears, just relief": the suffering from cancer was over.
Evans himself has written of the Warrington council estate, of his desperation to escape "pebble-dashed prison walls of mediocrity". It is, indeed, hard to resist the image of a man who has spent a lifetime fleeing mediocrity – occasionally with near-inexcusable fanaticism. Aged 21, he discovered his then fiancée Alison Ward had gone back to mother with their baby daughter Jade. He felt relief: he could leave for Manchester and a job with Piccadilly Radio.
Which he lost, in 1989. Presenting a bland item about an old lady giving her cat a birthday cake, Evans announced: "There is a good side to cats – the left side, cooked medium rare with garlic sauce." He was fired five minutes after his show ended. "That made my career," he said later. "It forced me to leap to London."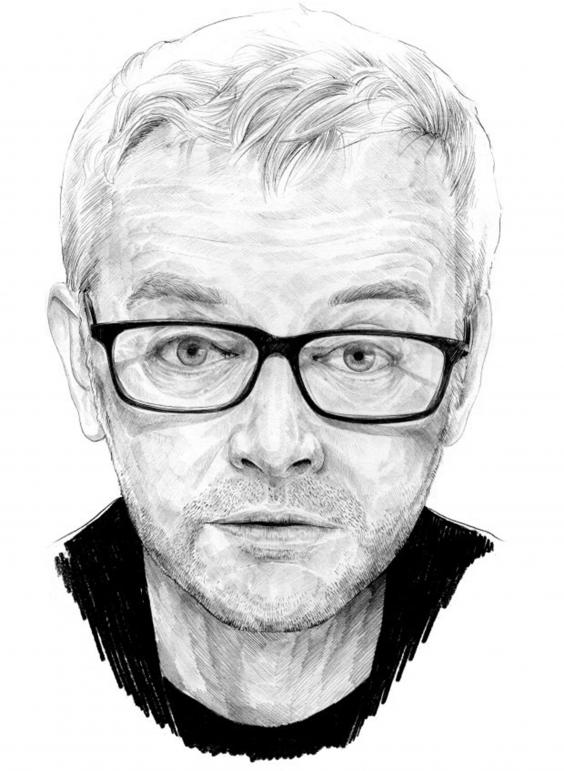 By 25, he had his own show on GLR. Danny Baker, his friend and collaborator – on marathon "benders" as much as shows like TFI Friday – recalled "the riskiest, most delirious radio ever heard in Britain". Evans was, at least, persuaded to drop his "Name That Git" phone-in, where women named married men who had propositioned them. Television's more daring elements came looking. Bursting on to Channel 4's The Big Breakfast in 1992, he shaped an anarchic hit that eclipsed the staid efforts of GMTV and BBC Breakfast.
By 1995, the Radio 1 controller Matthew Bannister wanted him for the breakfast show, to save a station seemingly sinking under the weight of its ageing, Smashie and Nicey DJs.Evans told his agent to demand double whatever money Bannister was offering. It wasn't cockiness, he insisted. He had to know Bannister was fully committed to the risk.
Some did complain about the smirking schoolboy innuendo, but 600,000 listeners flocked to Evans, leader of the "zoo squad", who were more mates mucking about than presenters of a "proper" radio programme.
In 1996, he created the television equivalent for Channel 4: TFI Friday. The nation, or at least its younger part, thrilled to a swearing Shaun Ryder, to "Ugly Bloke" and "Peter O'Toole delivers lines that are plainly beneath him" – including a Shakespearean reading from the Spice Girls' hit "Wannabe".
Chris Evans: Career in pictures
Chris Evans: Career in pictures
1/15 Chris Evans

Chris Evans in a studio, 1980s

2/15 Chris Evans

(L-R) Gaby Roslin, Chris Evans, Paula Yates and Mark Lamarr on Big Breakfast TV Show, 1992

3/15 Chris Evans

Chris Evans on the day of his 30th birthday, in London, 1996

4/15 Chris Evans

Chris Evans in 1997

Rex Features

5/15 Chris Evans

Chris Evans of England wears a policeman's hat having fun with Mark O'Meara captain of the USA team on the range before the fourball matches on the first day of All-Star Cup on the Roman Road Course at The Celtic Manor Resor in Newport, 2005

6/15 Chris Evans

Chris Evans and Ronan Keating arrive at the Gala Dinner on the first day of the Northern Rock All Star Cup at the Celtic Manor Resort in Newport, 2006

7/15 Chris Evans

Chris Evans poses in the awards room with the Music Radio Personality of the Year Award at the Sony Radio Academy Awards 2007 at Grosvenor House Hotel in London

8/15 Chris Evans

Chris Evans presents during 'Thank You For The Music - A Celebration Of The Music Of Abba' at Hyde Park in London, 2009

9/15 Chris Evans

Radio 2 DJ Chris Evans and David Cameron appear on the Andrew Marr show on BBC TV in London, 2010

10/15 Chris Evans

Chris Evans and Moira Stuart during Chris Evans' first day as the host of the Breakfast show, the position he took over from Sir Terry Wogan, 2011

Mark Allan/BBC/PA Wire

11/15 Chris Evans

Chris Evans interviews Luke Darlington (L) Prince Harry and JJ Chalmersfor his breakfast show at BBC Radio 2 Studios in London, 2014

12/15 Chris Evans

Radio 2 DJ Chris Evans attends the F1 Grand Prix of Monaco, 2015

Getty Images

13/15 Chris Evans

Chris Evans with Jeremy Clarkson outside BBC Radio 2 Studios, 2015

Rex Features

14/15 Chris Evans

Chris Evans meets Camilla, Duchess of Cornwall, following the launch of BBC Radios 2's '500 Words', a children's story writing competition which is supported by the duchess, in the Morning Room at Clarence House in London, 2015

15/15 Chris Evans

Chris Evans at the celebrity start at The London Marathon 2015 in London
Evans was at his peak, both the court jester of Britpop's lad and ladette culture, and one of its shrewdest creative minds. By the time he celebrated his 30th birthday – with a party in the Langham Hilton which began at 9.05am and lasted nearly all night – the newspapers were, by one report, writing more words about him than about the Prime Minister of the time, John Major. He was also becoming, as later acknowledged in his autobiography It's Not What You Think, "a self-important twat".
A vicious, controlling streak was surfacing, as when he demanded his assistant Holly Samos to divulge details of her sex life, live on radio. In 1997, the BBC refused his demands for a four-day week. He stormed out, to be snapped up by Virgin Radio, boosting its listening figures by 30 per cent.
At the end of 1997, he broke the rules in another way, showing business acumen rarely expected of light entertainment stars and stunning the City by buying Virgin Radio. When he sold his Ginger Media Group for £285m in 2000, he became Britain's wealthiest entertainer.
So the party continued – until the audience figures dropped. In June 2001, shadowed by tabloid photographers, Evans and entourage went on an 18-hour bender, ending in his falling asleep in front of a Stringfellows lapdancer. Then he went to the pub while supposedly too ill to present his show. Duly fired, he retreated to producing, disappearing from the airwaves.
Public redemption came in unlikely forms. The actress Billie Piper was 18 when she married Evans in 2001. He was 35. They split in 2004. Evans' early Nineties break-up with his first wife, the broadcaster Carol McGiffin had, she claimed, involved the hurling of insults, wine bottles and chairs. With Piper there was an enduring friendship, suggesting a maturing, less petulant Evans.
And then, in 2005, came Radio 2. "He took the very clear decision to change," explained Lewis Carnie, the station's head of programmes. "He didn't enjoy not working. He changed his act to suit a mainstream audience."
By late 2009, Carnie and colleagues dared think that the urbane Terry Wogan, vacating the breakfast slot, could be replaced by Evans. Listeners howled they were losing a national treasure and gaining a brash ginger manchild. "We anticipated losing up to two million listeners," admitted Carnie. "We gained a million and a half." Evans, says Carnie, was becoming "a great broadcaster, with a broad audience".
He is 49 now, with two young children by his third wife, and a grandfather, to the son of his daughter Jade, with whom he has re-established contact. "It's not quite pipe and slippers," says Carnie, "but he is very happy with family life, a model professional: always on time."
Perhaps it is tempting fate, especially after Clarkson's own Top Gear reign ended in a producer-punching meltdown. But this time, might Chris Evans finally find success without self-destruction?
A life in brief
Born: 1 April 1966 in Warrington.
Family: Youngest of three children of Martin, a wages clerk, and Minnie, a shop manager. Has three children with third wife Natasha Shishmanian. 
Education: Left Padgate High School aged 16.
Career: Local radio 1983-92; C4's 'The Big Breakfast'. Founded Ginger Media in 1994 sold in 2000 for £285m. Radio 1 1995-97. 'TFi Friday'  1994- 2000. Virgin Radio 1997-2001. Radio 2 since 2005. 'Top Gear' June 2015.