It's the joke Chris Rock was always destined to deliver.
And, after an NBA ban for making racist comments, followed by an interview in which he said former basketball star Earvin "Magic" Johnson "should be ashamed of himself" for having HIV, Los Angeles Clippers owner Donald Sterling made for all too easy target practice.
Taking to the stage at the Nokia Theatre in Los Angeles to host the annual BET Awards on Sunday (29 June), he said of the Jewish businessman during his opening monologue: 
"Let me get this straight. An 83-year-old white man doesn't like black people. Is that news?"
"First of all a black man couldn't look him in the eye 'til he was 45.
"The first black man he ever met he got for Christmas."
Rock went on to joke about the leaked telephone audio of a conversation Sterling had with his girlfriend Vanessa Stiviano, in which he told her not to bring black people to Clippers games.
"What exactly did Donald Sterling say? 'I dont want my woman around black basketball players.' Me either! Are you kidding me?
"Who in the hell wants their woman around black basketball players and I'm specific about black ball players.
"I dont care if my womans with (white players) J. J. Redick, Mike Dunleavy, David Lee, but if I see you with Serge Ibaka we gotta talk."
But Sterling wasn't the only person Rock took aim at. Oprah Winfrey got an honourable mention, too, as the comedian mocked her performance in movie The Butler – the same film she won the Best Actress award for that evening.
"Opera Winfrey should have got an Oscar, cos that acting job was amazing cos she had to act like she was poor," he quipped.
"There was one scene she was staring at a pot of food for her man. You know they had to get specialists to help her with that.
"(They) Had to show her what a spatula was, she thought it was a money flipper. You turn your money over when its right."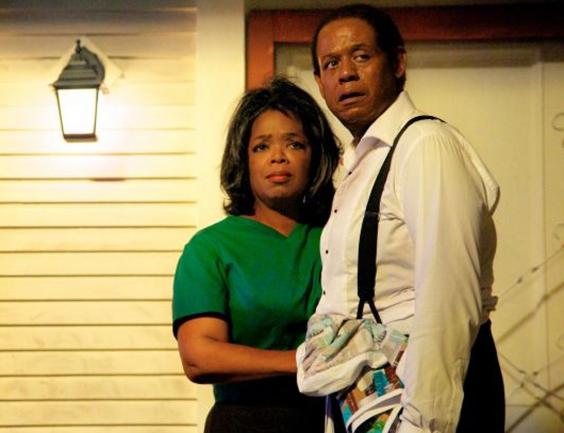 Keeping with the overarching theme of racism, Rock continued with a joke about Kerry Washington's hit TV series Scandal.
"A lot of people think Scandal is a hit because of Kerry, and she's great in it. But the real reason it's a hit is that every Thursday at 10 o'clock there's a white president.
"White people get to tune in and feel good. For just one hour its back to normal."
Elsewhere in his monologue, he referenced Solange Knowles attacking brother-in-law Jay Z in a lift.
"She hit Blueprint 3 Jay Z," he said. "If she hit Reasonable Doubt Jay Z that elevator would've been filled up with nothing but lipstick, blood and weave."
Pharrell Williams and Beyoncé were the big winners of the evening, taking home the awards for Best Male and Best Female R&B/Pop Artists.
Nicki Minaj collected her fifth consecutive win for best female hip-hop artist, as well as picking up the prize for Best Group with Young Money, which also includes Lil Wayne and Drake.
Her acceptance speech caused as stir, when she admitted that she "almost died" last week, but was too scared to call an ambulance in case the footage ended up on gossip site TMZ.
Reuse content