Clarke Carlisle has revealed in a harrowing interview with The Sun that the lorry incident that nearly took his life was a suicide attempt after he decided he "had to die" after he was charged with a drink-driving offence.
Clarke, 35, suffered serious head injuries after being hit by a lorry on the A64 near York last December, but he has revealed that the incident was a result of him trying to take his own life following a series of events that included a gambling spree and being informed that he was losing his job as a TV pundit.
Speaking to The Sun, Carlisle confirmed that he felt suicide would be "the perfect answer" to his problems, but has also said that his time in hospital – which came to an end on Friday when he was released and allowed to return home – had helped him to realise he was "incredibly unwell".
Carlisle, who played for Burnley, Queens Park Rangers and Blackpool among others, said: "I had to die. This wasn't escaping or running away. This was the perfect answer. It made everyone happy and it ticked every box. I took two steps into the road and into the truck. I can remember that impact. Bang. Then lights out. I don't know how long had passed. It must have been a few minutes.
"I ventured out of my room not as Clarke the ex-footballer, but as Clarke, a mental health patient," he added when describing the moment he left hospital. "That was the first step in my road to recovery."
Upon the news breaking about Carlisle's incident, an immediate outpouring of support and get well messages were released on Twitter, including current and former professional footballers as well as those who have worked with Carlisle on TV.
Carlisle's wife Gemma took to Twitter to plead with others who suffer from depression, which Carlisle has a history of battling with, to seek help whether it be an organisation or a close friend. She also sent her thoughts to the driver of the lorry that hit Carlisle.
"Please if anyone is suffering ... know that it WILL get better. I can promise you that. Reach out to someone, anyone. You're not alone," Gemma Carlisle said.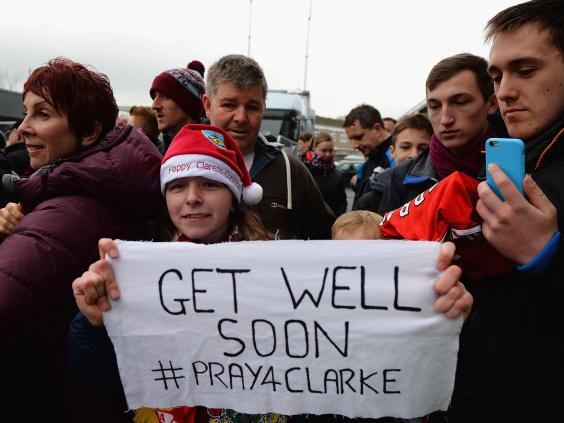 "We send our love & thoughts to the lorry driver & family. It could have been anyone and Clarke is desperately sorry that it was him
"Suicide & depression is not selfish. It's a serious illness where your world & reality are warped."
The former Professional Footballers' Association Chairman is now undergoing counselling and was due to appear at Highbury Magistrates' Court last month to answer the drink-driving charge, but the hearing was adjourned to a later date after the accident.
Reuse content