It was a chance meeting between two school students that may change the course of American political history. When John Ellis Bush, a 17-year-old American from a well-connected family, first set eyes on Columba Garnica Gallo, a shy Mexican schoolgirl out for a drive with her sister and her sister's boyfriend, the attraction was instant.
"My life can be defined in one real, powerful way, which is BC and AC: Before Columba and After Columba," the man known by his initials simply as "Jeb" tells audiences. "I fell madly in love with her – literally love at first sight."
That first encounter was in Leon, Mexico, in 1971. Now, 44 years later, Jeb Bush – younger brother of George W and son of the President George H Bush – is the presumed establishment front-runner for the 2016 Republican nomination. Columba, now 61, may become the first Latina first lady of the US and has influenced her husband's thinking so much that he recently confessed he had once registered as an Hispanic voter.
In Mexico, there is pride at her rise – but like many fairy tales, hers has storylines of secrecy, trauma and sadness.
Her early years were defined by a tortured relationship with her father – one that both connects her to the US immigration debate and helps explain why she is so committed to the cause of ending domestic violence. Beatriz Parga, author of a 2004 book about Columba, recounts how her father battered her mother and intimidated her. Columba is quoted as saying that her father "caused the most painful memories of my life and made the life of my mother hell". She said he often beat her mother, once breaking her fingers with a belt buckle.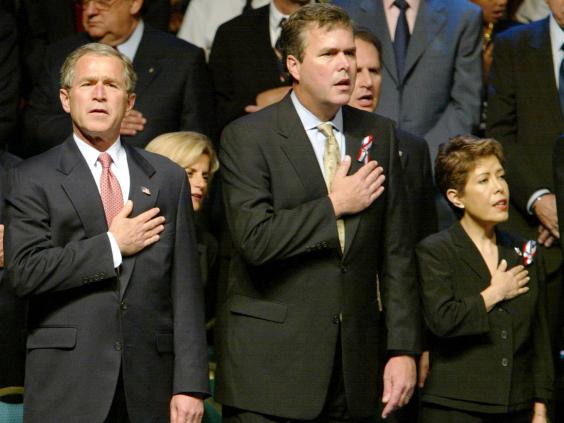 José Maria Garnica Rodriguez, who died at 88 in 2013, grew up in Arperos, a poor village where his family grow corn and avocados until he left for the US, like many others from the area – at a time when it was easier to cross into the US without proper papers. Later he joined a programme that allowed manual labourers temporary legal entry to the US, before moving back to Mexico in the 1980s.
According to both sides of the family, Columba's parents had a loveless, stormy relationship. Her mother came from a wealthier family in Leon and when their marriage formally dissolved in 1963, their deeply religious 10-year-old daughter was in anguish. "It was a really big deal for their families and friends. To get divorced in the Sixties in Mexico was a sin," she said in Mamá a 2003 collection of essays about Latinas and their mothers.
Members of her father's family in Mexico insist that he was very much a part of Columba's life when she was growing up. They say she visited him in La Puente, near outside Los Angeles, and lived with him for a while in her late teens. He provided financial support and arranged the legal documents she needed to settle in the US, relatives said.
Garnica's second wife says Columba became estranged from him when she got serious about Jeb. "When Columba met Jeb, she stopped talking to her father," said Antonia Morales Garnica, 65, his second wife. "He suffered." Others say Garnica only tried to get back in touch after he realised his daughter had married into a famous family. The last time Columba spoke to him appears to have been in 1973, when she was 19 or 20.
When Jeb announced to his family over Christmas in 1973 that he wanted to marry her, it "came as no surprise to us as Columba was the only girl he had ever dated", his mother, Barbara Bush, wrote in her memoir. She liked Columba's influence on the besotted Jeb, who had buckled down to his Latin American studies degree at the University of Texas, graduating in just two and a half years.
The couple married in 1974, at the University of Texas's Catholic student centre. The only surviving photograph shows Columba standing barely 5 ft tall under the arm of her new 6ft 4in husband.
When her husband ran for Florida governor and lost in 1994, it put strains on the marriage and reporters heard her complain that she "didn't ask for this". But Jeb ran again – and won – in 1998. For a while, Columba was known as Florida's "invisible first lady". "I just love silence," Columba has said. "I like to read a good book and go for a walk."
But she was determined to make a difference. She worked to raise awareness of domestic violence in Florida, where penalties against abusers were increased and waiting lists for shelters were reduced.
When speculation began last year over the prospect of Jeb running for President, many believed that Columba's reluctance would be his biggest obstacle – so that when he declared last October that "my wife is supportive of the idea," they knew that a threshold had been crossed.
© Washington Post
Reuse content