Bumping into Bill Murray would spark excitement in anyone, but none more so than world's biggest fan Jennifer Lawrence when she did just that at Comic Con.
The Oscar-winning actress did not even try to hide her ecstatic reaction after unexpectedly meeting the veteran actor at the San Diego fan convention on Thursday.
Lawrence told attendees at The Hunger Games panel that Murray, who had popped up sporting a hippie bandanna to promote Rock the Kasbah, "mentioned something about working together" after she finally plucked up the courage to go and have a chat.
"I'd kind of spoken to him through Woody Harrelson, I would send emails to Woody, mostly when I was drunk, of things that I had always wanted to say to Bill Murray," she said. "He received them, so just the fact that Bill Murray knows that I exist was like part one."
"@jlawspanish: Jennifer Lawrence entrando al panel de Sinsajo Parte 2 en el comic con hace unos minutos. pic.twitter.com/d6ZPGuZuVJ"

— shei (@tomboymellark) July 9, 2015
Lawrence previously said that she "stared at [Murray] awkwardly" whenever she spotted him at an event because she was too "terrified" to go and say hello.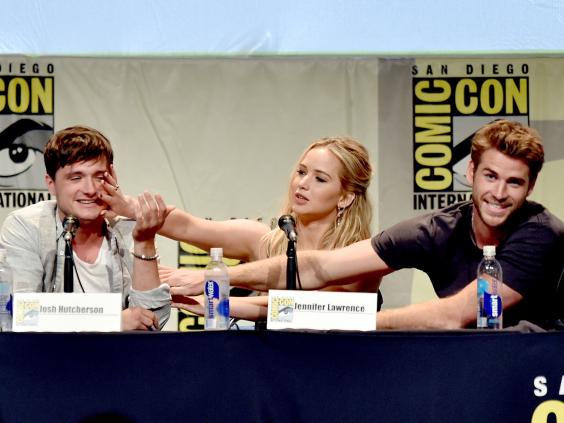 Lawrence was joined by co-stars Willow Shields, Josh Hutcherson and Liam Hemsworth for the final Hunger Games trip to Comic Con. The last chapter Mockingjay Part 2 is due in UK cinemas on 20 November.
Reuse content