Ivana Trump's expertise might lie in modelling, professional socialising and of course Celebrity Big Brother but the Czech-American businesswoman is now keen to try her hand at international diplomacy. The first wife of the President-elect, who is the mother of his three children, recently announced she wanted to become an ambassador for the Czech Republic under Mr Trump's presidency.
To her no doubt delight, the President of the Czech Republic has now expressed his support for her bid. According to a statement released by the President's office, President Milos Zeman informed Ms Trump of his enthusiasm in a phone call on Wednesday. "They could not send a better US ambassador to Prague," Mr Zeman told her.
He also told Ms Trump that her bid for ambassador had made him "feel very happy" and he was looking forward to meeting her alongside his wife who is also called Ivana.
President Donald Trump life in pictures
President Donald Trump life in pictures
1/16

Donald Trump poses in a rocking chair once used by President John F. Kennedy at his New York City residence

Reuters

2/16

Developer Donald Trump with his new bride Marla Maples after their wedding at the Plaza hotel in New York

Reuters

3/16

Donald Trump and Celina Midelfart watch the match between Conchita Martinez and Amanda Coetzer during U.S. Open. She was the date whom Donald Trump was with when he met his current wife Melania at a party in 1996

Reuters

4/16

U.S. Supreme Court Justice Clarence Thomas serving as the grand marshal for the Daytona 500, speaks to Donald Trump and Melania Knauss on the starting grid at the Daytona International Speedwa

Reuters

5/16

Developer Donald Trump talks with his former wife Ivana Trump during the men's final at the U.S. Open

Reuters

6/16

Donald Trump and his friend Melania Knauss pose for photographers as they arrive at the New York premiere of Star Wars Episode : 'The Phantom Menace,'

Reuters

7/16

Billionaire real estate developer Donald Trump talks with host Larry King. Trump told King that he was moving toward a possible bid for the United States presidency with the formation of a presidential exploratory committee

Reuters

8/16

Donald Trump answers questions as Minnesota Governor Jesse Ventura looks on in Brooklyn Park. Trump said on Friday he 'very well might' make a run for president under the Reform Party banner but had not made a final decision

Reuters

9/16

Billionaire Donald Trump makes a face at a friend as he sits next to Panamanian President Mireya Moscoso before the start of the 2003 Miss Universe pageant in Panama City

Reuters

10/16

Entrepreneur Donald Trump is greeted by a Marilyn Monroe character look-a-alike, as he arrives at Universal Studios Hollywood to attend the an open casting call for his NBC television network reality series 'The Apprentice.'

Reuters

11/16

Donald Trump and Simon Cowell present an Emmy during the 56th annual Primetime Emmy Awards at the Shrine Auditorium in Los Angeles

Reuters

12/16

Donald Trump and Megan Mullally perform at the 57th annual Primetime Emmy Awards at the Shrine Auditorium in Los Angeles

Reuters

13/16

Donald Trump, poses with his children, son Donald Trump, Jr., and daughters Tiffany and Ivanka

Reuters

14/16

Billionaire Donald Trump told Miss USA 2006 Tara Conner on Tuesday she would be given a second chance after reported misbehavior

Reuters

15/16

Donald Trump holds a replica of his star on the Hollywood Walk of Fame as his wife Melania holds their son Barron in Los Angeles

Reuters

16/16

U.S. property mogul Donald Trump stands next to a bagpiper during a media event on the sand dunes of the Menie estate, the site for Trump's proposed golf resort, near Aberdeen, north east Scotland

Reuters
The Prime Minister of the Czech Republic also applauded the news, saying Ms Trump's role could strengthen connections between the country and Mr Trump. "If Ivana feels up for it and decides to do so, it would be a nice way to underline the link between the Czech Republic and Trump," he told Czech Radio.
Ms Trump, who was born in Zlin at the time it was called Czechoslovakia, expressed her eagerness for the role on Sunday.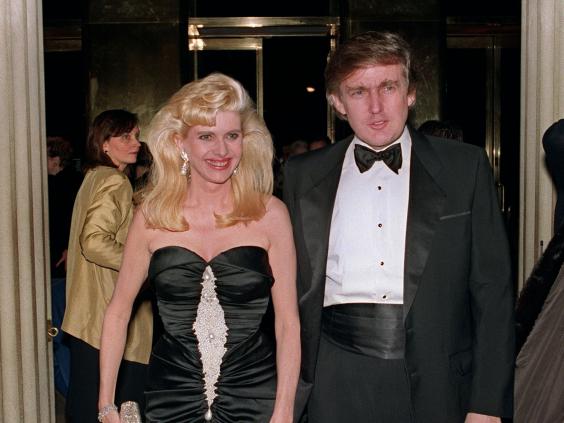 "I will suggest that I be an ambassador for the Czech Republic," Ivana, who is the mother of Ivanka, Donald Trump Jr, and Eric, told The New York Post.
"[It] is where I'm from and my language and everybody knows me. I'm quite known all around the world. Not only in America," she continued. "I have written three books, and they were translated in 40 countries in 25 languages. I'm known by the name Ivana. I really did not need the name Trump."
Mr Zeman, a populist politician who previously urged the international community to take military action against Isis to defend itself against a "super-holocaust", was one of the few European politicians who was explicitly pro-Trump during the election.
"Today, I congratulate the newly elected president of the United States Donald Trump. I hope you visit soon to the Czech Republic, where are you I have the honour to invite. Once again congratulations," a post on his Facebook read.
The Czech Prime Minister Bohuslav Sobotka has also expressed his support for Mr Trump in the wake of his victory. "Trump, unlike some of his predecessors, at least knows where the Czech Republic is located," he tweeted.
If Ms Trump, who is revered as a local girl done good in the country, were to become the ambassador, she would not be the country's first so-called celebrity diplomat of her time. Shirley Temple went from child star to Czechoslovakian ambassador, being appointed to the role by President George Bush in 1989.
Reuse content