Brian Lucas, the white boyfriend of Django Unchained actress Daniele Watts, appears to have confirmed that the  audio tape, leaked by TMZ, of the events that led to her handcuffing and detainment by police for 'showing affection' in public did indeed feature her voice.
He also said that the Los Angeles Police Department had contacted him to inform him that they had launched an internal investigation into the incident.
"Sergeant Rudolph Valadez from the LAPD Internal Affairs office contacted us yesterday afternoon," he told The Independent.
"He recorded my conversation with him and communicated to us that he was responsible for conducting the investigation. I shared with him that we had not filed a formal complaint and he expressed that a complaint had been filed on our behalf. He asked us if we taped the audio that was leaked on TMZ's website.
"I shared with him that the audio was not coming from me or Daniele, and it seemed clear and obvious the recording was coming from Sergeant Parker's lapel area."
Lucas, also known as Chef BeLive, made headlines after his girlfriend, Watts, accused the Los Angeles Police Department of racism and falsely detaining her in a lengthy post on Facebook.
Video: Django star arrested by LAPD
According to her version of events, officers had approached her and Lucas after they were seen "showing affection, fully clothed" in public. They handcuffed and held her in the back of a car after she refused to hand over her identification – an act, she says, was unjust and typical of the racial profiling that she claims exists in the police force.
She wrote: "As I was sitting in the back of the police car, I remembered the countless times my father came home frustrated or humiliated by the cops when he had done nothing wrong. I felt his shame, his anger, and my own feelings of frustration for existing in a world where I have allowed myself to believe that "authority figures" could control my BEING… my ability to BE!!!!!!!"
Her boyfriend supported her claims in a similar post that included images of her wrist, having been injured from the apparent force of the handcuffs. She was not formally arrested, and was later released, a police spokesperson confirmed to Variety on Sunday (14 September).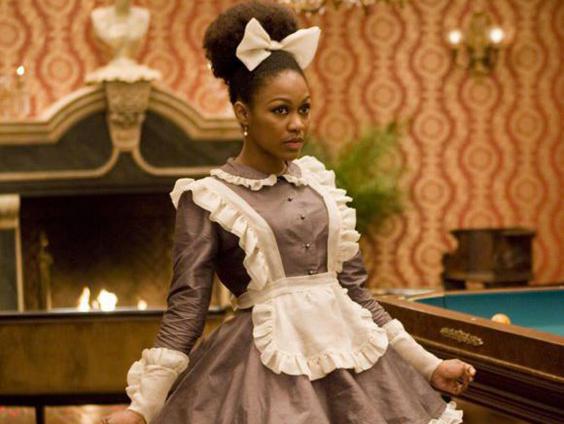 But new audio footage purportedly of the altercation, obtained and published by TMZ from a "police source", indicated there may be more to the incident than her initial account.
In it, police Sergeant Parker can be heard seemingly explaining to Watts' boyfriend Lucas that he was answering complaints made by members of the public – including, according to TMZ's report, a nearby Directors Guild office building – that the couple had been seen engaging in "lewd acts" in their car.
A transcript of the conversation appeared to suggest that Watts had accused the officer of racism after she grew frustrated over Sgt Parker's repeated insistence that she show him her identification.
"I have every right to say no, and if you'd like to demand it, you can take me down to the court office and I can make a scene about it," she says on the tape, a transcript of which you can read here. "And you know what, I have a publicist, and I work as an actress in that studio, OK?"
The audio footage apparently ends after Watts walks away from the officer, but TMZ's report continues by adding that she was approached by another officer and brought back to Sgt Parker, where it is claimed she then lost her temper and was detained in the back of the police car.