Dappy, former N-Dubz rapper and cousin of Tulisa Contostavlos, posed with fans and declared "I'm free" outside Reading Magistrates' Court, after his sentencing for assault in a nightclub was adjourned earlier today.
Real name Costadinos Contostavlos, 27, the former Celebrity Big Brother contestant was found guilty of punching a man on the dancefloor of the Evissa nightclub in Reading on 5 September.
District Judge Davinder Lachhar told the court: "This is a man who obviously has violent tendencies, to put it mildly."
Jon Harrison, Contostavlos's barrister, replied that his client "accepts he has issues surrounding confrontation".
Ms Lachhar warned Contostavlos that she had been considering "a custodial sentence" for him, before deciding that the matter should be dealt with at Guildford Crown Court.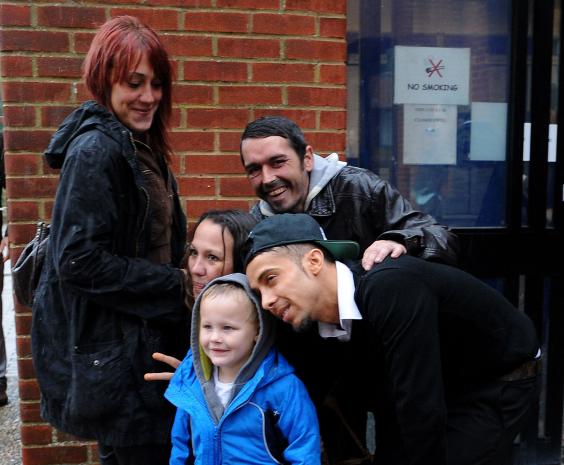 "Certainly from my part I would be thinking of a custodial sentence but it's only right that the same court should sentence you," she told the court.
This was because he had committed the offence while still serving a six-month suspended sentence, handed to him by Guildford Crown Court, for affray and assault.
Contostavlos, who arrived to court late after being stuck in traffic carrying a large black holdall, leaned against the glass dock and held his hands out in prayer as the judge delivered her decision.
He said "thank you madam" as he was granted unconditional bail, before he breathed an "audible sigh of relief", the Press Association reports.
Speaking to reporters outside the court building, he said: "How do I feel? I'm free."
Reuse content