An entire Indian village is set to be relocated as part of a new £1million project, backed by Sir David Attenborough, to stop the Bengal tiger from becoming extinct and prevent them from consuming humans.
Conservationists working with UK charity the World Land Trust (WLT) in partnership with the Wildlife Trust of India predict that the bold move will aid the creation of the most densely packed community of tigers on the planet.
In just four years, seven people have been killed by the rare big cats in the area, which separates two of the largest tiger populations  - the Corbett tiger reserve and the Ramnagar forest in the north Indian state of Uttarakhand.
As part of the campaign, the fundraising for which starts today, conservationists will buy the land between the two places to host the tigers, alongside other endangered creatures.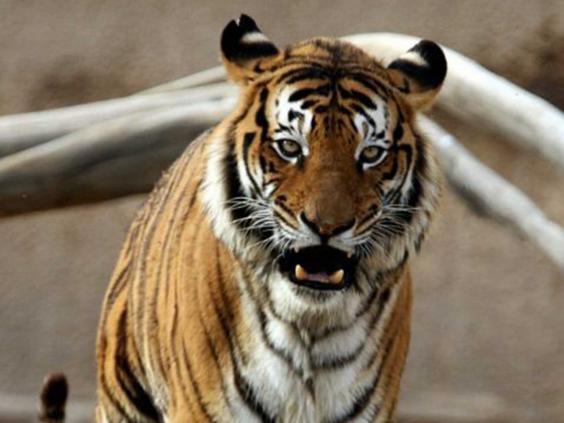 The Chilkiya-Kota corridor, as the strip of land is known, is an ancient route used by animals to pass between the forest. However, their passageway is being disrupted by the local people who now live there, according to the Guardian.
Over half of the people killed by tigers are women, who are often attacked when they are foraging in the forest for food and wood. Large numbers of livestock are also killed.
As a result, the project intends to move around 50 families from their village in Chilkiya-Kota to new, safer homes a few miles away in the first phase of the project, and an increasing number in the second and third phase. Around 200 people will be re-homed in total.
Each of the families will be provided with sanitised, properly built homes and access to schools for their children.
"Tigers are magnificent creatures," Sir David said of the campaign. "It would be a tragedy of truly monumental proportions if they were to be lost to the world.
Animals in decline
Animals in decline
1/8 Harbour seal (Phoca vitulina)

Where: Orkney Islands. What: Between 2001-2006, numbers in Orkney declined by 40 per cent. Why: epidemics of the phocine distemper virus are thought to have caused major declines, but the killing of seals in the Moray Firth to protect salmon farms may have an impact.

Alamy

2/8 African lion (Panthera leo)

Where: Ghana. What: In Ghana's Mole National Park, lion numbers have declined by more than 90 per cent in 40 years. Why: local conflicts are thought to have contributed to the slaughter of lions and are a worrying example of the status of the animal in Western and Central Africa.

3/8 Leatherback turtle (Dermochelys coriacea)

Where: Indonesia, Malaysia, Mexico, Costa Rica. What: Numbers are down in both the Atlantic and Pacific. It declined by 95 per cent between 1989-2002 in Costa Rica. Why: mainly due to them being caught as bycatch, but they've also been affected by local developments.

Alamy

4/8 Wandering albatross (Diomedea exulans)

Where: South Atlantic. What: A rapid decline. One population, from Bird Island, South Georgia, declined by 50 per cent between 1972-2010, according to the British Antarctic Survey. Why: being caught in various commercial longline fisheries.

Alamy

5/8 Saiga Antelope (Saiga tatarica)

Where: Kazakhstan, Mongolia, Russia, Turkmenistan, Uzbekistan. What: fall in populations has been dramatic. In the early 1990s numbers were over a million, but are now estimated to be around 50,000. Why: the break up of the former USSR led to uncontrolled hunting. Increased rural poverty means the species is hunted for its meat

6/8 Swordfish (Xiphias gladius)

Where: found worldwide in tropical, subtropical and temperate seas. Why: at risk from overfishing and as a target in recreational fishing. A significant number of swordfish are also caught by illegal driftnet fisheries in the Mediterranean

7/8 Argali Sheep (Ovis mammon)

Where: Central and Southern Asian mountains,usually at 3,000-5,000 metres altitude. Why: domesticated herds of sheep competing for grazing grounds. Over-hunting and poaching.

8/8 Humphead Wrasse (Cheilinus undulatus)

Where: the Indo-Pacific, from the Red Sea to South Africa and to the Tuamoto Islands (Polynesia), north to the Ryukyu Islands (south-west Japan), and south to New Caledonia. Why: Illegal, Unregulated and Unreported (IUU) fishing and trading of the species
"Not only that, it would be totally inexcusable on our part but if we don't act fast to provide them with suitable territory to live in, they will disappear. We mustn't let that happen."
"Lions used to exist in Europe," John Burton, chief executive of the World Land Trust, added. "They wouldn't be tolerated now. We are asking a lot of the Indian people to live alongside such big predators.
"We are beholden to do as much as we can to support them."
Reuse content