A friend of the supermodel Iman has said the family is coping with "waves" of grief after the passing of David Bowie on Sunday. 
Iman paid tribute to her husband's most iconic personas over the decades with a series of Instagram posts during his final days, but has not spoken publicly since his passing was announced. 
Bethan Hardison, a former model, diversity activist and friend of Iman told People she was "holding up". 
"She's fine," she said. "We're fine. We're holding up. It comes in waves, you know. He's a great loss – not just a loss as an artist, but as a human." In a post immediately after his death, Hardison said she was "heartbroken". "What can I say?" she wrote. "The stars are out tonight. Travel well my dear David."
Iman and Hardison teamed up with Naomi Campbell for Hardison's Diversity Coalition, an organisation aimed at improving diversity among models hired by fashion brands.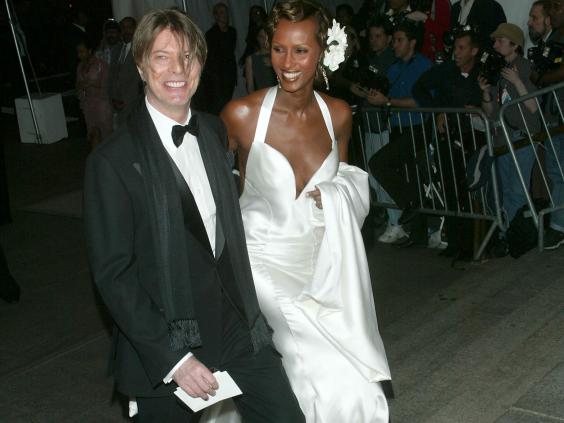 Iman, the first black supermodel, and Bowie were married for 24 years. They had a daughter together, Alexandria and Bowie also had a son, Duncan, from a previous marriage. 
They quickly became a trailblazing couple, setting trends over the next two decades but remaining fiercely private about their domestic life. Their relationship was one of the few to endure the glare of the spotlight and, in their rare interviews, the couple often expressed deep affection and admiration for each other. 
Both described their marriage as "fabulous", with Bowie often talking of being "blissfully" in love. Iman emphasised how her love for Bowie centred on the man, David Jones, not the rock-star who she initially hesitated to enter into a relationship with. But Bowie spoke of an overwhelming 'love at first sight' meeting, telling Hello in 2000: "That she would be my wife, in my head, was a done deal. I'd never gone after anything in my life with such passion in all my life. I just knew she was the one."
Reuse content