Quite what they discussed over the dinner table remains unknown.
But official records released today do show that David Cameron is quite the host – and Chequers just the venue to attract all manner of guests, from the world of entertainment to royalty.
The Prime Minister dined with supermodel Claudia Schiffer and her husband, director Matthew Vaughn, at his official country residence.
He also served a slap-up lunch to the Queen and the Duke of Edinburgh in February, marking the first royal visit to the residence in over four decades.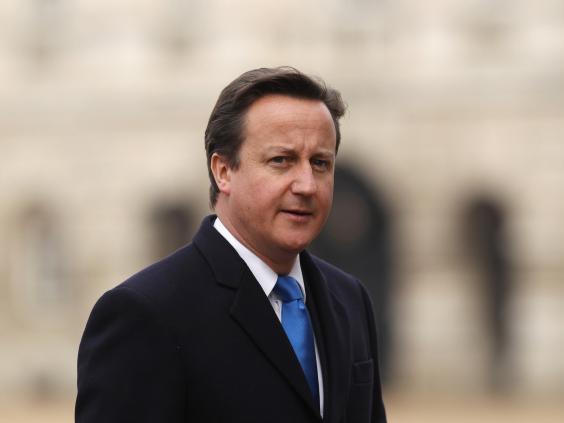 Other guests to grace Chequers include director Richard Curtis, whose film Love Actually starred Hugh Grant as the Prime Minister, in March, with whom he discussed the filmmaker's contribution to international development.
2014 Right-Wing Power List - Top 25
2014 Right-Wing Power List - Top 25
1/22 1. Nigel Farage

A still from the Paddy Power advertisement

2/22 3. George Osborne

On 30 September, at the Tory conference in Birmingham, the Enterprise Forum hosted an invitation-only reception with the CBI and George Osborne

Getty

3/22 4. Boris Johnson

Boris Johnson argued that he could perform both roles as MP and Mayor

AFP/Getty Images

4/22 5. Lynton Crosby

Lynton Crosby has told ministers to stop announcing minor policies which distract from the party's core messages

Tal Cohen/Rex Features

5/22 6. Theresa May

Home Secretary Theresa May will outline plans to curb extremists' freedom of speech (Getty)

Getty

6/22 7. Philip Hammond

Foreign Secretary Philip Hammond says the killing of James Foley is an "utter betrayal of our country, our values and everything the British people stand for"

Getty

7/22 8. Sajid Javid

Baroness Warsi described Culture Secretary Sajid Javid as 'the only non-white person' in the Cabinet

Getty

8/22 9. Jeremy Hunt

Health Secretary Jeremy Hunt

Getty

9/22 10. Lord Ashcroft

Lord Ashcroft

PA

10/22 11. Samantha Cameron

Samantha Cameron: a high-flyer with a wealthy background

Getty Images

11/22 12. Michael Gove

Durham Free School had earlier been praised in the Commons by Mr Gove

Getty Images

12/22 13. William Hague

William Hague

Getty

13/22 14. Michael Fallon

Rex

14/22 15. Grant Shapps

Grant Shapps was mocked over the 'beer and bingo' ad

15/22 16. Edward Llewellyn

16/22 17. Chris Grayling

Chris Grayling, the Justice Secretary

Rex

17/22 18. Iain Duncan Smith

Iain Duncan Smith

Getty Images

18/22 19. Nicky Morgan

New education Secretary Nicky Morgan

Getty

19/22 20. Eric Pickles

Eric Pickles is often to be seen down at the RSPB's Rainham Marshes nature reserve in Kent

Getty

20/22 21. Oliver Letwin

Getty

21/22 24. Francis Maude

Francis Maude, Minister for the Cabinet Office

EPA

22/22 25. Patrick McLoughlin

Patrick Mcloughlin is considering using taxpayers' money to build homes around the HS2 line

Getty Images
Marks and Spencer chief executive Marc Bolland, former head of MI5 Baroness Manningham-Buller, and Dutch prime minister Mark Rutte were also invited to the PM's abode.
The records also detailed the gifts given to the PM by his multiple guests. These include a pair of shoes by designer Oliver Sweeney, which cost him £279 to keep under the No.10 price limit on gifted items, as well as a watch from Interpol at £150.
Afghan president Hamid Karzai bestowed Cameron with a coat and a trinket box, which was retained by Downing Street for being over the value of the gift limit.
Reuse content