David Lammy, the Tottenham MP hoping to be the Labour nominee for Mayor of London in 2016, has praised the input of Russell Brand into British politics, arguing that "there is a deep frustration with the political class at the moment".
Lammy, who was brought up on the Broadwater Farm estate in Tottenham which witnessed major rioting in 1985, has made the capital's housing crisis the central pillar of his mayoral candidacy.
London's lack of affordable housing and ever-increasing rents and house prices has become a key concern for many residents. Recently, Russell Brand and other campaigners were victorious in their battle to stop a housing estate being taken over by a multi-billion dollar American asset management firm, with residents fearing either eviction or a doubling of rents.
Now, the New Era housing estate in Hackney, east London, has been sold to the Dolphin Square Foundation, an affordable housing group.
Commenting on the victory, Lammy told The Independent: "I think that was a fantastic, bottom-up battle fought by the residents and the people themselves", adding, "I don't think it was just about Russell Brand. There were those of us of all political stripes that got involved, but ultimately it's about the people themselves and I think it's great that this remote plutocratic, who was determining the fate of these people, was removed."
However, while arguing that the focus of the New Era victory should not be on the comedian Brand, he did appreciate his input into British politics.
"I personally think that there are things that Russell Brand has said and done that I would applaud because there is a deep frustration with the political class at the moment," Lammy said.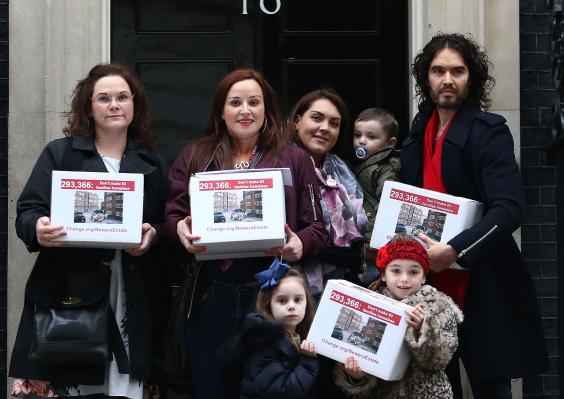 Lammy continued he was not as "anti-political" as Brand, arguing that he had seen how politics can bring about progress, allowing someone like him - born into a poor, inner-city area at a time when racism was rife - to become a member of Parliament and a possible mayor.
Yet the MP for Tottenham since 2000 has been vocal in his criticism of the lack of black and Asian MPs, with just one non-white candidate selected so far in the 34 seats where a Labour MP is stepping down in May.
"I totally think that politics is at its best when it's genuinely representational," he said. "If in the end you turn on the parliamentary channel and there aren't people of colour; if in the end you switch on and it seems all the political parties are just electing a bunch of careerists or everyone's done PPE at Oxford; of course it shuts people out.
"I just wonder, can you still come from a housing estate and become an MP? I don't know."
With the comedian Al Murray announcing last week that he was going to run against Nigel Farage in the South Thanet constituency in May, are the rise of possible "celebrity politicians" a good thing for British democracy?
"That's for the people to decide," Lammy replied. "Look, representing a seat that's had tremendous challenges, there is a king of seriousness that you require. It's not all light and fluffy and Heat magazine. That's for the people to decide whether they want celebrities representing them. I'm not a celebrity; I don't want to be a celebrity."
The Labour MP spoke to The Independent at the ICA in London about the FOURWALLS Short Film project which Lammy commissioned as a way of highlighting the "human cost" of London's housing crisis. The shortlist - and the eventual winner - was chosen by a panel that included Lammy, Michael Winterbottom, Sir Stuart Lipton and Polly Stenham.