The days of running Britain's foreign policy are long gone for David Miliband so it's a bit unsettling when people in his adopted city of New York call him by his old title. If George W is still Mr President, he is still Mr Secretary.
Then again most people in New York, where he has lived for a little more than a year, don't have a clue who he is. Or was. Every morning, he walks his children from the family's rented apartment in Manhattan's well-heeled Upper West Side to school and then joins the suited masses converging on midtown offices.
Mr Miliband now heads the International Rescue Committee, one of the world's largest charities handling refugee crises. Shortly after his arrival, Madeleine Albright – still Madam Secretary (of State) – publicly joked that he himself was a refugee, escaping the British tabloids. Really, of course, he had fled the awkwardness of his brother, Ed, having beaten him to become leader of the Labour Party.
A lot of things are different now he has an ocean between him and the furnace of British politics. It affords little luxuries of all kinds, whether it's his being able to walk the streets with his family unimpeded or the space it leaves him to concentrate on his new job.
It is not that he does not get media exposure. After spending several days at the end of October visiting both Sierra Leone and Liberia to discuss the Ebola response with each of their governments – the IRC has about 500 staff in the two countries – he found himself invited to assorted television sets in New York, including the studio of Stephen Colbert, the Comedy Central satirist.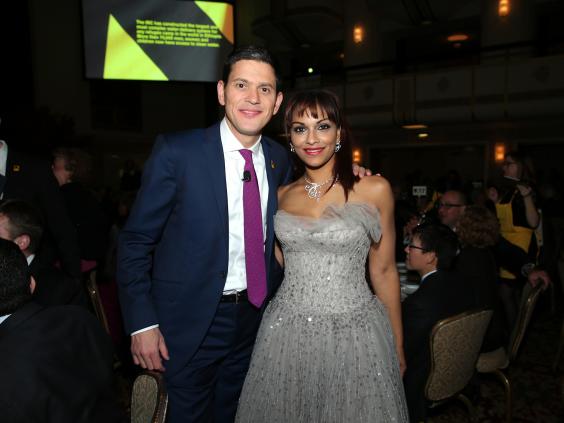 He makes the appearances because he wants to talk about the IRC. He was hired, after all, in part to help raise its profile. And, maybe to his surprise, that is what he is able to do. There is no Ed-David obsession here. Neither the history of the race for the leadership nor the topic of brother Ed's difficult sailing right now come up in interviews. Ebola is actually a bit more interesting. And even refugees.
He is wary therefore of the few British reporters prowling this city. The message he has given, ever since he welcomed them to a breakfast at the IRC headquarters just after his arrival, has been clear. He will not talk about Ed, now, in the future, or ever.
There is occasional idle chatter in New York that Mr Miliband's medium-term goal is to build up his reputation at the IRC and then snag a golden job at the United Nations complex a few steps down the road. There would be the stability of remaining in New York for his wife, who is American, and his children, and the prospect of edging back into the diplomatic maelstrom.
In pictures: Ed Miliband trying to look normal
In pictures: Ed Miliband trying to look normal
1/17 The beggar

Ed Miliband casually gives money to a homeless woman in Manchester, surrounded by press photographers.

2/17 The Bacon Sandwich

Ed Miliband buys a bacon sandwich from cafe owner Antonios Foufas at New Covent Garden Market in London as he kicks off a day of campaigning on the eve of the local and European elections

3/17 The Bacon Sandwich

Ed Miliband chats with a cafe owner Antonios Foufas at New Covent Garden Market in London

4/17 The Bacon Sandwich

Ed Miliband embarked on a whirlwind campaign tour of England - but struggled at the first hurdle (a bacon sandwich). Aides intervened after just a few less-than-elegant bites

Jeremy Selwyn

5/17 Flower Shopping

Ed Miliband talks with a couple of traders at New Covent Garden Market in London

6/17 Flower Shopping

Ed Miliband purchases some red roses for his wife at New Covent Garden Market in London

7/17 Talking Business

Ed Miliband talks with a trader at New Covent Garden Market in London

8/17 Good Morning Britain

Miliband on ITV's Good Morning Britain show on 20 May 2014, a day of gaffes in which he was also caught out by BBC Wiltshire for not knowing who the local Labour leader was

9/17 '£70 Weekly Shop'

Ed was accused of being 'out of touch with reality' after he seemed not to know what he - or the average British family - spends on a weekly food shop

PA

10/17 Drop in Polls

Ed Miliband paid a visit to Leighton Hospital in Crewe to speak with the staff about the NHS, but faced difficult questions about polls showing his personal ratings falling well behind those David Cameron and George Osborne

PA

11/17 On the Sofa with Farage

Ed Miliband appeared on the Andrew Marr Show to debate with Nigel Farage - but has all but conceded defeat in the Newark by-election, allowing Ukip a free run at the Tories

BBC

12/17 Wollies in Wellies

Miliband was among a number of politicians to come under fire for 'touring' the floods in the South and South West earlier this year

PA

13/17 Wollies in Wellies

The Labour leader admitted it was 'a difficult decision for politicians whether to visit areas like this'

14/17 Missed Opportunity

Miliband's performance at the Labour conference last year failed to make much of an impression on voters, polls suggested

Getty Images

15/17 Sharing the Moment

Miliband, Nick Clegg, David Cameron and Angus Robinson enjoy their moment with Andy Murray, after the tennis player's Wimbledon win

Getty Images

16/17 Casual Husband

Miliband and his wife Justine are pictured in their hotel room in Brighton as he prepares to give his keynote speech to the annual Labour Party Conference

Getty Images

17/17 The Milibands

Just your average family of four?

Getty Images
For now he is by all accounts giving his all to the IRC. His main intent was to shake the place up, removing old wood here and overseas – the charity is now in 40 different countries – and also changing the way it does business. When every leader of each country's field office was summoned to New York for a pep talk last week, he pressed home his gospel of change. He has grown convinced for example that sometimes it's better to give cash to refugees than food and blankets.
That he should have landed at this particular charity would seem fitting. Both his parents were themselves refugees, his father fleeing to Britain from Belgium in 1940 and their mother from Poland seven years later.
Meanwhile the IRC's plate has never been so full. This summer, its work in Gaza was turned upside down by Israel's military campaign. Conflicts in South Sudan and eastern Ukraine have also demanded its attention. But above all it is the fighting in Syria that is giving the IRC its greatest challenge. Impressing on Americans the human costs of the conflict is one of Mr Miliband's top concerns. He points to Jordan, a close ally of the US, which has a population of six million but has taken in one million refugees. That, he says, would be like all of Britain suddenly moving to the US.
Asked by Mr Colbert to sum up what his organisation does, he replied: "Wherever there is war, conflict and disaster we go there within 72 hours to help". Because he is in New York he wasn't forced to add the obvious: that war, conflict and disaster in the Labour Party don't count.
Reuse content