Diego Simeone, the manager of football team Atlético Madrid, accidentally informed a woman about the death of her husband after he tagged her into a tribute tweet posted at the World Cup yesterday.
In his post, the former Argentina international expressed his "pain" after learning that his friend, revered sports journalist Jorge 'El Topo' López, had been killed in a car crash in Sao Paulo before the semi-final between Holland and his native country.
He also paid his respects López's family, tagging in his wife Verónica Brunati, who was yet to have told the news herself.
Distressed, Brunati directly replied to Simeone, posting a single "No" before following up with: "Diego, don't tell me that. Someone, please call me."
Her desperate bid for help, tweeted as she waited for López to arrive back at the Sao Paulo hotel they were staying at, sparked anger among some Twitter users, who questioned why López's employer had failed to relay the tragic news to his family before the information was made public.
The 38-year-old writer was killed in the early hours of Wednesday morning after a taxi he was travelling back to his hotel in was hit by a stolen vehicle that was reportedly involved in a police chase.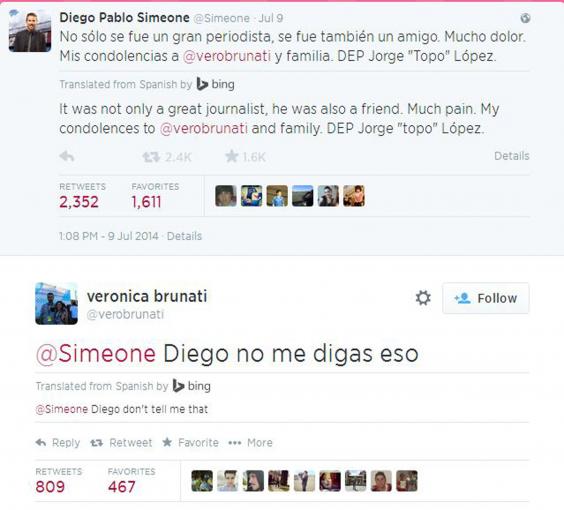 He was thrown from the taxi during the collision. The driver of the taxi escaped with an injured shoulder, while three young people in the stolen car were unscathed and later arrested.
López, who is also a father, was in Brazil to support his home country in their progression at the World Cup. His family, as well as his wife (also a journalist) had accompanied him to the tournament.
He worked for Diario Olé, La Red and Sport, an organisation Lopez became part of in 2000, which called his loss "one of the saddest days in our 35-year history".
He was writing on behalf of Spanish sports newspaper AS at the time of his death. The publication tweeted the following:
More on the tragic news that AS correspondent Jorge "Topo" López has sadly died in car accident. RIP Topo. http://t.co/w80xvsywI3

AS English (@English_AS) July 9, 2014
He was also famed for his coverage of Lionel Messi's rise to prominence.
Upon learning of his death, Messi, who regarded López as one of his favourite journalists, dedicated Argentina's win over Holland to him in a tribute.
"Big hug to all the Argentina fans and a very special memory for Jorge 'Topo' Lopez," he said. "This victory is especially for you, my friend. A big hug to the family, lots of strength."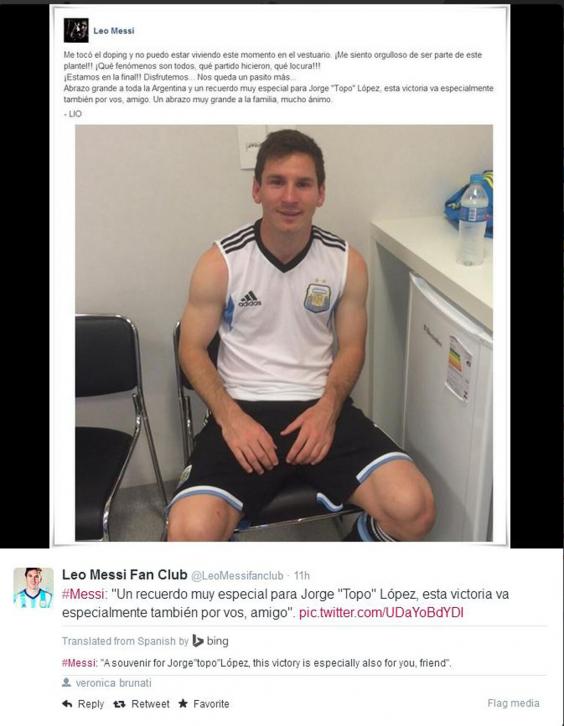 Alongside many other tributes, López's wife Brunati retweeted it, posting several photographs of the couple together alongside it.
Es mi amor, mi luz. pic.twitter.com/A2ByCNR3l9

veronica brunati (@verobrunati) July 10, 2014
Fifa and the World Cup's Local Organising Committee also paid tribute.
Delia Fischer, the WCLOC's head of media, said: "Fifa and the LOC would like to send our sincerest condolences to the family, colleagues and friends of Argentine journalist, Jorge López, who passed away in a tragic car accident.
"Our thoughts are with his family and his colleagues in this sad moment."
His death follows that of the daughter of Argentine football reporter Miguel 'Titi' Fernández, who was killed in a similar road accident in the north of the country.