Without him, there would be no Napalm Death. Digby Pearson signed the extreme metal band when no one else would, allowing them to release their seminal album Scum and setting them on the path to becoming the legends they are today.
There are many others whom he has championed: Carcass, Cadaver, Filthy Christians, Fudge Tunnel, The Accüsed…
The 55-year-old founder of Earache Records has sacrificed much – and nearly his liberty, although strangely not his hearing – in the cause of the grindcore and death metal genres.
Yet during 29 years "in the trenches of the indie music underground", he has never had a number one and never stepped into the UK office of a major record label.
"I've never won anything," he admits. "Not even a raffle."
Until now.
On 1 September this unsung (or ungrowled-about over deafening distorted guitars) hero of extreme metal music will receive the Pioneer Award at the Association of Independent Music awards ceremony.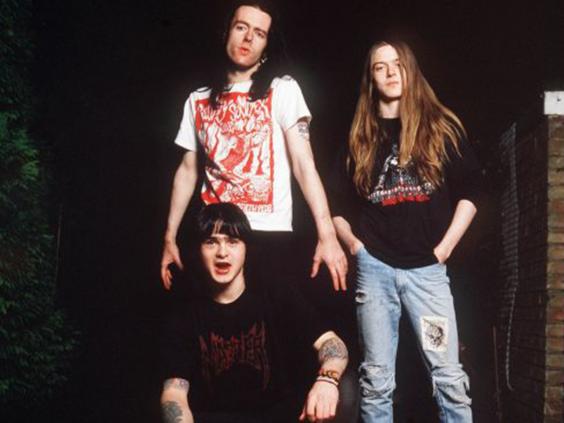 "It was certainly an unusual choice," admitted the restrained awards ceremony PR person. "But very popular."
Starting out in a Nottingham bedroom, Mr Pearson has probably done more than any other to create the global phenomenon of extreme metal, turning it up to 11 from America to China, from Brazil to Singapore.
He freely admits: "To the average person, it's horrible noise." He is less comfortable about confessing that the only cash help he has ever received came – indirectly and most unwittingly – from Margaret Thatcher. He created Earache Records in 1986 with the help of the Thatcher Government's Enterprise Allowance Scheme, which gave money to unemployed people to help setting up their own businesses.
"To make it perfectly clear," he says, "I am not a fan of Margaret Thatcher. Nor were the bands. Their songs railed against her kind of corporate values – even if the screaming, deafening lyrics were unintelligible."
After starting a respectable medical degree at Nottingham University, Mr Pearson dropped out to play drums with the Scum Dribblers.
He created Earache Records – HQ: his bedroom – in a shared, "student-type" house in Nottingham. "It was almost an anti-business plan, an experiment to see how far you could push unlistenable noise on people."
Pretty soon, the experiment proved strangely successful. His friends Napalm Death came knocking. "They took things further than the Slayers and Metallicas," he says, wistfully. "It's powerful, profound, visceral. My hairs stand on end. I was drawn to it like a moth to the flame – even if to the untrained ear it was garbage."
The platinum-selling rockers Def Leppard allegedly observed: "We wanted to be the biggest band in the world. You don't do that sounding like Napalm Death."
But the late John Peel championed Napalm Death on Radio 1. A global music movement was born, and Mr Pearson stuck the Def Leppard quote on the cover of Napalm Death's second album.
The most controversial music performances
The most controversial music performances
1/11 1. Kanye West at Glastonbury

Mr West's caused a fair bit of controversy with a number of his performances – 20 minute rants, storming off, smashing mics – but none were as notable as his headline slot at Worthy Farm. Not only was there a massive petition to get him off the bill, half way through comedian Lee Nelson invaded the stage and then Kanye was lifted into the sky via a crane.

Getty Images

2/11 3. Madonna and Britney Spears kiss on stage

Madge has made headlines a number of times for her on-stage antics but her 2003 MTV Video Award performance grabbed more than any other. During the live-broadcast show she took star-of-the-moment Britney Spears' chin and pulled her in for a big kiss. The cameras turned to an unimpressed Justin Timberlake very quickly.

AP

3/11 4. Miley Cyrus Twerking at MTV VMAs

You couldn't really have a controversial music performance list without Miley? In 2013 she made headlines for twerking all over Robin Thicke during a performance of the controversial 'blurred lines'. There was outrage across America.

Getty Images

4/11 5. Janet Jackson and Justin Timberlake at 2004 super bowl

The super bowl half-time is one of the most sort-after performance slots in the world but has often been plagued with controversy. Notably, in 2004, a young Justin Timberlake exposed Janet Jackson's nipple, leading to a backlash against the female singer and the term Nipplegate making regular headlines.

Getty Images

5/11 7. Tupac hologram at Coachella 2012

Since 2012 a number of celebrities have been brought back to life through holograms but Tupac was the first to get the digital treatment for a Coachella show alongside Snoop Dogg and Dr. Dre.

Getty Images

6/11 8. Jennifer Lopez performing for leader of Turkmenistan

J-Lo was highly criticised for a corporate performance for the leader of Turkmenistan, Gurbanguly Berdimuhamedov, a man accused of human right violations.

Getty Images

7/11 9. Rolling Stones Altamont gig

The Altamont concert was once called 'rock'n'roll's all time worst day' by Rolling Stone magazine, and for good reason. Throughout the day there was increasing violence, leading to the infamous death of 18-year-old Meredith Hunter at the hands of a Hells Angel.

Getty Images

8/11 10. Elvis on Ed Sullivan show

Elvis was a revolutionary of his time, but the moment that defined him as a counter-culture icon was on the Ed Sulivan show when, while performing Hound Dog, began shaking his hips. It was broadcast to 60 million people and was greatly criticised for its apparent 'vulgarity'.

Getty Images

9/11 11. Sinhead O'Conner ripping up photo of pope

Sinhead O'Conner was another performer to use her airtime to cause controversy. At the end of her SNL performance she picked up a picture of Pope John Paul II and ripped it in half, telling the audience to "fight the real enemy".

YouTube

10/11 12. Ozzy Osbourne bites head of a bat

Before a reality TV show, Ozzy was only known as the prince of darkness and, in 1982, only added to the image by biting off the head of a dead bat live on stage. Apparently he didn't realise it was actually a real bat.

YouTube

11/11 13. L7 took her tampon out and threw it into the crowd

Technical difficulties caused all girl metal band L7 to have mud thrown at them during a performance at Reading festival. Instead of walking off, the band decided to get angry and the lead singer took out her tampon and threw it at the crowd.

YouTube
He opened an office in New York – while stubbornly keeping head office in Nottingham – but feared going to jail in 1991.
"I was in the studio with Fudge Tunnel. I got a call from the office: 'The police have raided us, in armoured gear, with sledge hammers, looking for obscene material'."
The problem had been the proposed cover art sent by the US band Painkiller for their Guts of a Virgin EP. The artwork was as grisly as the title. UK customs confiscated it, and Nottinghamshire Police raided to investigate possible offences under the Obscene Publications Act.
"They even took our Alice Cooper poster, where he posed with a fake severed head," says Mr Pearson. After months of anxiety, the police dropped the case.
Mr Pearson and his 12-strong team at Earache have recently diversified into more mainstream blues-rock bands. Acts like Rival Sons, Temperance Movement and Blackberry Smoke have even given the laben its first Top 20 albums.
Mr Pearson will keep going to death metal gigs, he says. But he might make one concession to middle age: "I've thought about buying some ear plugs."