The Carlton Hotel in Lille is a staid-looking fourstar off Grand Place, the raciness of its panelled lobby bar restricted to a list of malt whiskies and some sporting prints. Whatever possessed Dominique Strauss-Kahn, then IMF boss and French presidential hopeful, a globe-hopping sophisticate with women from Bangkok to Brasilia within range, to go in search of nookie in this dull hostelry in the French equivalent of Newcastle upon Tyne?
As one ventures further into the alleged stomping ground of Strauss-Kahn's co-defendants, the Carlton 14, things don't get any more glamorous.
To meet the second most famous member of the gang, you cross the border into Belgium and drive through a flat expanse of countryside and urban sprawl to the historic town of Tournai. Perhaps making a diversion first to the village of Blaton, just off the motorway, to drive past a silent detached house painted matt grey and unadorned save for two giant glamour photos and the letters DSK. Dodo Sex Klub, insists its proprietor, who was threatened at one point with legal action by Strauss-Kahn, causing him to contemplate a rebrand as IMF, for International Miss Flanders. The proprietor of this bar montant – hostess bar, essentially brothel – is a character so picaresque that Georges Simenon would have been proud to have created him. Meet Dodo la Saumure, or "Dodo the Pimp".
Dominique Alderweireld, as Dodo was christened, walks across the medieval central square of Tournai, on the way from his rambling suburban villa to Le Kennedy, his favourite café, where he shakes hands with a couple of clients, and orders a glass of rosé. A stocky figure in tan leather jacket and jeans, the king of the hostess bars has a gruff, laconic and amused delivery, a terrific vocabulary of arcane criminal slang, and complete frankness. He seems to be looking forward to the trial. "I'll wear my best suit. But I'm not bothered about the verdict. I've already been investigated for the same facts twice and had the case dismissed," he grouches. "You know, the reason I'm involved in all this is that the Lille magistrates don't like me: I'm too outspoken and I'm too like them. I've got legal training..."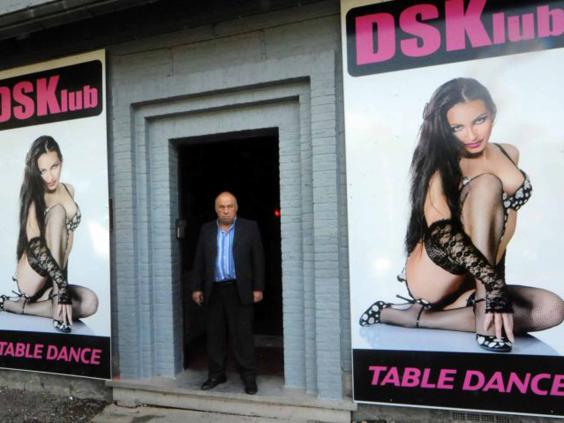 Alderweireld's outspokenness has brought him lots of media attention, which he clearly relishes, and even a book contract. Moi, Dodo la Saumure, published in 2013, details rather entertainingly his progress from provincial delinquent to celebrity brothel impresario via a litany of shady activities across Europe and Africa. His business card still states "Defiscalisation, Patrimoine et Entreprise" (which roughly translates as "tax exemption, legacies, and business") as his professional activity, a throwback to the time when he liquidated failing businesses via convivial leisure-time negotiations with municipal officials, pausing only for luxury hotel breaks paid for via faxes on the letter heading of the companies in question.
The charge that Dodo faces on 2 February is proxénétisme en bande organisée – roughly, conspiracy to live off immoral earnings. His co-defendants are his partner Beatrice Legrain, 11 members of the business and administrative elite of Lille, and, top of the bill, Dominique Strauss-Kahn, fresh from the dismissal of his Sofitel chambermaid rape case in New York. The 14 are accused of organising meetings for sex between groups of men and prostitutes in various parts of France and Belgium.
According to the prosecution, under French law this amounts to facilitating the activity of prostitutes, or pimping. Strauss-Kahn claims he was merely a participant in libertine encounters between consenting adults: his penchant for the échangiste (swingers) clubs still flourishing in France has been an open secret for years now. The Lille magistrates' report, based on a remarkably intensive investigation involving a special task force and months of phone taps, claims the women were professionals, and that Strauss-Kahn, the roi des fêtes, around whose diary the events were allegedly planned, could not possibly have been unaware of this.
The trial is one of the major events of 2015 in France, not only because of its star cast. A block away from the Carlton Hotel, from the Lille offices of the Voix du Nord newspaper, journalist Didier Specq has followed the affair since 2011. Specq's recent book DSK Among the Chtis is the result (Chti is a slang term for northerner). Conspiracy theories, unsurprisingly, lurk among its pages: the original result of the investigation was timed, apparently, to be announced at the height of the Socialist presidential candidacy election, before the unexpected Sofitel scandal broke "too early" and changed the timing. Specq also describes the changing moral background of France. "The French still think of themselves as liberal morally – homosexual marriage, freely available porn and so on," says Specq, "but actually there's a hardening moral attitude to other things, particularly prostitution."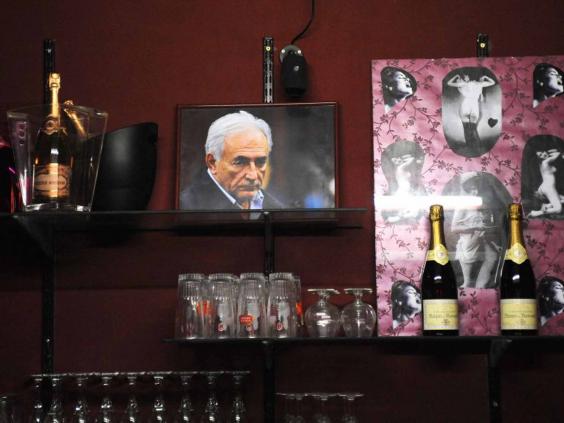 The Carlton trial fits thus into the pattern of the new clampdown on paid sex in France, where the criminalisation of clients is being mooted and a Socialist Deputy recently claimed that any use of prostitutes is complicity in human trafficking. Not surprisingly, Dodo dismisses the prostitution-equals-trafficking argument as blinkered feminist dogma. But surely there is increasing evidence of women forced violently into the sex trade? "Of course, especially among the Africans and Eastern Europeans," replies Dodo, "but not all prostitutes are, and certainly none in my bars. If they're coerced, it's by economics, but they're free to work or not as they please. The worst I do is buy them croissants on Sunday. And I can assure you I don't have a reputation for reacting slowly if I hear any suggestion of a threat against my girls..." As if to underline this, Dodo lets drop a suggestion that he once killed a man; long ago, légitime défence (self-defence)...
The location of Dodo's empire, in Belgium, is a side effect of recent French policy on prostitution. "The interesting thing about Dodo among the Carlton defendants," says Specq, "is that he symbolises both the geographic and moral distance between France and Belgium. Dodo regards himself as a simple commerçant [trader], which he is under Belgian law, but if he moved 15 kilometres south he'd be a criminal." The area north of Lille is ringed by the bars montants of Belgium, where prostitution is nominally illegal but long tolerated.
By comparison with some stretches of the sex route towards Courtrai and Ghent, Dodo's Tournai mini-chain is almost tasteful. We stop at the 36, also known as the Institut Bea, Dodo's first bar on the respectable-looking, tree-lined Avenue de Maire, then his more garish latest, the Low Cost, a few doors down. I meet Beatrice, or Bea, poised, multilingual and 40-ish, who introduces me to the lady behind the bar, a former supermarket manageress. As we discuss the girls' commission on sales of €200 bottles of champagne, Bea and Dominique argue about staff problems, like a long-married couple getting on each others' nerves. The Low Cost is in semi-darkness at lunchtime. A tiny dancefloor with a miniature pole is empty, as are the half-dozen small bedrooms upstairs. Five girls in mini dresses or negligées, watching television and drinking coffee in a back room, smile politely. Nationalities? Brazilian, Lebanese, Romanian, Spanish, Italian – well, OK, the last two actually Romanian.
So how does Dodo come to be a chum of the DSK set? I'm not, he says, but I know a lot of people. His book, and conversation, detail bewilderingly complex allegations about the overlapping networks of poulets (cops), freemasons, lawyers, businessmen and fixers such as his co-defendant Rene Kojfer, whom Dodo describes as an old friend, employed to do PR by the Carlton Hotel. "I used to be the star guest at the Carlton's Beaujolais Nouveau evenings," says Dodo. "Everyone knew what I did. Naturally the subject of girls used to come up." One evening, he claims, Dodo was asked by building industrialist David Roquet, another of the Carlton 14, about finding a girl to take to Paris for the delectation of some acquaintances. See Bea about it, said Dodo, I can't be bothered with arrangements like that. And Bea obliged, enrolling a girl named Jade, he claims.
On the train down from Lille, Roquet proudly revealed one of the acquaintances to be none other than Strauss-Kahn, he says. Who was indeed present, it is claimed, with mobile phone clamped to ear, in the restaurant L'Aventure off the Place de l'Etoile. After first making a pass at Bea, which she deflected – he looked much older than his photos, she comments – the then potential Socialist presidential candidate apparently had his way with Jade, who returned with Bea, allegedly suitably recompensed by Roquet, on the 4.25pm to Lille. Jade, it's believed, will be one of the prosecution witnesses in the trial, along with other girls ready to testify that participants in similar meetings knew that they were prostitutes.
According to the newspaper Liberation, Roquet displayed consistent loyalty to his eminent acquaintance, claiming to have kept from DSK the fact that some of the girls taking part in their meetings were prostitutes " because it was not good form" in libertine circles to admit such things. Kojfer, for his part, commented on local television: "Without DSK there'd be no Carlton Affair at all. Threatened with prison for having known a couple of escort girls? The real pimps must be having a good laugh".
So, might the Carlton trial achieve what the two earlier arrests failed to, and put Dodo out of business? He doesn't think so. "I'm opening two more bars shortly, in the same area. And I have a project for a facility for sex for handicapped people." The Institut Bea's ads for new hostesses are still running, in French, English, Russian, Romanian… And he's looking to other areas for recruitment. Do you know any places to advertise in Leeds, he asks me? I hear the economy's in poor shape up there... it could be good for recruiting girls.
By the end of February, some of the questions raised by the Carlton Affair will be answered, not least whether a lay jury, which the defendants (who deny all charges) have deliberately chosen to risk, as against a potentially less punitive magistrates' trial, will accept a prosecution case regarded by many as extremely fragile, even considering a groundswell of public feeling about DSK getting off the New York rape case.
As for the setting, the puzzle remains unsolved. Why Lille? "It's a mystery," admits Didier Specq." It's almost tempting to think it's because Lille so much isn't the Cote d'Azur, it has to be more welcoming…"
Could this be the answer? Never mind rough sex, what Dominique Strauss-Kahn really hankers after is good old northern hospitality. Maybe Dodo la Saumure is not the only one with his sights set on Leeds.
Reuse content