A former Apprentice contestant has claimed she was kissed by Donald Trump during a job interview in 2005 – shortly after he married his wife Melania. 
Jennifer Murphy, a contestant on the fourth season of the hit US reality show, said she had been invited to Mr Trump's office for a job interview and he had kissed her on the lips as she was leaving. 
The 37-year-old told Grazia magazine: "He walked me to the elevator, and I said goodbye. I was thinking 'oh, he's going to hug me', but when he pulled my face in and gave me a smooch. I was like 'oh kay'. 
"I didn't know how to act. I was just a little taken aback and probably turned red. And I then I get into the elevator and thought 'huh, Donald Trump just kissed me on the lips.'"
"I think maybe in his mind he may have thought of me and maybe fantasised, or romantically, but I didn't feel at the end of the day he would take action.
"I would hope that he would be true to his marriage, and I was also engaged at the time."
The claims come as the Republican nominee is under mounting pressure after he was recorded boasting about groping women without their permission.
The recording made in 2005, unearthed by the Washington Post on Friday, heard Mr Trump saying: "You know I'm automatically attracted to beautiful – I just start kissing them. It's like a magnet. Just kiss. I don't even wait.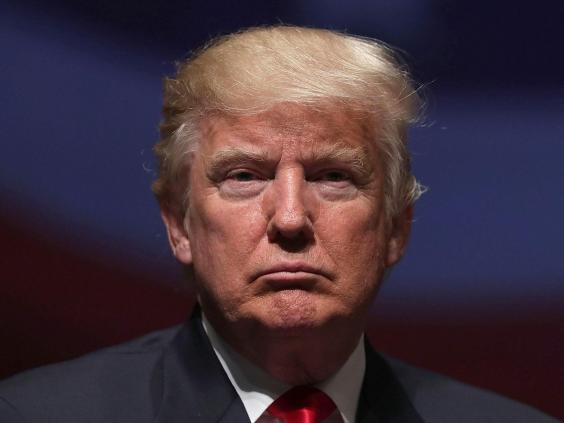 "And when you're a star they let you do it," Mr Trump says. "You can do anything… Grab 'em by the p****."
He also described "moving very heavily on" a married woman who was later identified as TV presenter Nancy O'Dell – whom he allegedly tried to fire from hosting the Miss USA pageant two years later for being pregnant.
Now key Republican figures have distanced themselves from his presidential campaign, saying they can no longer endorse him. 
House Speaker Paul Ryan stopped short of formally unendorsing him – like Indiana Governor Kelly Ayotte, who said she would write in a vote for Vice-Presidential candidate Mike Pence – but Mr Ryan did say he would focus his energies on the reelection of Republican members of Congress rather than the presidential race.
A survey found 25 per cent of the GOP's top brass – including Congressmen and women and state senators – have abandoned Mr Trump.
Of the 31 Republican governors, 54 GOP senators and the 246 Republican members of the House, a full 87 were not endorsing Mr Trump's candidacy as of Tuesday night, a USA Today poll found. 
But, despite her experience, Ms Murphy said she would still vote for Mr Trump who she described as her "mentor".
She said she met him in 2004 when she was taking part in the Miss USA pageant and he invited her to audition for The Apprentice.
Republican leaders backing away from Donald Trump after lewd remarks
Republican leaders backing away from Donald Trump after lewd remarks
1/12 Former governor of California Arnold Schwarzenegger

Schwarzenegger said he will not vote for Trump

Getty

2/12 Senate Majority Leader Mitch McConnell

Mr McConnell condemned the remarks, but has not unendorsed him

Getty

3/12 House Speaker Paul Ryan

Mr Ryan disinvited Mr Trump from a Wisconsin campaign event following the remarks

Getty

4/12 Former Sec of State Condoleezza Rice

Ms Rice called for Trump to withdraw his candidacy

Getty

5/12 Nebraska Sen Deb Fischer

Ms Fischer called on Trump to step aside and give nomination to Mike Pence

Getty

6/12 Texas Sen Ted Cruz

Mr Cruz denounced the remarks, but still endorses Trump

Getty

7/12 Former Republican candidate Carly Fiorina

Ms Fiorina wants Mike Pence to take the nomination

Getty

8/12 Conservative radio host Hugh Hewitt

Hewitt called for Trump to step down

Getty

9/12 Utah Representative Mia Love

Ms Love said she cannot vote for Trump after hearing his remarks

Getty

10/12 Former New York Gov George Pataki

Mr Pataki said Mr Trump should step down

Getty

11/12 New Hampshire Sen Kelly Ayotte

Ms Ayotte will write in Mike Pence when she votes

Getty

12/12 Arizona Sen John McCain

Mr McCain will choose Mike Pence on Election Day

Getty
She was eventually fired sixth but Mr Trump gave her his business card and said he wanted to hire her but had to wait for the end of the show. 
The former Miss Oregon said: "I don't want him to ever feel I'm throwing him under the bus, because I'm not. 
"I was surprised, but then it didn't really bother me because I didn't feel he was being degrading, or he was being dishonest to Melania."
The Independent has contacted the Trump campaign for comment.
Reuse content