Despite his disdain for Fox News's Megyn Kelly, Trump couldn't help but watch her hit show, "The Kelly File," on Monday night. This, by the way, was Kelly's first day back from a vacation she went on shortly after their debate flap.
And the Republican presidential front-runner apparently hasn't cooled off from his one-sided battle with Kelly during the Aug. 6 debate, where Kelly asked him questions about his past misogynistic comments about women.
Nearly a month later, here's what Trump had to say about Enemy No. 1:
.@megynkelly must have had a terrible vacation, she is really off her game. Was afraid to confront Dr. Cornel West. No clue on immigration!

— Donald J. Trump (@realDonaldTrump) August 25, 2015
I liked The Kelly File much better without @megynkelly. Perhaps she could take another eleven day unscheduled vacation!

— Donald J. Trump (@realDonaldTrump) August 25, 2015
As Trump is wont to do, he then retweeted fellow 'Kelly File' watchers who purported to agree with him. Most of them were pretty base -- including one commenter who called her a "bimbo." The comments were exactly the kind of material Trump has been criticized for.
"@bigpaulfla: @realDonaldTrump She has come back looking like Nancy Grace"

— Donald J. Trump (@realDonaldTrump) August 25, 2015
"@MikeRaj7: @megynkelly Show has become a opinion show. Leading questions, Stirrwalt and Thiessen, used, Fair and balanced, NOT"

— Donald J. Trump (@realDonaldTrump) August 25, 2015
"@mstanish53: @realDonaldTrump @megynkelly The bimbo back in town . I hope not for long ."

— Donald J. Trump (@realDonaldTrump) August 25, 2015
(It's also not the first time Trump has retweeted supporters calling Kelly a bimbo, FYI. He did the same right after the debate.)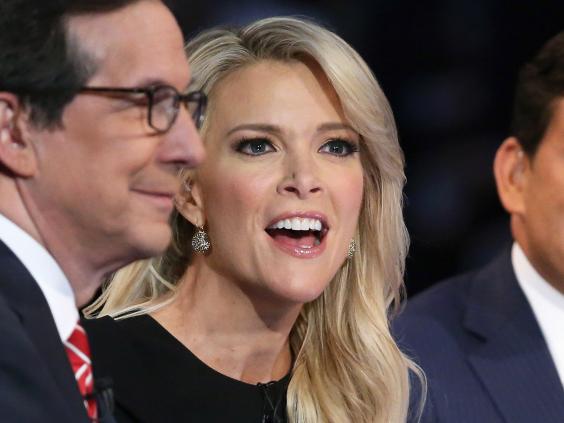 With Trump's tweetstorm done, a few minutes later he retweeted this reassurance from a supporter.
"@AdriannaMarie: @realDonaldTrump People always take cheap shots at you,they can't handle the truth.You tell it like it is.They're cowards.

— Donald J. Trump (@realDonaldTrump) August 25, 2015
A psychologist might call that tweet a Freudian slip. Trump is the one taking cheap shots at his supposed enemies, apparently unbowed by accusations that he's a misogynist or that he stop biting the hand that feeds him (Fox News).
That's because Trump's MO is to double down on what he says, whether that's hating the haters or lodging conspiracy theories about "rapist" illegal immigrants. He's lost business deals and TV shows in the aftermath of such comments, but refusing to apologize for them has been working for Trump politically. He's leading many Republican polls in large part because voters like that he'll say anything -- and not apologize for it.
Donald Trump's most controversial quotes
Donald Trump's most controversial quotes
1/14 On Isis:

"Some of the candidates, they went in and didn't know the air conditioner didn't work and sweated like dogs, and they didn't know the room was too big because they didn't have anybody there. How are they going to beat ISIS?"

Getty

2/14 On immigration:

"I will build a great wall — and nobody builds walls better than me, believe me —and I'll build them very inexpensively. I will build a great, great wall on our southern border, and I will make Mexico pay for that wall. Mark my words."

Reuters

3/14 On Free Trade:

"Free trade is terrible. Free trade can be wonderful if you have smart people. But we have stupid people."

PAUL J. RICHARDS | AFP | Getty Images

4/14 On Mexicans:

"When Mexico sends its people, they're not sending their best. They're sending people that have lots of problems. They're bringing drugs. They're bringing crime. They're rapists."

Getty

5/14 On China:

"I just sold an apartment for $15 million to somebody from China. Am I supposed to dislike them?... I love China. The biggest bank in the world is from China. You know where their United States headquarters is located? In this building, in Trump Tower."

Getty Images

6/14 On work:

"If you're interested in 'balancing' work and pleasure, stop trying to balance them. Instead make your work more pleasurable."

AP

7/14 On success:

"What separates the winners from the losers is how a person reacts to each new twist of fate."

8/14 On life:

"Everything in life is luck."

AFP

9/14 On ambition:

"You have to think anyway, so why not think big?"

Getty Images

10/14 On his opponents:

"Bush is totally in favour of Common Core. I don't see how he can possibly get the nomination. He's weak on immigration. He's in favour of Common Core. How the hell can you vote for this guy? You just can't do it."

Reuters

11/14 On Obamacare:

"You have to be hit by a tractor, literally, a tractor, to use it, because the deductibles are so high. It's virtually useless. And remember the $5 billion web site?... I have so many web sites, I have them all over the place. I hire people, they do a web site. It costs me $3."

Getty Images

12/14 On Barack Obama:

"Obama is going to be out playing golf. He might be on one of my courses. I would invite him. I have the best courses in the world. I have one right next to the White House."

PA

13/14 On himself:

"Love him or hate him, Trump is a man who is certain about what he wants and sets out to get it, no holds barred. Women find his power almost as much of a turn-on as his money."

Getty Images

14/14 On America:

"The American Dream is dead. But if I get elected president I will bring it back bigger and better and stronger than ever before and we will make America great again."

GETTY
But Trump's attacks on Kelly seem slightly more mean-spirited than his previous altercations. He appears to be zeroing in on Kelly in part because she hasn't appeared sufficiently remorseful (in Trump's eyes) for her tough (and fair) questioning of him during the debate.
As The Fix boss has pointed out, Kelly hosts one of the most-watched news shows on cable TV. She's likable and has real influence among conservatives. In attacking Kelly, Trump is attacking the face of Fox News and proving his critics right.
But here's the thing: Trump doesn't care. Trump bullying Kelly on Twitter is classic Trump. Even if it damages his business and/or political career, Donald Trump can't stop being Donald Trump. And, weirdly, it's working.
©Washington Post
Reuse content