One of the questions that has dogged Donald Trump's campaign to be US president has focussed on just what sort of First Lady his wife, Melania, might be.
The 45-year former model and watch designer, who is the tycoon's third wife, has largely avoided interacting with the media. 
But on Wednesday, she gave an interview to a US broadcaster in which she claimed she tried to keep life as normal as possible for her son, Barron, and said she was a "full-time mom". A number of observers pointed out that Mrs Trump's claim for normalcy was undermined by the fact that was speaking from the comfort of what looked like a gold throne, located in a $100m penthouse.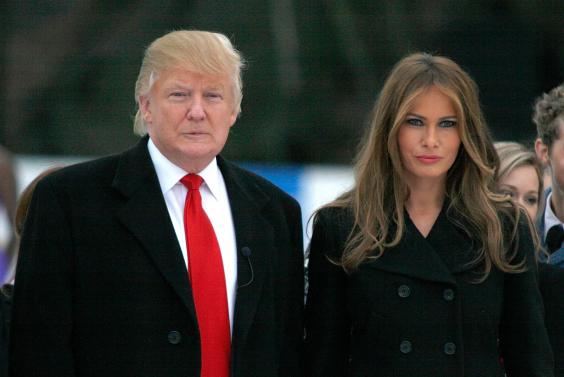 "I like to keep life as normal as possible for my son Barron," Mrs Trump told MSNBC. "I'm a full-time mom and I love it." 
The day after Mr Trump secured a convincing win in the Nevada primary, his wife said she stood by her husband 100 per cent,
"I don't feel that he insulted the Mexicans," said Mrs Trump, who was born in Slovenia and became a US citizen in 2006. "He said the 'illegal immigrants'. He didn't talk about everybody. He talked about 'illegal immigrants'."
She added: "And after a few weeks, like after two weeks, giving him a hard time and bashing him in the media, they turned around. They said, 'You know what? He's right. He's right what he's talking about'. And he opened a conversation that nobody did."
Melania Trump, just a normal girl who receives house guests from her golden throne.

— Robert Crosby (@Otey71) February 24, 2016
On the campaign trail, Mr Trump has told audiences that when he decided to throw himself into the race last June – an entry that was accompanied by a now-notorious attack on Mexican "rapists and murderers" – his wife was by his side and supported his decision. 
On Wednesday, she was asked if, as a migrant herself, she felt her husband had gone too far.
"I follow the law," she said. "I follow the law the way it's supposed to be. I never thought to stay here without papers."
Asked about some of Mr Trump's less-than-presidential language, she said there were times when she did not agree with him.
"Do I agree all the time with him? No, I don"t," she replied. "And I tell him that. I tell him my opinions. I tell him what I think. Sometimes he listens. Sometimes he don't."
Reuse content