Earlier this month Charles Heatley was seeing patients at his GP surgery in Sheffield, as he has done for 22 years. This morning he will arrive in Sierra Leone, ready to deploy his medical experience on the frontline of the growing war against Ebola.
Dr Heatley, 53, is among the first of around 1,000 British doctors, nurses and paramedics who have volunteered to man Ebola treatment centres in West Africa. Thirty staff were due to land in the capital, Freetown, this morning. They will return after five weeks.
Before his departure, Dr Heatley praised the "incredible" spirit of the NHS staff. "These are people who might be on strike when they come back because of pay and conditions – but they're happy to go and do this sort of work," he said. His surgery in Sheffield will receive funding from the Government to employ cover during his absence.
Twelve of the group, including Dr Heatley, will be dispatched to a treatment centre, run by the charity Emergency UK, in Lakka, on the coast just west of Freetown. They will assist in the medical care of Ebola patients, giving them the best possible chance of surviving the disease, in an outbreak that has killed about 70 per cent of those infected.
The team has been intensively trained in infection control at the Army Medical Services Training Centre in York, and in the use of personal protective equipment (PPE) – the full bodysuits that healthcare workers must wear when treating Ebola patients. The virus is transmitted via bodily fluids, and the danger of infection is highest when the symptoms, which include vomiting, diarrhoea and bleeding, are at their most severe.
"The team has forged quite a close relationship …. We depend on each other," Dr Heatley said. "The fear is reduced by knowing about the processes. We know that if you put on protective equipment and take it off correctly, your exposure to the virus is nothing."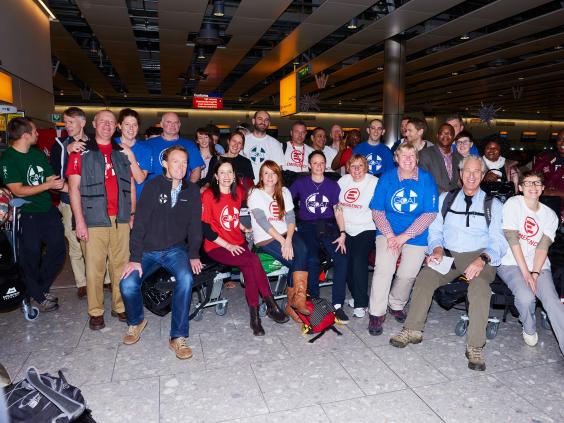 Dr Heatley, who spent 10 weeks in Kenya as a medical student, said that the final decision to volunteer came after discussions with his wife and three grown-up children.
"I was following the Ebola outbreak closely. One thing that struck me was an interview on the [BBC Radio 4] Today programme, with a guy describing agricultural projects in Sierra Leone that were just getting off the ground, and beginning to turn a profit before Ebola hit. The country was getting back off its knees [after the civil war] and starting to edge towards economic development. Ebola could destroy that.
"Apart from the need to do as much as we can to bring the epidemic under control, the more you can do that and the quicker that happens, the less damage there is to the future of Sierra Leone, Guinea and Liberia."
Infection rates appear to be slowing in Liberia and Guinea, but the situation remains grave; 5,439 people are now known to have died and in Sierra Leone there has been no sign of significant reduction in transmission.
Until now, Dr Heatley's only brush with Ebola came from his days as a junior doctor in 1990, at the now defunct Ruchill Hospital in Glasgow, an infectious diseases centre, which had one of the country's few Ebola isolation beds.
The unit was never used – the UK's only Ebola patient to date, the nurse William Pooley, was treated in London earlier this year – but "I can remember the empty room at the end of the ward with a coffin-like contraption," Dr Heatley said.
"We all feared the prospect of having to admit someone with a disease so appalling we'd have to nurse them in a bed with a lid, and long gloves," he added. "But fear has been reduced by trust within the group. I've been a GP for 22 years. You encounter a lot emotional distress. We've been instructed on resilience by army padres and, to my surprise, I'm a fairly resilient person."
Reuse content