A judge who presided over the appeals of a number of Mexican drug lords, among them the notorious Joaquin "El Chapo" Guzman, has been assassinated outside his home.
Video footage showed Judge Vicente Bermudez Zacarias, 37, being shot at close range as he left his home in Metepec, about 40 miles outside of Mexico City, on Monday. He was shot with a bullet to the back of the head as he was jogging.
President Enrique Pena Nieto, speaking to an international gathering of judges in Mexico, lamented the news and said he had instructed the attorney general's office to lead the investigation, the Associated Press said. There was no immediate word on a possible motive.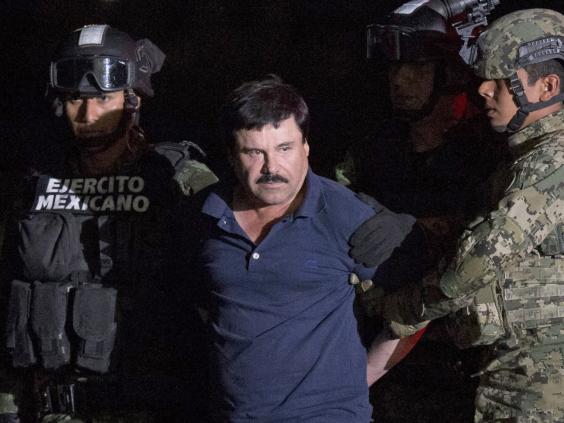 The Supreme Court called for a timely and thorough investigation and also held a moment of silence in Mr Bermudez's memory. 
Mr Bermudez had handled several legal challenges from lawyers for "El Chapo", the jailed leader of the Sinaloa cartel.
He has also handled legal challenges from lawyers working for Miguel Trevino, who had ties to the Zetas cartel. Trevino is currently a prisoner in the maximum security Altiplano prison not far from where the judge lived.
Mr Bermudez began serving as a judge overseeing legal challenges and federal trials in Metepec in March.
"El Chapo" is currently in a federal prison on the outskirts of Ciudad Juarez, which borders El Paso, Texas. Authorities transferred him there in recent weeks from the Altiplano lockup near Mexico City where he was being held before, citing work being done to improve security at the facility.
In 2001 he broke out of a Mexican prison and spent more than a decade on the run, becoming one of the world's most wanted outlaws before he was recaptured in 2014. Last year he escaped again through a mile-long tunnel dug to the shower of his cell at Altiplano.
Mexican federal agents caught him in January in the city of Los Mochis, Sinaloa, the state from which his drug gang took its name.
The convicted Sinaloa cartel boss is wanted in seven US jurisdictions on charges that include murder, conspiracy to import and distribute cocaine and marijuana, money-laundering and arms possession, according to the New York Daily News.
"El Chapo" lawyers have filed numerous legal challenges aimed at preventing his extradition, but government officials have said it is likely he will be sent to the US by early 2017.
Reuse content