Queues of limousines and crowds of photographers are usually the main obstacle to getting into the Beverly Hills Hotel, but since the owner introduced fundamentalist laws to the state he rules, protesters have displaced paparazzi at the entrance.
The Sultan of Brunei, the owner of the Dorchester Collection hotel group, which includes the Beverly Hills Hotel and London's Dorchester Hotel, is introducing sharia law including punishments such as stoning for adultery and dismemberment for thieves.
On Monday, the hotel was due to host the Global Women's Rights Awards gala, chaired by comedian Jay Leno and his wife Mavis. Instead, the event was held elsewhere, and the couple joined a midday demonstration outside the hotel by the Feminist Majority Foundation (FMF), the organisation that organises the gala. Around 150 people turned up to protest the policies of Sultan Hassanal Bolkiah, whose Brunei Investment Agency owns the hotel group.
The A-list opposing Russia's anti-gay laws

The A-list opposing Russia's anti-gay laws

1/15 When Madonna performed in Russia, she took to the stage with the words "No Fear" scrawled across her back. "Show your love and appreciation to the gay community," she urged her audience.
2/15 "In solidarity. From Russia with love," Tilda Swinton posted alongside this photograph of her holding a rainbow flag in support of the LGBT community outside the Kremlin in Moscow.
3/15 "As a gay man, I can't leave those people on their own without going over there and supporting them," Elton John said ahead of his boycotted string of shows in Russia in 2013. "I don't know what's going to happen, but I've got to go."
4/15 "The Russian government is criminal," Lady Gaga tweeted in August. "Oppression will be met with revolution. Russian LGBTs you are not alone. We will fight for your freedom." She later noted: "Sending bravery to LGBTs in Russia. The rise in government abuse is archaic. Hosing teenagers with pepper spray? Beatings? Mother Russia?"
5/15 "I think we should do more than just send gay Olympians there," the Star Trek actor said in a recent interview. ''What's happening there in terms of gay rights or the lack of it is extraordinary and awful."
6/15 Gay Star Trek actor George Takei that Russia's "cynical and deplorable actions against the LGBT community have given license to hate groups within its borders to act with violence and impunity against a group, based solely on whom they were born to love."
7/15 Prisonbreak star Wentworth Miller publicly came out in an open letter to Russia regarding its anti-gay laws. "I am deeply troubled by the current attitude toward and treatment of gay men and women by the Russian government," he wrote, turning down an invitation to a Russian film festival. "The situation is in no way acceptable, and I cannot in good conscience participate in a celebratory occasion hosted by a country where people like myself are being systematically denied their basic right to live and love openly."
8/15 Jamie Lee Curtis was one of many celebrities who joined the 'Love Conquers Hate' T-shirt initiative, lauched by the Human Rights Campaign, the largest gay rights activist group in the US.
9/15 Kevin Bacon also joined the 'Love Conquers Hate' initiative."We stand with Russia's LGBT community and their allies," said HRC President Chad Griffin. "We are committed to doing as much as we possibly can to support their efforts to repeal this heinous law."
10/15 "I'd boycott Russian goods if I could think of a single thing they made besides the rest of the world depressed," Hugh Laurie posted on Twitter in January 2014.
11/15 "I can't name names but my friend called who is a big oligarch over there, and asked me if I'd like to be an ambassador for the Olympics and open the show," Cher told Maclean's writer Elio Iannacci. "I immediately said no. I want to know why all of this gay hate just exploded over there."
12/15 Putin "is making scapegoats of gay people, just as Hitler did Jews," Stephen Fry warned in his appeal to the IOC.
13/15 "For real: Tell Russia & the @Olympics that #LoveConquersHate. Join @HRC and share your pic. #Sochi14," actress Kristen Bell tweeted, promoting her gay rights advocacy T-shirt scheme.
14/15 "Help us show Russia & the world that #LoveConquersHate," Wolf of Wall Street star Jonah Hill tweeted as part of the same campaign alongside a picture of himself wearing the T-shirt.
15/15 Grammy-winning singer Melissa Etheridge released a song, "Uprising of Love", in support of the Russian LGBT community, and partnered with Bruce Cohen to launch a coalition of celebrities and influential public figures, too.
The president of the FMF, Eleanor Smeal, said in a statement: "We cannot hold a human rights and women's rights event at a hotel whose owner would institute a penal code that fundamentally violates women's rights and human rights." The official implementation of sharia law in Brunei in south east Asia began on 1 May, when Bolkiah's administration criminalised becoming pregnant out of wedlock and "indecent behaviour". The second and third phases of the legislation will outlaw adultery and homosexuality, and introduce punishments including stoning, flogging and limb amputation. In a speech last week, the Sultan described the law as a "great achievement".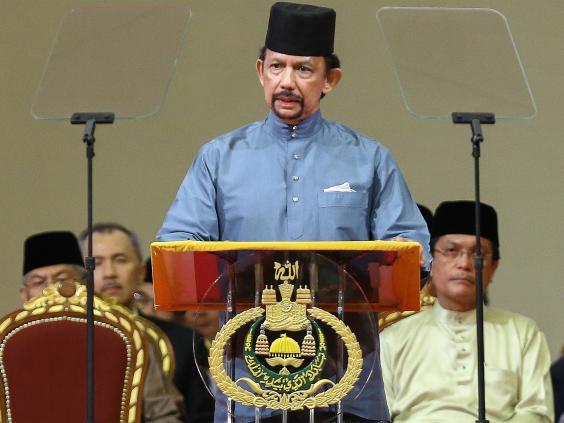 At the demonstration, three men in suits, representatives of the hotel, stood beside a table offering free water and cookies. Most of the protesters refused to partake. Director Molly Schiot, 33, and her fiancée Cass Bugge, 34, held a homemade sign with a message for the hotel's guests: "Move your stay to a hotel that isn't owned by a leader that allows execution of gay citizens," it read. The couple had planned to hold their engagement at the hotel. "But that was before we found out what [Bolkiah] stood for," Schiot said. "Most people didn't know until celebrities like Jay Leno and Sharon Osbourne were open about it, and then everyone caught on."
The boycott against the Beverly Hills Hotel began in April when the LGBT group the Gill Action Fund cancelled a conference there. The campaign gathered steam as celebrities lent their support, beginning with Ellen DeGeneres, who on 22 April tweeted: "I won't be visiting the Hotel Bel-Air or the Beverly Hills Hotel until this is resolved." A week later, Sharon Osbourne invited her 2.1 million followers to join the boycott and last Saturday Virgin boss Sir Richard Branson announced that neither he, his family nor any Virgin employee "will stay at Dorchester Hotels until the Sultan abides by basic human rights".
The company also owns three UK hotels: the Dorchester and 45 Park Lane in London and Coworth Park in Ascot. On 26 April Stephen Fry tweeted: "Cancelled in nick of time: discovered [Coworth Park] that I was booked into is part of the Dorchester Collection."
On Monday, the Motion Picture & Television Fund announced it would next year move its annual pre-Oscar party, The Night Before the Oscars, to another venue. The Hollywood Reporter magazine has also decided not to host its annual Women in Entertainment breakfast there. Dorchester Collection CEO Christopher Cowdray said that customers should not concern themselves with the behaviour of investors. "While we recognize people's concerns, we believe this boycott should not be directed to our hotels and dedicated employees. The economic impact of this not only affects our loyal team members but extends to the local community, our valued partners and suppliers."
Reuse content