Authorities in Paris have opened a manslaughter investigation into a helicopter crash that killed three French sports stars and seven others in a remote part of Argentina.
French Olympic gold medal swimmer Camille Muffat, Olympic boxer Alexis Vastine and sailor Florence Arthaud died when the helicopters apparently collided mid-air Monday near Villa Castelli in La Rioja province, about 730 miles (1,170 kilometres) northwest of Buenos Aires.
Eight French nationals and two Argentine pilots were killed in total. The manslaughter investigation is being carried out by the air transport body (GTA), Le Monde reports.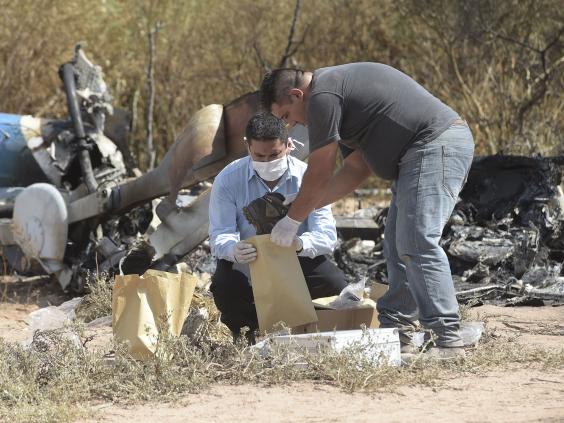 Retired British sailor Dame Ellen MacArthur paid tribute to Arthaud as "inspirational", while Christian Estrosi, the mayor of Nice, Muffat's birthplace, said she was "distraught" at the news.
"I saw her grow up a little as if she were my daughter. I'm thinking of her parents. Camille, we miss you."
An Argentine statement identified the remaining victims as Laurent Sbasnik, Lucie Mei-Dalby, Volodia Guinard, Brice Guilbert and Edouard Gilles, as well as Argentine pilots Juan Carlos Castillo and Roberto Abate.
The cause of the crash remains unclear and officials say weather conditions at the time were good. La Rioja Secretary of Security, Cesar Angulo, told TN television: "An explosion occurred and it's believed that they [the helicopters] collided."
The stars were filming a popular European celebrity reality show called Dropped when the apparent collision occurred. The survival programme follows contestants in rugged terrains as they attempt to find their own food and build their own shelter.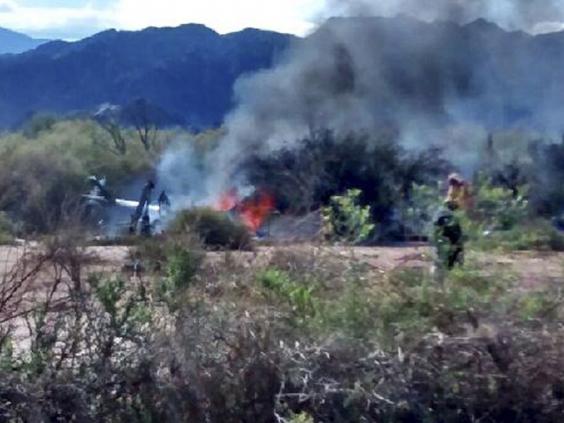 The show's producers, Adventure Line Productions (ADL), released a statement confirming the 10 deaths.
"All the ADL teams are devastated and share the deep pain of the families and loved ones they are in contact with," it said. "We are in contact with the production teams on site (and) with the French and Argentine authorities. We will give more information as soon as possible."
French President Francois Hollande paid tribute to the Olympian's death in a statement. "The brutal demise of our compatriots is an immense sadness," he said on Tuesday.
In pictures: Argentina helicopter crash
In pictures: Argentina helicopter crash
1/9 Argentina helicopter crash

Men work amid the wreckage of the two helicopters

Getty Images

2/9 Argentina helicopter crash

People comfort each other at the scene of the helicopter crash in La Rioja province

3/9 Argentina helicopter crash

The burning wreckages of two helicopters which collided mid-air near Villa Castelli

4/9 Argentina helicopter crash

People are seen near the burning wreckages of two helicopters which collided mid-air near Villa Castelli

5/9 Argentina helicopter crash

A man stands near the smoking remains of a helicopter that crashed with another near Villa Castelli in the La Rioja province of Argentina

AP

6/9 Argentina helicopter crash

Police and medical staff are seen near the site, where two helicopters collided mid-air near Villa Castelli

7/9 Argentina helicopter crash

Locals gather at the site of the crash

AP

8/9 Argentina helicopter crash

The two helicopters which collided mid-air near Villa Castelli, take off moments before the accident in the Argentine province of La Rioja

9/9 Argentina helicopter crash

Selfie shot posted on Facebook shows contestants for the tragedy hit French TV reality show "Dropped" seen here on the flight to Argentina from France: Olympians Camille Muffat (L) Florence Arthaud (C) and Alexis Vastine (R)
"Some had finished their careers and one was dreaming of gold in Rio," French Secretary of State for Sport Thierry Braillard said on BFM TV channel. "I'm profoundly saddened. French sport has lost three stars this morning."
Former France and Arsenal striker Sylvain Wiltord, ice skating champion Philippe Candeloro, former Olympic swimming champion Alain Bernard and veteran cyclist Jeannie Longo are among the other French athletes who took part in the show, but none were involved in the accident.
"I am sad for my friends, I'm trembling, I'm horrified, I don't have words. I can't say anything," Wiltord tweeted.
Je suis triste pour mes amis , je tremble , je suis horrifié , je n'ai pas de mots , je ne veux rien dire #Tristesse #Pleurs #JesuisàParis

; Sylvain Wiltord (@sylwiltord) March 10, 2015
Wiltford was eliminated from the show and flew home last week.
Muffat, 25, won the gold medal in the 400-metre freestyle at the Olympic Games in 2012, adding a silver medal in the 200-metre freestyle and a bronze in the four by 200-metre freestyle relay.
"Camille was quite a shy and reserved person. She was discreet. But when it was time for a bit of a laugh she was always there," Olympic gold medalist Amaury Leveaux said. "French sport has lost a great champion." Alexis Vastine won a bronze medal at the 2008 Games in Beijing.
Arthaud, who was 57, was a pioneer in sailing. In 1990, she won the Route du Rhum race, a trans-Atlantic single-handed yacht race between Brittany and the Caribbean islands of Guadeloupe.
Additional reporting by The Associated Press
Reuse content