Glenn Frey had been in hospital since November, two months before his death aged 67.  
The Eagles co-founder's family confirmed Frey died from complications due to rheumatoid arthritis, acute ulcerative colitis and pneumonia on Monday, sparking a wave of tributes from fans of the Grammy-award winning group. 
His close friend and fellow rock star Bob Seger said his passing followed months-long efforts by medical experts to keep him alive. 
Seger told the Detroit Free Press Frey was hospitalised in November with pneumonia and the band's manager Irving Azoff appointed a team of specialist doctors to manage his care.  
"First he caught one set of pneumonia, then he caught a very virulent set of pneumonia," he recalled. "They were trying like hell to keep him alive. He'd been at Columbia Medical Centre since November.
"Irving pulled every ace out of the hole. He had the eight best specialists working on Glenn. About a month ago, they had to throw up their hands."
Notable deaths in 2016
Notable deaths in 2016
1/31 Sally Brampton

Brampton was the launch editor of the UK edition of Elle magazine

Grant Triplow/REX/Shutterstock

2/31 Billy Paul

The soul singer Billy Paul, who is best known for his single "Me and Mrs Jones", has died on 24 April, aged 81

Noel Vasquez/Getty Images

3/31 Prince

Prince, the legendary musician, has been found dead at his Paisley Park recording studio on 21 April. He was 57

4/31 Chyna

WWE icon Joan Laurer dies aged 45 after being found at California home on 20 April

5/31 Victoria Wood

The five-time Bafta-winning actress and comedian Victoria Wood has died on 20 April at her London home after a short illness with cancer. She was 62

6/31

The entertainer and former husband of Liza Minnelli, David Gest has been found dead on 12 April in the Four Seasons hotel in Canary Warf, London. He was 62-years-old

7/31 Denise Robertson

Denise Robertson, an agony aunt on This Morning for over 30 years, has died on 1 April, aged 83

8/31 Zaha Hadid

Dame Zaha Hadid, the prominent architect best known for designs such as the London Olympic Aquatic Centre and the Guangzhou Opera House, has died of a heart attack on 31 March, aged 65

2010 AFP

9/31 Ronnie Corbett

British entertainer Ronnie Corbett has passed away on 31 March at the age of 85

2014 Getty Images

10/31 Imre Kertesz

Hungarian writer and Holocaust survivor Imre Kertesz, who won the 2002 Nobel Literature Prize, has died on 31 March, at the age of 86

11/31 Rob Ford

Rob Ford, the former controversial mayor of Toronto, has died following a battle with a rare form of cancer. The 46-year-old passed away at the Mount Sinai Hospital in Toronto on 22 March

12/31 Joey Feek

Joey (left) passed away in March after a two-year cancer illness. She was part of country music duo, Joey + Rory, with her husband Rory (right)

Jason Merritt/Getty Images

13/31 Umberto Eco

Italian writer and philosopher Umberto Eco died 19 February 2016 aged 84

EPA

14/31 Harper Lee

Harper Lee, the American novelist known for writing 'To Kill a Mockingbird', died February 19, 2016 aged 89

2005 Getty Images

15/31 Vanity

Vanity, pictured performing in 1983, died aged 57

REX Features

16/31 Dave Mirra

The BMX legend's body found inside truck with gunshot wound after apparent suicide aged 41

17/31 Harry Harpham

The former miner became Sheffield Labour MP in May after many years as a local councillor. He died after succumbing to cancer, at the age of 61.

18/31 Dale Griffin

The Mott the Hoople drummer died on January 17, aged 67

REX

19/31 Rene Angelil

Celine Dion's husband and manager Rene Angelil has lost his battle with cancer on 14 January, aged 73

2011 Getty Images

20/31 Alan Rickman

Legendary actor Alan Rickman has died on 14 January at the age of 69 after battle with pancreatic cancer. He is largely regarded as one of the most beloved British actors of our generation with roles in Love Actually, Die Hard, Michael Collins, and Robin Hood: Prince of Thieves and an illustrious stage career

2015 Getty Images

21/31 Maurice White

The Earth, Wind & Fire founder died aged 74. The nine-piece band sold more than 90 million albums worldwide and won six Grammy awards

22/31 Lawrence Phillips

Former NFL star found dead in prison cell on 13 January in suspected suicide, aged 40

23/31 Brian Bedford

Tony award-winning actor and voice of Robin Hood has died on 13 January, aged 80

Getty Images

24/31 David Bowie

The legendary singer passed away on 11 January, aged 69, alongside his family, after living with cancer for 18 months

Getty Images

25/31 David Margulies

The veteran actor, most famous for his role in Ghostbusters, has died in New York on 11 January, aged 78

Getty Images

26/31 Michael Galeota

Former Disney child star has been found dead in LA apartment on 10 January, aged 31

27/31 Christy O'Connor Jnr

Irish Golfer who became a Ryder Cup hero after a spectacular final hole in 1989, has died on 6 January, aged 67

2005 Getty Images

28/31 Olwyn Hughes

Literary agent who fiercely guarded the work of her brother, Ted Hughes, and his wife, Sylvia Plath has died on 3 January, aged 87

29/31 Matthew Hobden

The Sussex fast bowler has been found dead by police at Dalvey House in the town of Forres, near Inverness, on 2 January. He may have plunged to his death after falling asleep on the roof of a country house in Scotland. he was 22

30/31 Glenn Frey

Legendary member of The Eagles, Glenn Frey died while recovering from gastrointestinal surgery on January 18, aged 67

Getty Images

31/31 Garry Shandling

The writer, actor and comedian who created The Larry Sanders Show, has died at a hospital in Los Angeles, at 66.

2010 Getty Images
His death was confirmed by his family and bandmates in a post on the Eagles Facebook page, which was signed off with the lyrics from "It's your world now." 
"Words can neither describe our sorrow, nor our love and respect for all that he has given to us, his family, the music community and millions of fans worldwide," the statement said. 
"The Frey family would like to thank everyone who joined Glenn to fight this fight and hoped and prayed for his recovery."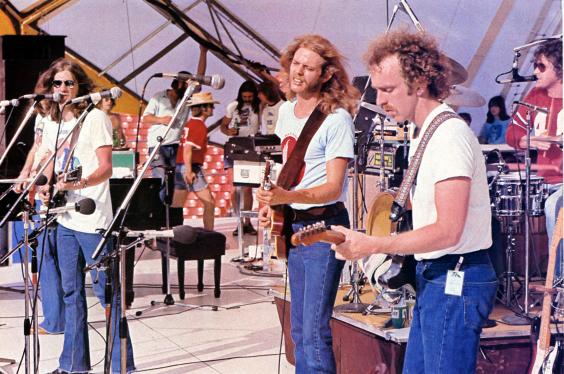 Frey's final performance came in July when the Eagles closed their History of the Eagles tour. The band launched 45 years ago, broke apart for 14 years and reunited in what Frey dismissed as "just a 14-year vacation" in 1994, selling over 100 million albums worldwide. Fellow co-founder Don Henley paid tribute to Frey as like a brother. "We were family, and like most families, there was some dysfunction," he said in a separate statement. "But, the bond we forged 45 years ago was never broken, even during the 14 years that the Eagles were dissolved.  We were two young men who made the pilgrimage to Los Angeles with the same dream:  to make our mark in the music industry — and with perseverance, a deep love of music, our alliance with other great musicians and our manager, Irving Azoff, we built something that has lasted longer than anyone could have dreamed.  But, Glenn was the one who started it all. He was the spark plug, the man with the plan."  
His death follows a sad week for music and film following the loss of David Bowie and Alan Rickman; both were 69 and died from cancer.