During this year's Golden Globes ceremony, host Ricky Gervais made a parting remark to Mel Gibson that was obscured for TV audiences with bleeps. 
The British comedian leaned into the rostrum microphone and asked Gibson: "What the f**k does sugar tits even mean?"
Gervais was referencing offensive comments Gibson reportedly made to a policemwoman who arrested him for drink-driving in 2006.
The Lethal Weapon star had gone on stage to present the trailer of Mad Max, which was nominated for the Best Picture award.
While introducing Mel Gibson, Ricky Gervais referred to previous jokes he made at Gibson's expense in 2010.
"A few years ago on this show, I made a joke about Mel Gibson getting a bit drunk and saying a few unsavoury things," he said.
"We have all done it. I wasn't judging him.
"But I now find myself in the awkward position of having to introduce him again. Listen, I'm sure it's embarrassing for both of us."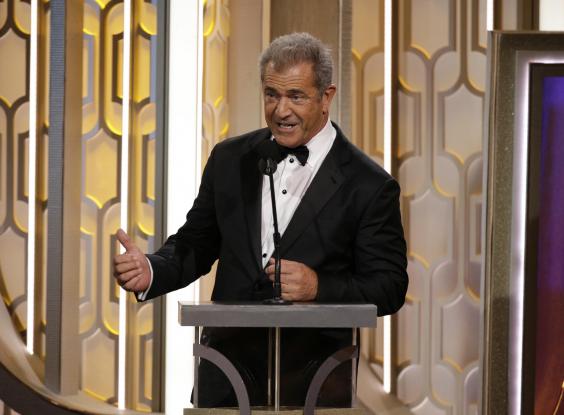 Gervais continued to make jokes about Gibson and anti-Semitic remarks he made during the same 2006 arrest.
He added: "I blame NBC for this terrible situation. Mel blames ... we know who Mel blames.
"I still feel really bad about it, Mel's forgotten all about it apparently. That's what drinking does.
"I want to say something nice about Mel before he comes out so ... I'd rather have a drink with him in his hotel room tonight than with Bill Cosby."
After leaving the stage, the host quickly returned holding a beer in his hand - to which Gibson remarked: "You don't need to leave your drink here, I'll put you to sleep another way."
Golden Globes 2016: Red Carpet
Golden Globes 2016: Red Carpet
1/34

Katy Perry in Prada

2016 Getty Images

2/34

Brie Larson in Calvin Klein

3/34

Emilia Clarke in Valentino

2016 Getty Images

4/34

Saorise Ronan in Saint Laurent

2016 Getty Images

5/34

Jane Fonda in Saint Laurent

2016 Getty Images

6/34

Julianne Moore in Tom Ford

7/34

Kate Winslet in Calvin Klein

2016 Getty Images

8/34

Jennifer Lawrence in Dior

2016 Getty Images

9/34

Lady Gaga in Versace

2016 Getty Images

10/34

Amy Adams in Versace

11/34

Rooney Mara in Alexander McQueen

12/34

Lily James in Marchesa

2016 Getty Images

13/34

Heidi Klum in Marchesa

14/34

Jennifer Lopez in Giambattista Valli

15/34

Zendaya in Marchesa

16/34

Jenna Dewan Tatum in Zuhair Murad

17/34

Maggie Gyllenhaal in Marc Jacobs

18/34

Rachel McAdams

19/34

Kate Bosworth in Dolce & Gabbana

20/34

Kate Hudson in Versace

2016 Getty Images

21/34

Cate Blanchett in Givenchy couture by Riccardo Tisci

2016 Getty Images

22/34

Viola Davis

23/34

Olivia Wilde in Michael Kors

24/34

Kirsten Dunst in Valentino

2016 Getty Images

25/34

Rosie Huntington-Whiteley in Versace

2016 Getty Images

26/34

Alicia Vikander in Louis Vuitton

27/34

Eva Green in Elie Saab

28/34

Amy Schumer in Prabal Gurung with Jennifer Lawrence in Dior

29/34

Bryce Dallas Howard in Jenny Packham

30/34

Amber Heard in Gucci and JaImie Alexander in gENNY

31/34

Laverne Cox in Elizabeth Kennedy

32/34

Joanne Froggatt in Reem Acra

33/34

Eva Longoria in Georges Hobeika

34/34

Olivia Palermo in Delpozo
It was then Gervais asked for the definitition of "sugar tits".
An apparently disgruntled Gibson replied: "I don't know, you'll have to ask the person who said that."
Reuse content