After weeks of hype, various 'Style Evolution' type features and murky looks back over a career that started in bubble gum Nineties pop and is now at the forefront of women's fashion, Victoria Beckham finally celebrated her 40th birthday in London.
She chose a classy enough venue – The Arts Club on Dover Street in Mayfair – to host the star-studded event, which was attended by family, friends and staggering members of the entertainment world's elite (if you can call Chris Martin that).
It was poised and ready to take the tabloids by storm – further powering the seemingly inexhaustible 'Brand Beckham' publicity wheel and catapulting the family 'wot done good' back into the headlines.
And all would have gone to plan, too, had Gordon Ramsay's new hair not turned up and obscured the entire thing.
The star chef took a break from shouting at people who can't cut vegetables properly to debut a haircut with a life of its own – part breathing toupee, part undercut, finished off, say The Mail, with "a fibrous spray to give the illusion of hair density".
People Almost Entirely Eclipsed By Gordon Ramsay's Hair At Victoria Beckham's 40th Birthday Party
People Almost Entirely Eclipsed By Gordon Ramsay's Hair At Victoria Beckham's 40th Birthday Party
1/7 David Beckham

One of the main attractions at the private event, organised to celebrate his wife Victoria Beckham's landmark 40 years on planet earth? David Beckham, of course. But nobody saw him go in... Because they were transfixed by Gordon Ramsay's hair.

2/7 Jade Jones and Emma Bunton

Half the 90s was at VB's birthday bash. Also obscured: East 17, Take That, 911, Bewitched and the rest of Another Level.

3/7 David Beckham's Hat

David Beckham saw the attention Pharrell's been getting for his ludicrous hat recently, and tried to match it. Which might just have worked, had Gordon Ramsay's hair not showed up to the same event.

4/7 Victoria Beckham

Victoria Beckham, birthday girl, former Spice Girl, present top fashion designer, all-round famous person. Totally eclipsed. Because SOMEONE invited Ramsay's hair.

5/7 Jacqui Ainsley & Guy Ritchie

Look! Guy Ritchie's wife-to-be is massively pregnant. You'd probably have noticed, too, were it not for Ramsay's hair.

6/7 Chris Martin

Stumbling along the streets of Mayfair - a newly single Chris Martin! And we would have possibly seen him as well... But you know. Gordon Ramsay's hair.

7/7 Tana Ramsay and Gordon Ramsay

His own wife - utterly eclipsed by his hair. No-one even saw her face, so transfixed they were on his new forehead rug.
They went on to speculate all sorts of things about hairline treatments and hair loss and the like, almost as if they hadn't noticed that whoever had cut the thing in the first place must have used a) a bowl and b) a cruel sense of humour to have ever conceived the idea of creating such a style in the first place.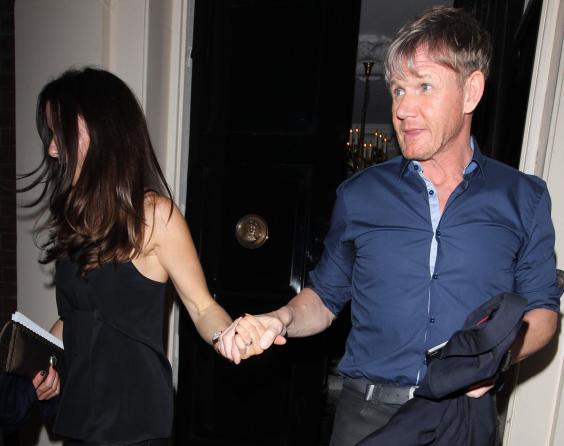 Needless to say, it was one of the only things that the paps were interested in snapping that evening, and promptly made it into Twitterfeeds the world over as a result.
They almost entirely missed all the other guests who arrived, jostling for attention, but falling too far short of Ramsay's follicles to get a look in. Find out who they were above… And then take another look at Gordon Ramsay's hair. It really is something quite special.
It even trumped the hype around Harry Styles' new hair, debuted in Brazil and born out of sheer humidity. No mean feat. Or hair: