Harrison Ford is expected to make a full recovery after his Second World War-era plane crashed on a golf course in California.
The Indiana Jones and Star Wars actor was pulled out of the aircraft by stunned golfers, including doctors on their day off, and taken to hospital with non-life-threatening injuries.
Christian Fry, of the Santa Monica Airport Association, praised the 72-year-old for his quick thinking when the engine failed.
"I would say that this is an absolutely beautifully executed - what we would call - a forced or emergency landing, by an unbelievably well-trained pilot," he added.
Ford, who was flying alone, managed to avoid nearby homes and people on the ground as the plane came down.
Eddie Aguglia, 47, said he looked up from the eighth hole to see the vintage plane with "US Army" on its underside passing above his head.
"The engine gave a little sputter" and died, he added.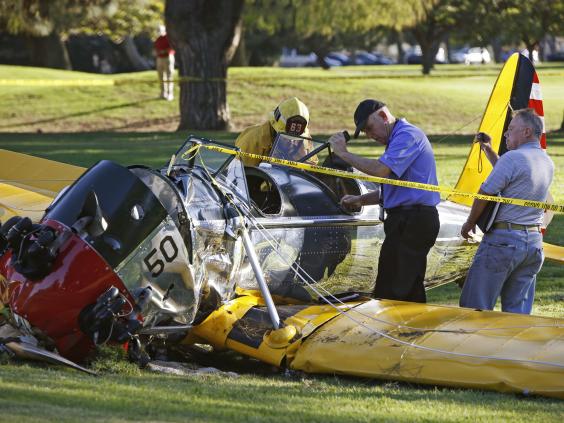 Jeff Kuprycz, another golfer, said the aircraft "banked sharply to the left" then went down. "There was no explosion or anything. It just sounded like a car hitting the ground or a tree or something," he added.
Ford's yellow 1942 Ryan Aeronautical ST3KR with stars on its wings and stripes on the tail, was left upright and mostly intact on the fairway.
The actor had taken off normally from nearby Santa Monica Municipal Airport at 2pm local time (10pm GMT) but 20 minutes later, he told the control tower the engine and failed and he was making an immediate return.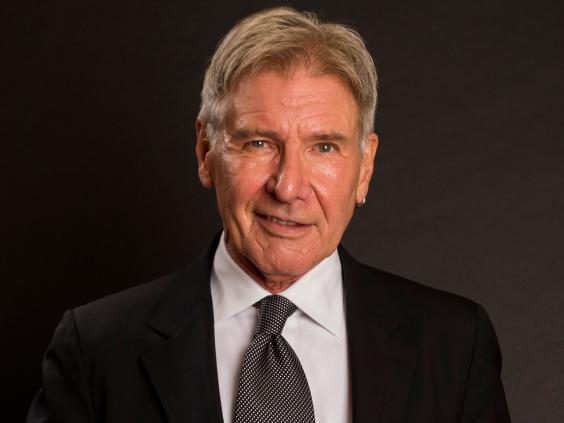 The plane had been flying at about 3,000 feet and hit a tree on the way down, according to witnesses and officials.
Patrick Butler, Los Angeles Assistant Fire Chief, said bystanders pulled Ford from the aircraft because they were afraid it would explode or catch fire.
Planes taking off and landing at the same airport have previously crashed into houses and in September 2013, four people were killed when their small plane veered into a hangar and caught fire.
"He wasn't a bloody mess," Mr Butler added. "He was alert. He had good vitals."
At the hospital. Dad is ok. Battered, but ok! He is every bit the man you would think he is. He is an incredibly strong man.

— Chef Ben Ford (@ChefBenFord) March 6, 2015
The actor was seen with a cut to his forehead and scraped arms but doctors have not announced the extent of his injuries.
His son, Ben Ford, described him as "battered but ok", calling the action hero an "incredibly strong man" who is "every bit the man you would think he is".
Ford's publicist, Ina Treciokas, said he had no choice but to make an emergency landing. She said his injuries "are not life threatening and he is expected to make a full recovery".
It was the latest and most serious in a series of close calls for the action star, who seems to have a taste for aerial thrills.
After getting his pilot's license in the 1990s, Ford has made headlines with daring exploits including rescuing a missing 13-year-old boy scout with his helicopter in 2001 and airlifting a trapped mountain climber in Wyoming to safety the year before.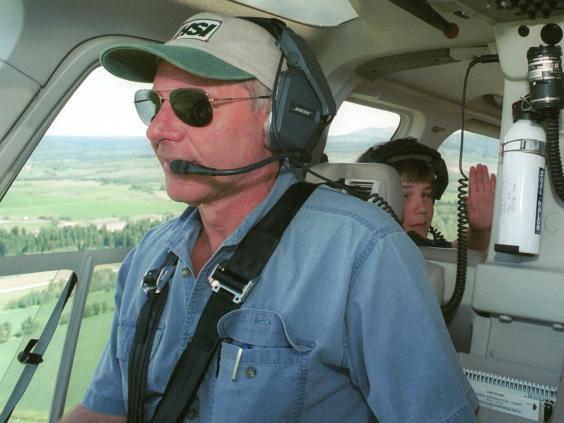 In a previous air accident, he was taking off from a runway in Lincoln, Nebraska, in 2000 when a gust of wind sent his six-seater plane off the runway. Ford and his passenger were not injured.
Filming on Star Wars: The Force Awakens was shut down for several weeks last July after Ford broke his leg during a shoot at Pinewood Studios near London.
Star Wars 7 cast in pictures
Star Wars 7 cast in pictures
1/15 John Boyega

The 22-year-old best known for sci-fi movie Attack the Block is a new arrival for Star Wars and will be one of the sequel's 'trio of young leads'.

Getty Images

2/15 Harrison Ford

Ford will be returning as Han Solo for Star Wars 7 and is rumoured to have a 'gigantic role in the first of the next three films'.

3/15 Daisy Ridley

There's not much out there on Ridley, who is a relative unknown bar appearances in TV dramas Casualty and Mr Selfridge. But the British actress is set to become a huge star now...

Getty Images

4/15 Adam Driver

Lena Dunham tweeted confirmation that her fellow Girls star had landed the role of the villain in JJ Abrams' film. Now he has been officially confirmed and is expected to play a Darth Vader-like baddie.

Getty Images

5/15 Carrie Fisher

Carrie Fisher, who played Princess Leia in the 1977 original, has confirmed she will reprise the role in upcoming Star Wars films.

Getty Images

6/15 Kenny Baker

Baker played R2-D2 in the Star Wars franchise and will be back reprising his role for the 7th movie.

Rex

7/15 Domhnall Gleeson

Gleeson played Bill Weasley in the Harry Potter films and recently starred with Rachel McAdams in About Time. He has been confirmed for Star Wars 7.

Getty Images

8/15 Miltos Yerolemou

The Game of Thrones actor is not expected to have a 'major part' in the film

Rex Features

9/15 Oscar Isaac

Last seen in the Coen brothers' Inside Llewyn Davis, Isaac has been confirmed as a new arrival and will likely feature in a lead role.

Getty Images

10/15 Andy Serkis

Also confirmed for the 7th installment is Serkis - who has a reputation as one of the best motion capture actors out there. So expect him to portray some sort of other worldly character.

AP

11/15 Max Von Sydow

He's not a spring chicken but Von Sydow is a new arrival to Star Wars. Rumours suggest he might play a sinister old Jedi but that remains to be seen.

12/15 Mark Hamill

Mark Hamill will be back as Luke Skywalker along with his fellow original cast members Carrie Fisher and Harrison Ford.

13/15 Anthony Daniels

Anthony Daniels has starred as C-3PO in past Star Wars films and will be back for JJ Abram's seventh.

Neela Debnath/The Independent

14/15 Peter Mayhew

Peter Mayhew will reprise his role as Chewbacca with many fans excited at the theoretical prospect of a wizened old Chewie retired from space flight

Getty Images

15/15 Original Star Wars trio

Here are the original Star Wars trio of Harrison Ford, Carrie Fisher and Mark Hamill back in the day.

AP
The accident involved the spacecraft door of the Millennium Falcon, which makes a return in the highly anticipated film.
America's National Transportation Safety Board will investigate the crash in a process that could take up to a year before a final report.
Investigator Patrick Jones said: "We're going to look at everything: weather, man, the machine."
Additional reporting by AP