Ex-Lions rugby star Andy Powell was left red-faced after he was publicly shamed by his estranged wife on Twitter.
The sportsman had broken up with Natasha Gascoine in February, just nine months after their wedding, and had been angling for a reconciliation with her.
Unfortunately, his methods of persuasion were far from effective, and largely involved bombarding her with lewd text messages.
This didn't go down too well with Gascoine, who posted screen shots of the texts up on Twitter  (they are still there if you really want to get a sense of just how crude the messages were, as they are far too explicit to publish in full).
In one of the messages, Powell charmingly tells Gascoine: "I'm in Montpellier just had a chance to bang a girl". But, she must have been thrilled to read, he goes on to say he'd rather be with his wife. To put it in the mildest context.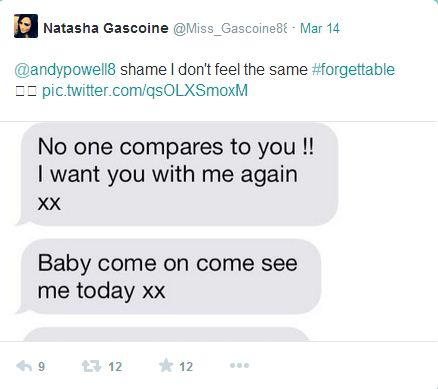 Suitably unimpressed, she responds by calling him a "scumbag" and a "mummy's boy", before  posting a selection of Powell's most treasured possessions – including his boots, rugby shirt, wedding suit, her wedding dress and her £10,000 engagement ring up for auction on eBay.
Also up on eBay were love notes sent to Gascoine from Powell, which were described as 'unwanted cards from my husband'. Yours for just 99p a piece.



Needless to say, Twitter erupted with responses to Gascoine's public shaming of her former lover. And she promptly retweeted the most damning.
She also raised a few laughs with this:

Sounds right to me #3 #aviodliketheplague pic.twitter.com/YGOFMTqtOP

Natasha Gascoine (@Miss_Gascoine88) March 18, 2014
And shopped him to his bosses, too:

Does this make you feel #cheated @WiganWarriorsRL ? As he's out gambling/drinking claiming to be sick to be paid? pic.twitter.com/UPqcWejIVt

Natasha Gascoine (@Miss_Gascoine88) March 17, 2014

Hell hath no fury like a rugby player's wife scorned.

Reuse content