Marion "Suge" Knight, the hip hop mogul and Death Row Records founder, is no stranger to the law. Yesterday he was facing murder charges after being linked with a hit-and-run that left one man dead and another injured in Compton, Los Angeles.
The producer handed himself into a West Hollywood sheriff's station early on Friday morning accompanied by his attorney to be interviewed by detectives. He was arrested at 3am at the station with bail set at $2m (£1.3m).
The events that led to Mr Knight's arrest in Compton remained unclear. A film crew was shooting a biographical drama film, Straight Outta Compton, based on the NWA album of the same name.
According to reports, a confrontation began at around 3pm on Thursday when Mr Knight, 49, and two men began arguing on set. Lieutenant John Corina of the LA County sheriff's department said that around 20 minutes later, the two men visited nearby Tam's Burgers where Mr Knight allegedly followed and ran them over in the parking lot.
Dr Dre In Pictures - The Rise Of Hip-Hop's Richest Man
Dr Dre In Pictures - The Rise Of Hip-Hop's Richest Man
1/6 Dr Dre Rise In Pictures

At the launch of new radio station Shade 45 with 50 Cent and Eminem in 2004.

2/6 Dr Dre Rise In Pictures

With Lady Gaga at the launch of her collection of headphones for Beats in 2009.

3/6 Dr Dre Rise In Pictures

Eminem and Dre perform on stage at the 2011 Grammys.

4/6 Dr Dre Rise In Pictures

With fellow businessman Richard Branson at Clive Davis and the Recording Academy's 2012 pre-Grammy Gala.

5/6 Dr Dre Rise In Pictures

Performing with long-term collaborator Snoop Dogg at Coachella 2012.

6/6 Dr Dre Rise In Pictures

On stage at Coachella in 2012.
Mr Knight's attorney, James Blatt, said that his client had accidentally run over and killed a friend, injuring another man as he fled attackers from a fast-food restaurant car park.
Officials said that a red pick-up truck hit two men in the car park of Tam's Burgers in Compton city at around 3pm before driving off. A 55-year-old man named as Terry Carter, a friend of Mr Knight, died in hospital on Thursday while 51-year-old Training Day actor Cle "Bone" Sloane was injured.
Mr Knight and Mr Sloane were both starring in the NWA biopic. "Looks like he drove backwards and struck the victims and drove forwards and struck them again," said Lieutenant Corina. "The people we talked to say it looked like it was an intentional act."
Mr Blatt said: "He [Knight] was in the process of being physically assaulted by two men and in an effort to escape, he unfortunately hit two (other) individuals."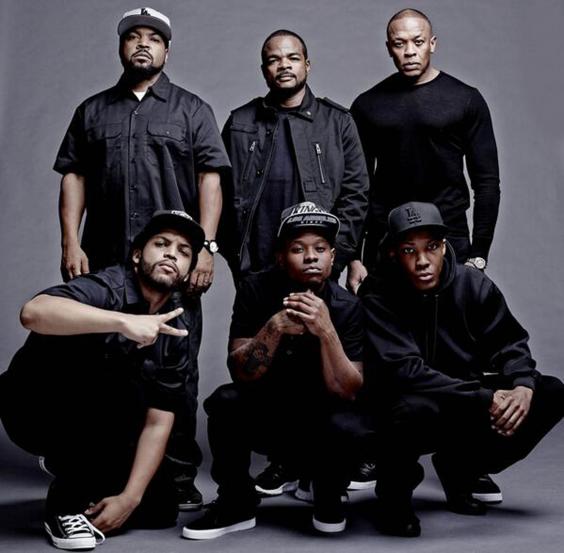 Straight Outta Compton is being produced by Ice Cube and Dr Dre and tells the story of how rap group NWA influenced hip hop in the late '80s. The city has featured on several of Mr Knight's records as a violent urban setting.
Mr Knight founded Death Row Records in 1991 with fellow artists Dr Dre, Tracy "The D.O.C" Lynn Curry and producer Dick Griffey. He was later declared bankrupt and the company was auctioned off.
The rap mogul has previous convictions for armed robbery and assault. In August last year, he was shot six times at an LA pre-awards party, for which no arrests were made.
He has also been the subject of numerous conspiracy theories over the death of rap artist Tupac Shakur, who was shot in 1996.
Rap sheet: Knight's criminal past
1996 Sent to prison for nearly five years for beating a rival with rapper Tupac Shakur at a Las Vegas hotel shortly before Shakur was shot dead.
2002 Jailed for violating his probation by associating with gang members in LA.
2003 Parole violation for punching a parking attendant at a Hollywood nightclub.
2005 Shot in the leg during an MTV Video Music Awards pre-party in Miami.
2006 Death Row Records filed for bankruptcy, and a judge ordered a trustee to take it over because of gross mismanagement.
2009 Hospitalised for treatment of facial injuries following a fight in Arizona.
2014 Shot during a row at a Hollywood club before the MTV Video Music Awards .
2014 Charged over a camera theft in Beverly Hills. Pleaded not guilty but faces up to 30 years in jail if convicted because of his criminal record.
Reuse content