Ian Flanders was the first person to ride a mountain bike beyond where it was built to go – off the edge of a sheer 400ft cliff and on to a desert canyon floor. With his bike strapped to his legs, he cycled for several seconds through the air before deploying a parachute, gliding, discarding the 'chute a couple of feet from the ground and riding on into the desert sun.
It was a stunt on 23 October last year to test the Yeti mountain bike brand, and Flanders' inseparable friend and "adopted brother" Matt Blank cycled behind him off the canyon cliff near Moab, Utah. They used a system which allowed them to cast off the parachute just before landing so that they could hit the ground riding.
Flanders was an all-round extreme sportsman, instructor and mentor who climbed vertical mountain faces, including the North Face of the Eiger in the Swiss Alps, jumped off them and flew close to cliff faces in a wingsuit for several minutes at more than 100mph. The 28-year-old southern Californian was doing a relatively easy, end-of-the-day BASE jump, without bicycle or wingsuit, when he died in eastern Turkey during a wingsuit and BASE-jumping festival, the first such event in Turkey. (BASE jumpers are a modern breed who can join the club only if they jump from a building (B), antenna pylon (A), span, i.e. bridge (S) and earth – a mountain, for example (E).
In Turkey, Flanders leapt from a 900ft-high tourist chairlift suspended from a cable over the Karanlik (Black) Kanyon, intending to open his parachute, land in the Karasu river, a co-source of the Euphrates, and prepare for much more difficult wingsuit jumps the following day. But after doing his customary back-flips, his foot became caught in the parachute's bridle, key to deploying the canopy, and he plummeted on to the riverside rocks.
His friend Blank, also 28, whose family had become almost Flanders' own, leapt after him and landed by parachute in the river where Turkish rescuers in boats had already reached the battered body. He had died on impact. Another shocked friend and wingsuit pilot, Donald Schultz, said: "His last jump was routine, from about 900 feet, rather than the normal BASE jump of 200-500 feet, giving him plenty of time. It was a bit like a NASCAR racing driver surviving a race but crashing on his way home. He'd been doing this really difficult, intense wingsuiting. And then, on what should have been a gimme jump, tragedy strikes."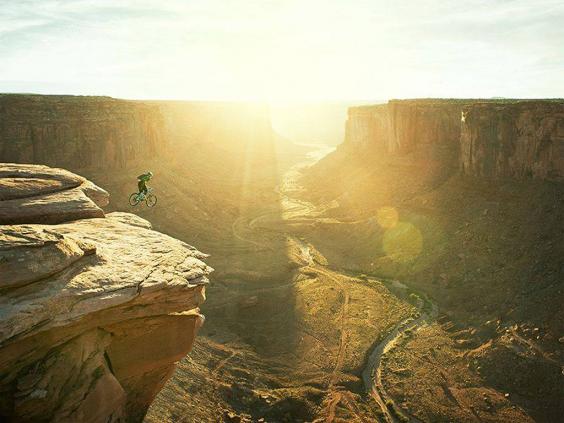 Flanders was joint best man at Schultz's wedding in Kruger National Park, South Africa, last December, after which Flanders went for a wingsuit flight from Table Mountain and landed on a school rugby pitch in Cape Town. "Ian was always well-prepared, double-checking his gear, analysing conditions, checking heights with laser measurements," Schultz said. "He knew the dangers. If you f**k up, you die."
During the Turkish festival where horrified onlookers and many live television viewers saw him fall, Flanders had been working on a documentary about deaths related to BASE jumping, of which there had recently been several, all of them his friends.
Ian Flanders was born in La Porte, Indiana, not far from Chicago, and attended the Indian Trail elementary school in Downers Grove, Illinois, before moving to Kelsing Middle School just across the state border in La Porte. He rarely talked about his childhood – his parents were travelling Jehovah's Witnesses – but his father is said to have left the family when Ian was young. As a teenager, he headed west, settling in the Newport Beach/Costa Mesa area of Orange County, southern California. The Blank family treated him like a son.
He worked for the Philips Respironics company in the city of Carlsbad, specialising in sleep disorders and sleep apnoea through breathing therapy and respiratory medicines. He became a sleep disorder technician, lab manager, medical supplies salesman and sleep therapist. During his spare time, he became a mountaineer, skydiver, BASE jumper and wingsuit flier, eventually giving up his day job to travel the world as an extreme sportsman. "For us, it's not a choice," Matt Blank said, "it's like breathing air. Coming down a mountain after rock-climbing is harrowing. When Ian and I realised we could just fly down to our car, we were sold."
PHIL DAVISON
Ian Flanders, extreme sportsman and sleep disorder technician: born La Porte, Indiana 20 October 1986; died Karanlik Kanyon near Kemaliye, Turkey 21 July 2015.
Reuse content