Ian H Watkins from Steps has been confused with convicted paedophile Ian Watkins by Google.
The error has since been rectified.
It was noticed by a Twitter user yesterday that Google Images still featured the sex offender's mug shot in Google's Steps line-up. The imprisoned Lostprophets singer was jailed for 35 years in 2013 over 13 child sex offences.
Nice work Google Knowledge Graph, what a very different Steps this would have been. pic.twitter.com/1602lAHip7

; James Trew (@itstrew) December 17, 2014
Up until late this afternoon, Google Images also still displayed a large picture of the sex offender's mug shot as the lead picture above the Steps singer's biography.
The photo has now been removed.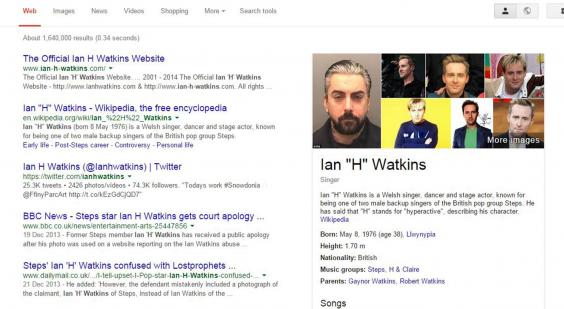 The mistake first arose after the Lostprophet's singer's sentencing in December 2013. The singer voiced his distress on Twitter, after noticing that his photo was used alongside a story about the musician's sentencing – a mistake by the search engine's algorithm system.
SORT THIS OUT @CBSNews @google !!!! I am very upset ... Again !!! pic.twitter.com/oRq7kr8tEw

; Ian H Watkins (@Ianhwatkins) December 19, 2013
He was also granted a High Court open apology for his image being wrongly used by E! Online to illustrate an article about convicted paedophile Watkins.
The singer confirmed the resolution on Twitter and Facebook, posting: "As many of you will know, on 27 November E! Online mistakenly published a photograph of me alongside an article reporting the case of the convicted paedophile, Ian Watkins, of the band Lostprophets.
"In Court this morning E! have publicly apologised to me and a statement has been read in court to make the position clear.
"This was not something that I did lightly but it was important to me that a public statement was made so that there is no confusion going forward.
"I am really pleased that it has been resolved so quickly so that my family and I can try and move on from what has been an extremely distressing time. Thanks once again to those who have supported me xx[sic]"
Reuse content