The armed burglars who raided the home of former Arsenal footballer and ITV pundit Ian Wright while he was away in Brazil threatened to kill his wife and cut off his children's fingers.
The former England star got on the first flight back from Brazil when he heard the news and offered no comment when he arrived back at the semi-detached house this afternoon.
During the attack just before 9.30pm last night, four masked men armed with knives forced their way into the family home in north-west London when Wright's wife Nancy answered the door.
They are reported to have marched her from room to room at knife-point and, when she resisted, one is said to have shouted: "If you don't tell us where the safe is we'll cut off your kids' fingers." Another is believed to have urged: "Punch her, punch her, kill her!"
Wright has appeared prominently in ITV's coverage of the tournament in Brazil, and last night the pundit, apparently reacting to the news, tweeted: "You won't get away with it."
Police are investigating the incident, during which the burglars are believed to have taken Nancy, 39, to one bedroom while the couple's two girls slept upstairs, before escaping with a number of their possessions.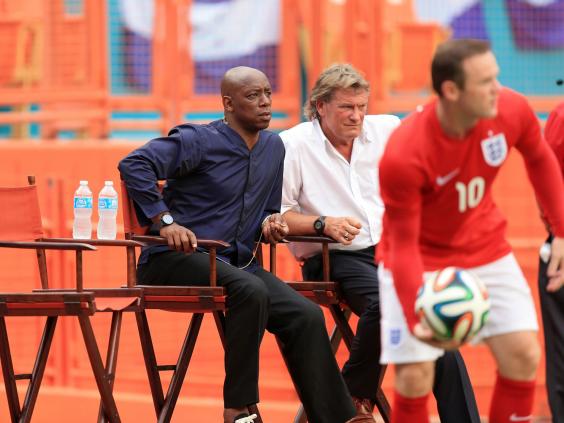 A spokesperson for the family today said that Nancy was "really shaken up" following the incident, and that her husband wanted to raise awareness to prevent similar attacks on the families of others who are still out in Brazil.
"Their kids are so young that hopefully they aren't going to read into it too much," she said. "They are all physically okay - Nancy and the kids."
The spokesperson added: "I do believe they threatened to cut off fingers, I don't know if it was the children's or Nancy's."
Last night Wright's manager, Steve Kutner, told The Sun: "It was a terrifying ordeal. They marched Ian's wife from room to room.
"I would like to thank ITV for helping Ian to get home as quickly as possible."
A spokesperson for Scotland Yard described the suspects as four black men aged between 18 and 25, with London accents, wearing dark clothing and hoodies obscuring their faces.
Detective Chief Inspector Mick Gornall, who is leading the investigation, said: "We are trying to trace these four men, and I'd ask anyone who may know anything to get in touch with my team and help us.
You won't get away with it!

— Ian Wright (@IanWright0) June 18, 2014
"Fortunately no one was injured during the burglary, but it is still very frightening to have people force their way into your home and threaten you.
"Last night officers went to the address and started carrying out house-to-house inquiries. We are also seizing and reviewing CCTV."
An ITV spokesman said: "Ian travelled home immediately to be with his family on hearing the shocking news. Our thoughts and best wishes are with them."
The incident at Wright's St John's Wood home is the latest in a string of attacks on the homes of famous footballers in recent years, often at times when the burglars are likely to know the high-profile owners are away.
A number of Merseyside footballers have been targeted, including Everton and England defender Phil Jagielka, who was robbed at knifepoint at his Cheshire home in 2009.
The homes of England captain Steven Gerrard and then-Liverpool players Peter Crouch and Dirk Kuyt were also raided.
Adrian Chiles leads out World Cup Pundits XI
Adrian Chiles leads out World Cup Pundits XI
1/11 Adrian Chiles (ITV)

Safe, if uninspiring pair of hands; can save most situations, from technological breakdowns to unfortunate gaffes (we're looking at you, Hoddle)

Getty Images

2/11 Phil Neville (BBC)

A wild card with little experience; can be overexcitable (on Five Live) and would do well to demonstrate half the potential of his big brother, Gary

3/11 Alan Hansen (BBC)

Reliable for gaffes such as "the Argentine defender warrants shooting for... that" (the day after Colombian Andrés Escobar was shot dead at the 1994 World Cup)

4/11 Rio Ferdinand (BBC)

Lost his pace on the pitch, but can still run his mouth. The TV rookie brings the street to the corporation – expect much monotone slang but little insight

5/11 Lee Dixon (ITV)

Consistently impressive, mixing the strategic nous he learnt holding his hand in the air at Arsenal (offside, ref!) with a knack for telling the truth about a performance

6/11 Glenn Hoddle (ITV)

Often missed by England managers because he didn't fit the team. Often overlooked for on-air duties because dodgy gags and racial smears don't fit civilised society

7/11 Roy Keane (ITV)

Midfield destroyer won't let anything get past him without dragging it down. A smirk is as close as he'll get to a smile, and any fancy flourishes will be killed dead. Except he won't be turning up.

8/11 Patrick Vieira (ITV)

Surprisingly softly spoken for such an intense competitor. Will provide cultured tactical judgements, assuming he's allowed to get a word in

9/11 Thierry Henry (BBC)

Speed of legs doesn't quite translate to speed of thought, but he's lost none of the va-va-voom. Is it the accent? Peut-être. Takes things to a philosophical level

10/11 Gary Lineker (BBC)

Flashes of early promise have developed into an impressive body of work; sports the cheery disposition of a player who thoroughly enjoys his football and puns

11/11 Alan Shearer (BBC)

The consummate centre-forward: will hold up play with unilluminating, uncontroversial droning, bringing others into the attack as they try to keep things interesting
Watford midfielder Alexander Merkel was robbed on the doorstep of his home in Hampstead, west London, last month by a gang who tried to batter down his front door with mopeds.
Wigan Athletic player James McArthur had his FA Cup winner's medal stolen in a burglary at his home along with two wedding rings.
Swansea City head coach and former player Garry Monk was burgled in November last year while he underwent knee surgery.
And in 2005, former Bolton defender Mark Fish was tied up and robbed after his home appeared on TV show Footballers' Cribs. He was the second victim of raiders following an appearance on the MTV show after former England goalkeeper Ian Walker was also targeted.
Reuse content