A Holocaust survivor has become the world's oldest man at 112-years-old, Guinness World Records has confirmed.
Israel Kristal was recognised by Guinness World Records as the oldest man at 112 years and 178 days old.
He has lived through both World Wars and survived Auschwitz.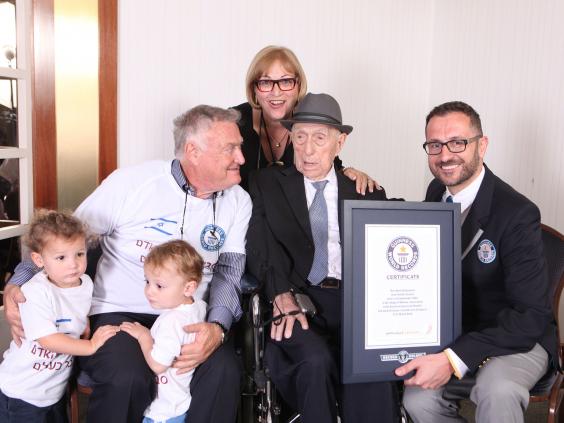 Mr Kristal was born in Poland, near the town of Zarnow, on 15 September, 1903. 
After surviving the First World War, he moved to Łódź in Poland to continue his family's confectionary business.
Following the Nazi invasion of Poland and the occupation of Łódź, he was moved to the Łódź ghetto with his family in 1939.
Four years later, he was sent to Auschwitz. When rescued by the Allies in May 1945, he weighed 37 kilos.
He lost his wife and their two children during the Holocaust. 
In pictures: Amazing achievements during the Guinness World Records Day
In pictures: Amazing achievements during the Guinness World Records Day
1/10

The largest Gathering of People Dressed as Penguins at Wood Wharf, London

PA

2/10

Guinness World Records of the longest knitted scarf at 4,565,46 metres long (record yet to be verified), by Helge Johansen of Oslo, Norway, during the ninth annual Guinness World Records Day, the international day of record breaking.

PA

3/10

Guinness World Records of the most hula hoops spun simultaneously by a team at 264 achieved by Marawa the Amazing and her Majorettes at the Shaftesbury Theatre, London

PA

4/10

Kenichi Ito, also referred to as 'Monkey Man,' who is known as the world's fastest man to run on all four limbs, competes in attempt to break his 100 meter record run in the previous year in Tokyo, Japan

EPA

5/10

Muhamed Kahrimanovic crushes beverage cans to set a new world record at the 9th Guinness World Records Day in Hamburg, Germany

EPA

6/10

Kenichi Ito poses for photographers with a Certificate of the Guinness World Records after setting the Guinness World Record fastest time for the 100-meter dash on his arms and legs on a race course at Komazawa Olympic Park Stadium in Tokyo

AP

7/10

Masao Inuzuka, 36-year-old perfomer, poses for a photo during a four-legged 100-metre race organized by Kenichi Ito in Tokyo.The 31-year-old, who developed his skills over 10 years based on the running style of the African Patas monkey, set a new Guinness World Record, clocking in 16:87 seconds for a 100-metre run and breaking his previous record of 17:23 seconds

Reuters

8/10

Australian sword swallower Cheyne Hultgren successfully sets a new Guinness Book World Record for most swords swallowed while underwater (three swords), at the Sydney Aquatic Centre in Sydney, Australia

EPA

9/10

Guinness World Records of the most consecutive handsprings by a male at 46, achieved by Tim Wade in Dallas, USA

PA

10/10

Guinness World Records of the largest collection of pizza boxes belonging to Scott Wiener of Brooklyn, New York, consisting of 595 different boxes

PA
In 1950, he emigrated to Haifa, Israel, with his second wife and their son, where he continued his confectionery business until his retirement.
When receiving his certificate, Mr Kristal said: "I don't know the secret for long life. I believe that everything is determined from above and we shall never know the reasons why. 
"There have been smarter, stronger and better looking men then me who are no longer alive. All that is left for us to do is to keep on working as hard as we can and rebuild what is lost."
The world's previous oldest man, Yasutaro Koide of Japan, died in January 2016 at the age of 112 years, 312 days. He died two months short of his 113th birthday.
Susannah Mushatt Jones is the oldest living person and oldest living woman at 115 years and 249 days. When asked her secret to living for so long, she said she eats bacon every day.
The oldest person ever to have lived was Jeanne Calment, from France, who lived to 122 years and 164 days.
Reuse content