James Franco has been the subject of war threats, Sony hacking and nude pictures over the past few weeks.
And it seems he's not yet bored of the controversy, either.
The Interview actor played the part of a white chef during a Saturday Night Live clip that was left unaired over the weekend – probably because said chef was named after white officer Darren Wilson, the man a grand jury recently cleared of wrong-doing after he shot dead unarmed black teenager Michael Brown in August.
"Today we're going to be making a frittata. To make it healthy, we're only going to use the 'whites' of the egg," Franco says to camera during the Ferguson-themed sketch.
"Use the whole damn egg!" Kenan Thompson, also in the clip, quickly retorts.
Elsewhere during the skit, which sees SNL cast members Cecily Strong and Thompson play St. Louis local morning show hosts broadcasting after the grand jury decision, Thompson asks Strong how her weekend was.
"Spent it holding a fireplace poker and protecting my property," she fires back.
Strong also mentions an upcoming Black Keys show, but accidentally uses the racially offensive term "blackies" instead.
"I'm gonna continue speaking quickly so I don't think about that moment," Thompson follows. 
Franco's performance on Saturday Night Live also featured an acclaimed opening monologue with Seth Rogen that took aim at the Sony cyber attackers that have leaked countless details of the company's employees over the past few days, including the actor's pay checks.
"All the girls who got Instagram messages from me this year, last year, the hackers did it!" he quipped.
He also released this haunting nude Christmas card into the world: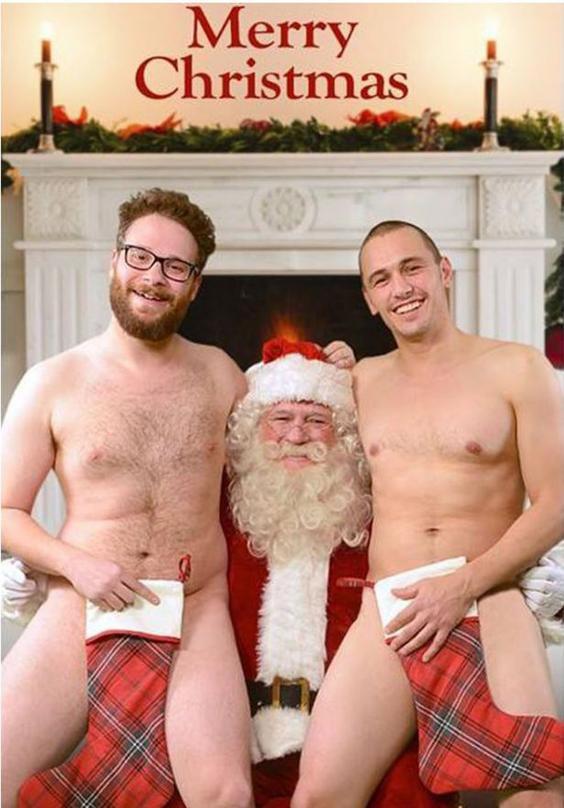 You're welcome.
Reuse content