Jane Fonda occasionally sits on Ryan Gosling's face.
And who wouldn't, though the heartthrob might have a thing or two to say about it.
Fonda, 76, was pictured carrying luggage and this, perhaps her staple piece of furniture, into a home in Malibu yesterday while taking a break from filming.
The actress' gaudy/desirable (depending on where you are on the Gosling-o-metre), may at some point in the future be yours for a snip at £261 via Gilt.com.
It's a limited edition that is currently sold out and is described as a "mid-century style bentwood chair" that can (sorry) only be delivered to addresses in the US.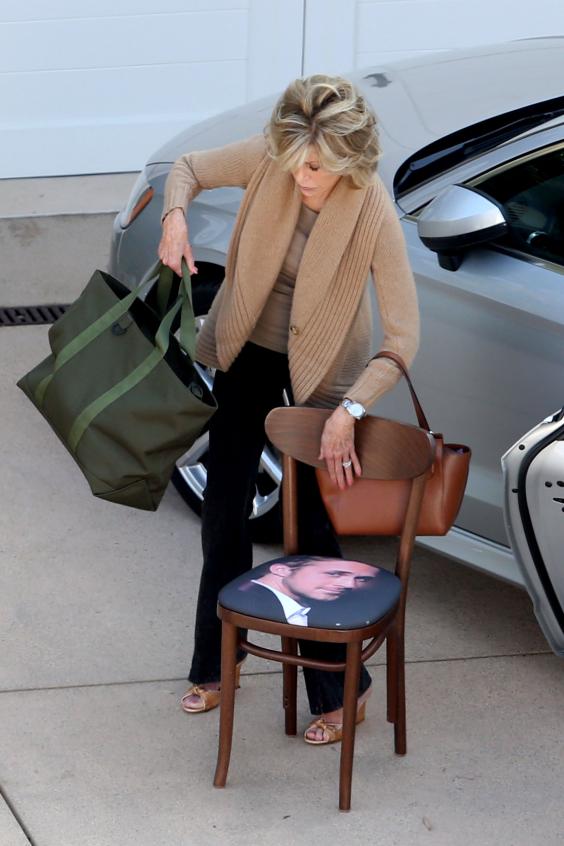 Fonda is co-starring in a forthcoming 13-episode comedy series called Grace & Frankie, alongside Brooklyn Decker, Martin Sheen and Lily Tomlin.
The show follows two women whose husbands fall in love with each other and decide to run off together.
The Netflix-produced programme will premiere next year.
Whether the Gosling-customised chair is a prop for the sitcom's set or simply a kitsch article to adorn Fonda's home interior, is unknown.
The chair, in fact, would be a great addition to Gosling's waxwork at Madame Tussauds, where hoards of weeping fans have been queuing up to lay eyes on the smartly-dressed statue.
Reuse content